Mt. Soledad Memorial to host POW/MIA tribute Nov. 8 in La Jolla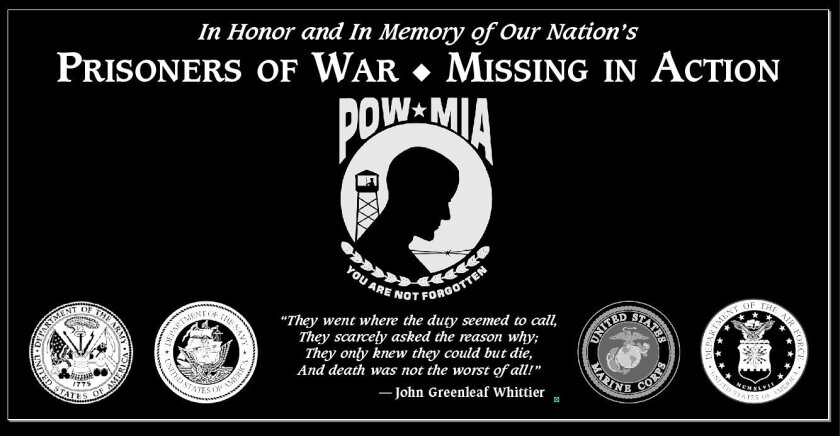 A good portion of the former Prisoners of War (POW) — at one time numbering 81 in San Diego county — and several family members of those Missing in Action (MIAs) will be on the dais at the Veterans Week ceremony honoring them, beginning at noon Saturday Nov. 8 at the Mt. Soledad National Veterans Memorial in La Jolla.
The keynote speaker will be Capt. Dan'l Steward, (USN - Retired). A former Navy SEAL, Steward is now a Special Operations Subject Matter expert to the Office of Naval Research.
As part of the ceremony, a plaque honoring POWs and MIAs will be presented. Speaking on behalf of POWs will be Capt. Mel Moore (USN Retired). Moore was a POW in Vietnam for six years, where he was housed at the infamous Hoa Lo prison, sarcastically dubbed by its inmates as the "Hanoi Hilton."
A former Navy fighter pilot, Moore figures "it was my 99th mission when I got shot down," he said. "We were all young and we thought we were invincible... until they got us." His plane was hit by enemy fire and Moore was forced to eject. He was captured immediately.
Another POW and former fighter pilot who was housed at the prison in Hanoi was Rear Admiral Ed Martin (USN-Retired), an Honorary trustee with the Mt. Soledad Memorial Association.
"They wanted statements against our government, they wanted us to admit we were criminals and bombing innocent women and children," Martin said. "I refused and when I did, they put me in a 'rope trick.' they broke my right shoulder, dislocated a knee and knocked my teeth out with a rifle butt. I was pretty sure I was going to die and I think that's when I went into a state of delirium." Today, Martin walks with a limp and is unable to stand for long durations, a result of the back injuries he sustained while imprisoned.)
Martin's salvation, like Moore's, was communication with other prisoners. "Jim Stockdale was two doors down," Martin said. "Now there was a real hero. He set the rules of our conduct. He was a senior officer and set the credo of our captivity — 'home with honor.' "
Stockdale was shot down in 1964 and had been at the prison for more than two years. Soon the prisoners were communicating with a tap code; a dangerous practice, because, had a prisoner been discovered communicating, torture would again ensue.
To Martin, a POW's ability to survive depended upon a trust in God; trust that the United States administration would get the prisoners released when they could; trust in his fellow POWs ("They tried to work one against the other," he said), faith in your family and faith in yourself.
Stockdale, Moore and Martin were three of 591 POWs released in 1973, in order of their shoot downs, during "Operation Homecoming."
But some men — and women — never came back from this war (and others) and are officially listed as "Missing in Action." A tribute to the families of these soldiers who wait endlessly for word to come will be made by San Diego author Barbara Birchim, whose husband, Capt. James Birchim, a Special Forces soldier, was listed as Missing in Action and later declared killed.
"Our servicemen answered the call to go and fight for us so that we could live in freedom," said Birchim. "We as a nation have the responsibility to bring every service member home."
Birchim's book "Is Anybody Listening?" tells of her ordeal to overcome government red tape to attempt to learn the ultimate fate of her husband.
Elaine Zimmer Davis, whose website, "Bringing Jerry Home," tells the story of her efforts to find the remains of her husband, Jerry Zimmer, will also be on the dais. Her husband was an F-4 Phantom pilot whose aircraft was shot down on Aug. 20, 1969 about 20 miles south of Da Nang, Vietnam.
About Mt. Soledad National Veterans Memorial
More than 3,600 plaques are mounted at the Mt. Soledad National Veterans Memorial, honoring servicemen and women from all branches of the military, living and deceased.
The Memorial is open 7 a.m. to 10 p.m. at 6905 La Jolla Scenic Drive South. n The Association office is at 6437 Caminito Blythefield, Suite B (in the Windemere shopping center off Soledad Mountain Road) in La Jolla, (858) 459-2314.
At soledadmemorial.com there is a locator for each honoree's plaque on the 11 curved walls of black granite at the hilltop site, as well as a new video, providing an overview of the Memorial. The website also includes information on obtaining and designing a plaque, with association volunteers available to help at no charge.
Five new memorial walls were added in 2013, which will include 2,300 additional plaques and should meet the demand for space availability over the next 10 years.
LETTERS TO THE EDITOR OCTOBER 30, 2014
An united front will bring change to La Jolla
Is it just me or was there an illuminating juxtaposition in the Oct. 23 La Jolla Light between the inflammatory Guest Commentary and the thoughtful letter by Kay Plantes?
Kay was eloquent in her observations and the need for La Jolla to rebuild its "brand." I encourage you to read it. The Commentary, in stark contrast, relies on "us-against-them" rhetoric that has for far too long stymied La Jolla's progress and, more importantly, has scared good people from joining community conversations. While I may not agree with everything that Kay says, I do know she is the kind of person I want to work with. I hope you do, too. Please join me in working with good people like Kay in moving La Jolla forward.
Joe LaCava, La Jolla
Let's get La Jolla back to its roots
In the letter "La Jolla must reinvent its brand" (Oct. 23 La Jolla Light) Kay Plantes worries that La Jolla will have to face the worst if its brand is not reinvented. Many long-time residents would say that the worst has already been realized: La Jolla, once a beautiful place sought out by people who loved the sea and the weather and the small-town charm, is now simply another product (destination resort) to be branded and marketed, even as it continues to be overbuilt, overpriced and over-exploited.
The real decline took place not since 2013, but over the several decades before, as businesses created to serve the realistic needs and wants of locals and visitors gave way to trendy boutiques, nail salons, yoga/pilates/spinning/whatever studios, and other image-conscious and image-creating businesses.
Perhaps the empty storefronts mean that the enchantment of a high-end theme village is not enough to pay the ever-increasing rents. Wouldn't that be nice? Maybe it's time to lose the branding and rediscover La Jolla's roots, now buried beneath multiple layers of glitz.
David Rearwin, La Jolla
A parade by any name would smell as sweet
In the first century CE, Palestine was a Jewish land with Roman overlords. Jerusalem, Capernaum and Galilee were some of the city/towns. While the Jewish religion was homogeneous, there were different sects. These were the Pharisees, Sadducees and Essenes. A man was born to the region and many people decided to listen and follow him and (wait for it), another sect was created. They called themselves Christians but were no less Jewish then the Pharisees, Sadducees and Essenes. They also shared the same common practices' (i.e. communal meals, family, charity, kindness, etc.)
Therefore, a Christmas parade is celebrating the birth of (wait for it again) a Jewish man! So how do you feel excluded Mr. Howard Singer? Maybe it is non-Jewish folks who are being excluded? Or maybe, you are under the impression that the parade celebrates the birth of a Roman dude and in that case we could call the parade Roman Holiday.
However, I haven't seen a vestige of any religion in any Christmas parade in many moons unless of course you worship the sect of the Big Red Suit. But then again, this is a parade. No gates, no bars, no tickets. A parade for all, or not, and still the La Jolla Christmas Parade.
Beverly Bratek, La Jolla
Really? A West Muirlands 'slow-down' island?
I just couldn't stop myself from writing about the island recently built on West Muirlands. I read it was intended to slow down speeders.
Are you kidding me? Being diverted from a straightaway by maybe ONE INCH? To date, I haven't seen a single car change speeds (in either direction). I wonder how much that costs and how many serious potholes could have been filled instead. Ah yes, our tax dollars at work.
Peter Goldberger, La Jolla
Bon voyage to Maitre D
We were excited to read about Louis Zalesjak's new adventure (in retirement). We have held many two- and four-generation family dinner celebrations over three decades at his Maitre D. What a wonderful place! Our gandchildren always wanted to go to Maitre D, where they were treated as special guests ever since they were four years old! We shall miss Maitre D and we wish Louis our very best.
Barbara Groce, La Jolla
White Sands residents award a scholarship
Under a program titled Residents Cooperative Scholarship Fund (RCSF), residents of the White Sands La Jolla retirement community award merit-based scholarships to employees. This year's recipient is Adrienne Hutchings. Her grade point average is meritorious as is her work at White Sands as a certified nursing assistant in our health center. The scholarship fund is run by the residents, separate from the administration. Our goal is to award enough money to help a student reach his/her goal — a degree or credential — and alleviate student educational debt.
Our endowment finances are invested with Rancho Santa Fe Foundation. Our endowment is tax-deductible through IRS law 501(c) 3. This foundation has 33 years of experience in administering philanthropic finances.
Anne Kent, La Jolla
Scholarship Fund Treasurer
---