POW memorial dedicated at Miramar National Cemetery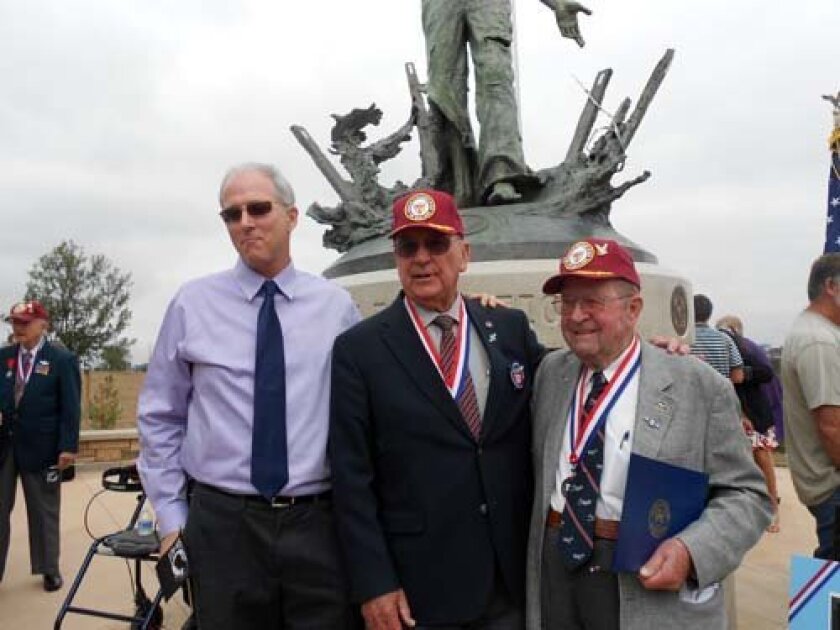 City News Service
A 15-foot-tall bronze, concrete and stainless steel monument to prisoners of war was dedicated in front of about 350 people Friday at the Miramar National Cemetery in honor of National POW/MIA Recognition Day.
The Liberation Moment'' statue was sponsored by the San Diego chapter of American Ex-Prisoners of War, which was created in 1942 by the mothers of two POWs as the Bataan Relief Organization.
The statue by Poway artist Richard Becker depicts a skinny soldier in ragged trousers reaching out with his hand while surrounded by broken fence posts and busted barbed wire, symbolizing his emergence from captivity. An eagle soars from the fence.
It was an honor and challenge to convey what these veterans went through,'' Becker told The Poway News-Chieftain, adding that the monument is meant to represent all POWs in past, current and future wars.
Seals at the base of the statue represent all five armed services.
"Visitors to the cemetery who see this monument will realize the sacrifice that American soldiers made to keep freedom alive around the world,"
said Ralph Kling, the vice commander of the POW chapter. They'll remember
that the veterans buried here at Miramar gave their all, and we're fortunate to
be able to recognize them.''
The organization's commander, 93-year-old Frank Burger, presented the monument to museum officials during the dedication ceremony. Burger was a POW
for eight months after his B-24 bomber was shot down over Hungary in World War
II.
He said when he came to San Diego in 1984, there already was talk about
a new local military cemetery.
I thought how nice it would be to honor all prisoners of war with a statue in the cemetery, because I remember how I felt when I was liberated on May 1, 1945,'' Burger said.
The cemetery at Marine Corps Air Station Miramar is almost two years old and augments the nearly full burial grounds at Fort Rosecrans.
---