Pops concert features 'Bravo Broadway Rocks'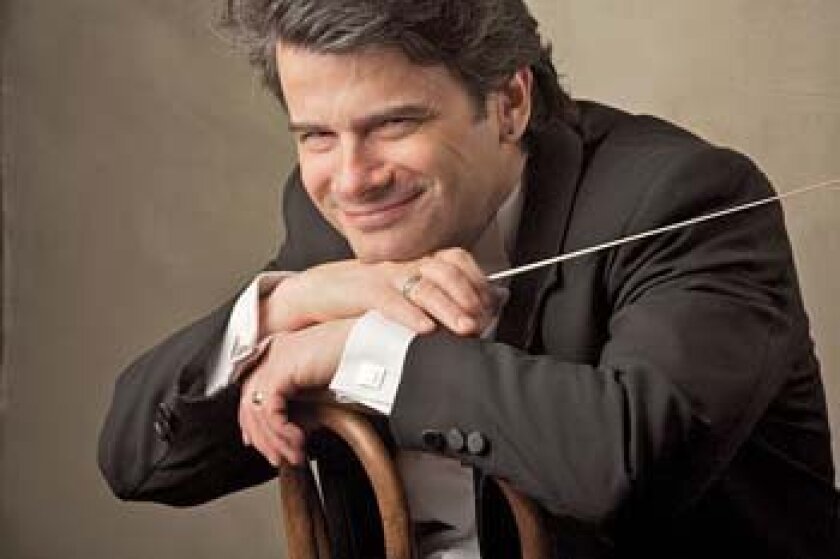 The Great White Way takes center stage in a contemporary concert extravaganza with "Bravo Brodway Rocks" at 7:30 p.m. Friday and Saturday night in the San Diego Symphony Summer Pops Bridgepoint Education performances.
With hits from "Hairspray," "Rent," "Wicked,""Rock of Ages," "Tommy" and, one of the biggest Broadway blockbusters of them all, "The Phantom of the Opera," the performance is sure to entertain the crowd at Embarcadero Marina Park South on San Diego Bay.
The concert features guest conductor Randall Craig Fleischer. He holds three music director positions and keeps up a demanding guest conducting schedule that has garnered major awards and a career spanning four continents. He also has appeared as a guest conductor with many major orchestras in the U.S. and internationally.
Joining him onstage will be vocalist Hugh Panaro, known for having played both Raoul and the Phantom in the Broadway production of "Phantom of the Opera." An active concert artist, Panaro has performed with numerous symphony orchestras.
Also performing will be Capathia Jenkins, Anne Runolfsson, Rob Evan and the Broadway Rocks Singers.
Evan starred in the original Broadway cast of Jekyll & Hyde, playing the title roles for three years and over 600 performances and has been a featured soloist for many leading symphonies across the nation.
Jenkins, a Brooklyn-born and raised actress, made her Broadway debut in The Civil War, where she created the role of Harriet Jackson, and has a noted career spanning the stage, television and film.
Runolfsson has a distinguished career not only in the theater but also in recording studios, intimate cabaret spaces, and concert halls throughout the world.
Tickets to "Bravo Brodway Rocks" are $17 to $76 and can be purchased at
www.sandiegosymphony.com
or by calling the ticket office at
(619) 235-0804.
This is the San Diego Symphony's centennial year. The Summer Pops season continues with Burt Bacharach and "The Look of Love" on Sunday at 7:30 p.m. and wraps up on Labor Day weekend when 15-year-violin phenom Chad Hoopes joins the Symphony for the 1812 Tchaikovsky Spectacular.
---