Plein air paintings Capture The Light along with prizes at La Jolla Art Association exhibition
By Will Bowen
Let's Review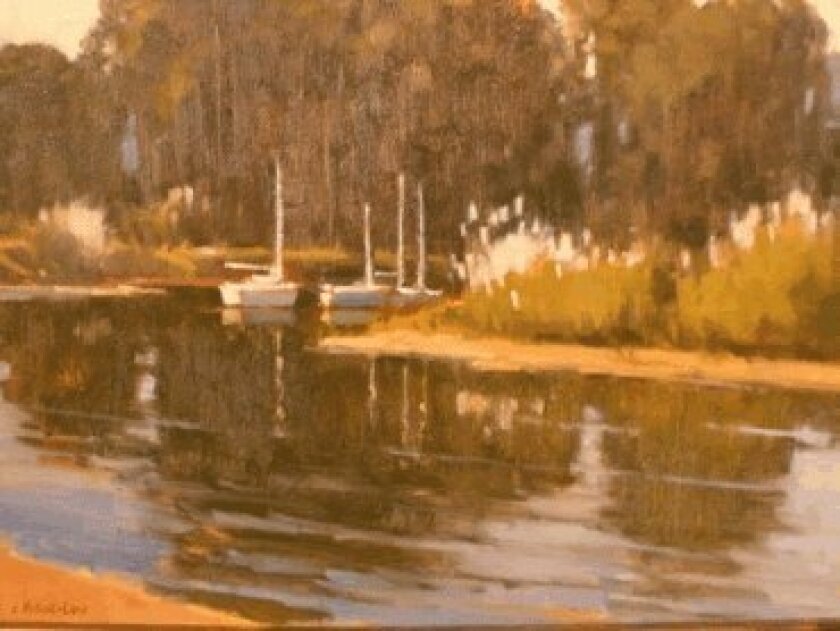 Through May, the La Jolla Art Association (LJAA) is showing a collection of paintings submitted to its annual Plein Air Juried Competition. The show was judged by Andrea Gaye and curated by Rae Ann Marks, with assistance from Salli Sachse and Mike Morse.
On May 18, a sizeable crowd gathered for the awards presentations. First Place went to Carolyn Hesse-Low for her landscape "Pampas Grass Boats," a very fine example of clarity, balance, and composition in painting.
Second Place was won by Russian-born painter Leon Okun for his large, very bold, and dramatic painting of "A Girl on a Swing." Third Place was garnered by Marjorie Taylor for her "Wintery Path."
Honorable Mentions went to Julie R. Bradbury-Bennett for her "Point Loma Yacht Club," Tamara Stautland for "Morning Mist," Donald Freymuth for "Table Tops," and Lynee Schulante for "Mission Trail View."
Keiko Tanabe had two wonderful paintings in the show, "Bordeaux Cafe" and "Cermont Dessoun," which should have won awards but did not. Mike Morse, the LJAA webmaster, who helped hang the show, also favored Tanabe to win. His comment: "It just goes to show that art evaluation is highly subjective!"
This was the first year that Honorable Mention awardee Toni Danchik entered the competiton, She lives in Laguna Nigel and normally shows her work at a gallery in San Juan Capistrano. Danchik was born and raised in Johannesburg, South Africa and lived under Apartheid. She left there 19 years go just as it was ending. She speaks Afrikaans, which is a modern Germanic language. Danchik stays connected to her homeland through her involvement in a project to help children who were orphaned because their parents succumbed to the African HIV epidemic.
Danchik came to the United States to go on a blind date and ended up marring the man she went out with. "I had a dream and knew that I was going to marry an American," she says. "We were introduced through a mutual friend and hit it off right away. My husband proposed after just 2 ½ weeks of knowing me. I think that my story is very similar to that of Isaac and Rebecca in the Old Testament. I think ours was a made-in-heaven relationship. After all, God is the ultimate matchmaker!"
The story of their marriage is featured in the book, " God is a Matchmaker" by Derreck Prince.
Although Danchik has been painting since she was a little girl it was only after she moved to the USA that she pursued it full time. "I am interested in the effect of light on objects and my first response to a scene. I try to hold onto this first feeling all through the painting. It's all about the feeling. I start by creating chaos on the canvas, then bring out the unexpected, and finally create order."
Scottie Brown was also the recipient of an Honorable Mention Award. She is a member of PAPPASAN or the Plein Aire Painters of San Diego. Brown graduated from the University of Southern California (USC) and has been painting in oil for the last seven years. "I like oil because it is so forgiving. You can scrap it off or start all over. In my painting, I am trying to capture the lights and the darks."
Brown is also an avid golfer. Her favorite course is La Jolla Country Club and she has a 12 handicap. "My advice to golfers is to use their practice swing to make their real shot. You see so many golfers make a good practice swing but then lose it on the real shot!"
"I love both art and golf. Art is my creative side and golf is speaks to my physical needs. The only problem is that when I practice my art more my golf gets worse and if I improve on my golf my art goes down! But I cannot give up on one for the other!"
Leon Okun won Second Place in the show for his bold and colorful painting of a girl on a swing. This is the second Second Place in a row at a LJAA competition for Okun. He is a rising star. He thinks that he is doing so well because of his classical education. He is a graduate of the St. Petersburg Academy of Art in Russia, which is also known as the Repin Academy. It is over 250 years old and emphasis traditional painting techniques. Okun says it is one of the best traditional schools in the whole world.
"It takes six years to earn an MFA there and it is a very serious education. The only place close to it in quality might be the New York Academy of Art or the Beijing Academy of the Arts."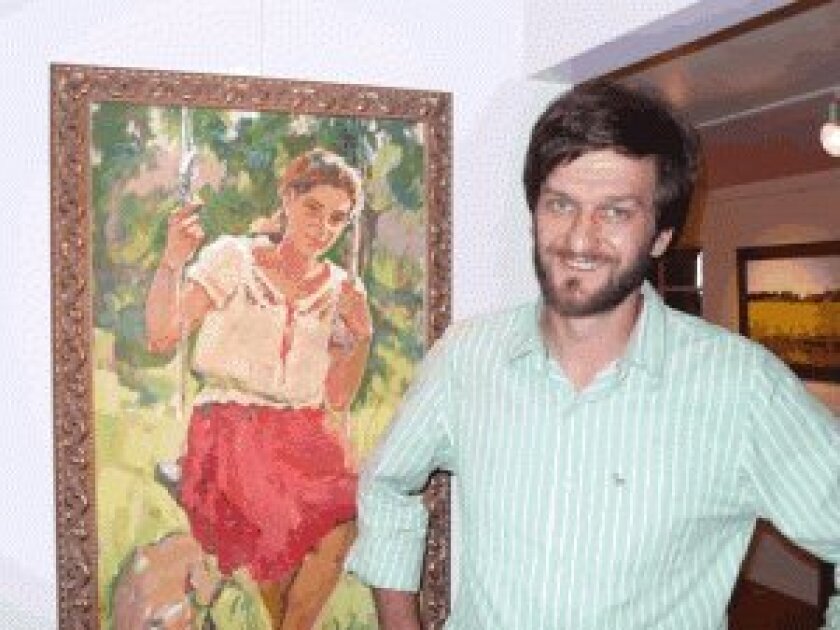 Okun has high aspirations for himself.
"My goal is to create paintings with larger meanings. I want to paint masterpieces. Masterpieces are works that speak to everyone. They are universal and timeless. To accomplish this requires hard work, being true to yourself, observing nature, and painting not to sell, but to make better art."
---