Planning Commission rejects seasonal beach closure at La Jolla Children's Pool, opts for shared-use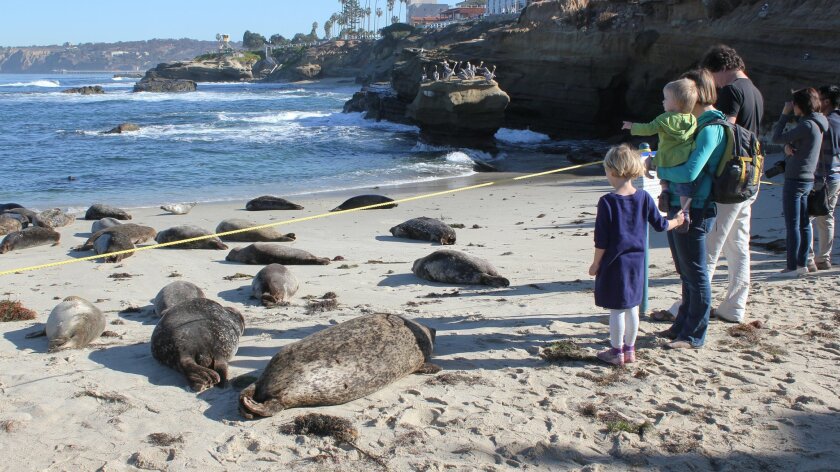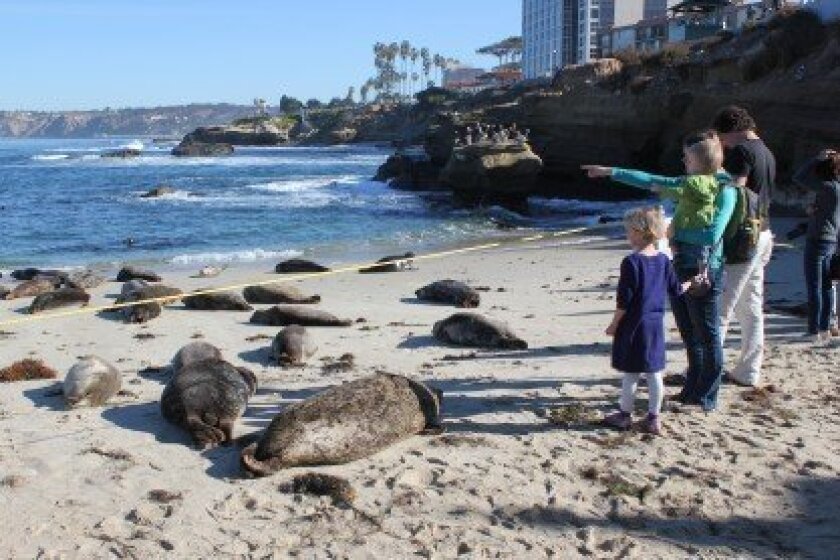 By Pat Sherman
The San Diego Planning Commission rejected a proposal last month to close Children's Pool (aka Casa Beach) entirely during the harbor seals' pupping season (Dec. 15-May 15) by a vote of 4-3 — a reversal of its 4-2 vote in September to recommend that the city council approve the closure.
In September and again last month, planning commissioners were asked to consider revisions to the La Jolla Community Plan and Local Coastal Program that would allow for the closure.
The proposal before the commission in September involved establishing Children's Pool as an Environmentally Sensitive Habitat Area (ESHA). However, in an Oct. 25 memo, the California Coastal Commission (CCC) — which must issue a coastal development permit for the closure — said it favors closure, but not the formation of a restrictive ESHA to do so.
Instead, the CCC said it prefers using Provision 30230 of the California Coastal Act, which deals with the maintenance of marine resources.
The CCC memo stated that, although other coastal jurisdictions with seal rookeries or haul-out sites have formed ESHAs to protect pinnipeds, conditions at Children's Pool are different, given the Children's Pool's "proximity to an intense urban setting, ease in accessibility… dedicated user groups and the city's joint-use management strategy that has allowed people and seals to share the beach" for eight decades.
Responding to the CCC memo, the city council postponed its Oct. 29 vote on the closure until the revised proposal could be returned to the planning commission for another review.
The city's Park and Recreation Department is seeking the pupping season closure based on observed harassment of harbor seals on the beach.
"Current joint use is not appropriate to prevent the harassment and illegal interactions that have been happening," city project manager Morris Dye said during the Dec. 12 planning commission hearing.
However, attorney Bernie King, representing pro-beach access group, Friends of the Children's Pool, said the harassment has been overstated.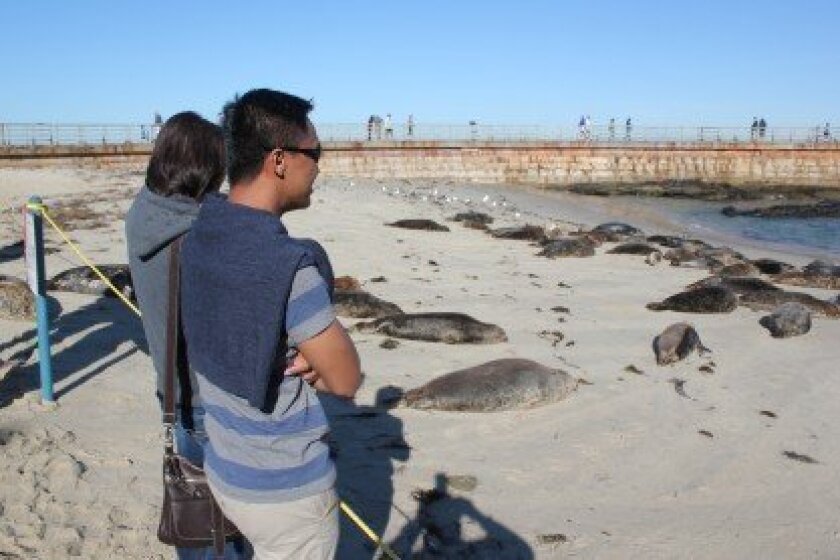 "If this was such a massive problem that we need to prohibit access to the beach, where … is one successful prosecution of someone harassing a seal?" King questioned. "It hasn't happened, because this is an overreaction to a problem that does not exist."
Several commissioners expressed support for a plan to install a moveable barrier on the beach that would separate humans and seals, maintaining shared beach access year-round (with stronger penalties for those who harass seals).
Speaking on behalf of that plan — first proposed by the San Diego Lifeguard Union — pro-beach access advocate John Leek said it would need to evolve from its initial concept, which called for boulders to be placed on the beach to separate humans and seals, which would be relocated seasonally (a method many deemed impractical).
"Forget the (moveable) boulders," Leek said, adding that Park and Recreation could help perfect the plan, which might involve "taking the (existing) guideline rope and turning it (vertically) … so that people know where they cannot go."
Under such a plan, Leek said, La Jolla's local coastal program and community plan would not require amendments.
Patrick Ahern, second vice-president of the La Jolla Community Planning Association (which voted against the closure in June 2013), requested that the planning commission allow more time to perfect the moveable barrier proposal. "There is a viable way to share the beach. I believe that, others believe that, the lifeguards believe it," Ahern said.
King argued that when Ellen Browning Scripps donated the Children's Pool's and protective seawall in 1931 via a public trust, the trust stipulated that the public has an "absolute right to (beach) access for fishing and for recreational purposes.
"That's exactly why joint use was proposed in 2009, instead of amending it to just make it a marine mammal park," King said. "The legislature has said that this amendment is prohibited."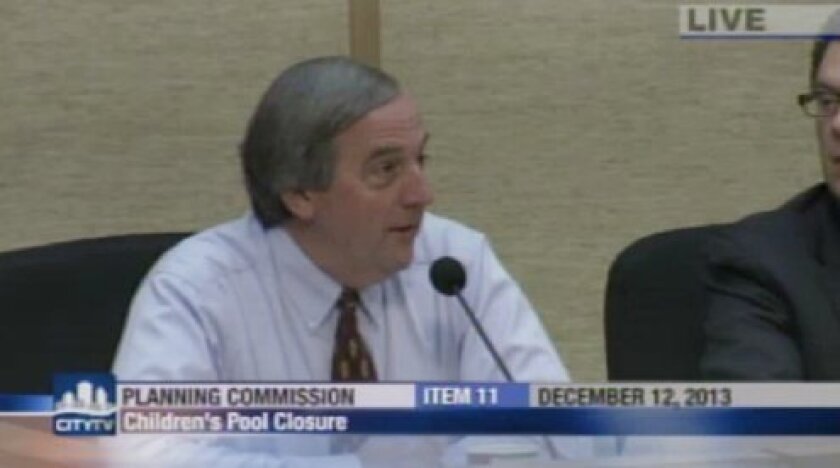 King also argued that, under the city charter, dedicated park and recreation lands cannot be decommissioned without a public vote.
Former Community Planning Association trustee Mike Costello told commissioners that the International Union for Conservation of Nature's Red List of Threatened Species lists harbor seals, of which there are about 30,000 at as many as 600 California haul-out sites, as a low priority.
"You do not need to enhance a breeding area for an animal that is actually in a population explosion," Costello said.
Seal advocate Jane Reldan argued that the revised community plan amendment before the commissioners was merely a change in language made by the CCC. "It's their language, so I believe that they will be in agreement when it comes before them," she said.
La Jolla Community Planning Association Vice-chair Joe LaCava (who formerly supported shared use) expressed his newfound support for the winter closure, and his belief that seals have won the battle by their more than 15-year presence at Children's Pool. "The time is right to end interim solutions and move to permanent solutions," LaCava said.
Planning Commission Vice-chair Tim Golba (a former chair of the La Jolla Community Planning Association) said that early on in these discussions people who argued for the current rope barrier said it would never lead to beach closure.
"Those who laughed at me six years ago and said we'd never see a full-time closure, I get the last laugh today," Golba said. "I can't support and won't support a community plan amendment. It goes against everything that's in that document as far as beach access."
Golba expressed his support for the moveable barrier plan, suggesting that a contest be devised to create a viable design, similar to one held this year to design a bridge spanning Florida Canyon in Balboa Park.
"The city spent $2,400 a square foot on a lifeguard tower," Golba said. "Isn't there a way that we can channel that resource into creating either a new barrier, an offshoot of the wall or some sort of permanent barrier that isolates the seals from people and allows access, not only for the able-bodied, but for the disabled?"
Commission Chair Eric Naslund also expressed opposition toward closing Children's Pool.
"I was concerned early on that this would turn into a full-on closure (and) I don't think that's appropriate," Naslund said. "I have said from the very first time I saw the lifeguard plan, I don't know why we couldn't make something like that work."
Commissioner Stephen Haase, who voted for the closure in September, said that after further consideration, he now believes closing Children's Pool beach is not consistent with La Jolla's local coastal program.
"It appears to me that we've made the leap of faith that special protection means prohibition," Haase said, suggesting that language be inserted into the community plan to prevent beach closure elsewhere in La Jolla, and give the city council greater latitude "to seek a permanent, long-term solution to cohabitation of the beach.
"Right now the way this planning document is written, it's all or nothing," Haase added. "There's no discretion (afforded to) the city council."
Commissioner Anthony Wagner, who voted for the closure, said that regardless of how the planning commission or city council votes, he believes the "CCC or the federal authorities will step in and make a decision.
"I'm confused as to why the CCC or federal entities don't tell us or give us more of an education on how to move forward," Wagner said. "It feels like we're being left to make the decision on our own that is completely contrary to three or four different agencies. I fear that if we move in a different direction than (the CCC is requesting) this will come back to us again."
The city council is expected to vote on the beach closure proposal early this year, after which it will head to the California Coastal Commission for final consideration.
---