Pinter's The Lover and The Dumb Waiter are lost in translation at North Coast Rep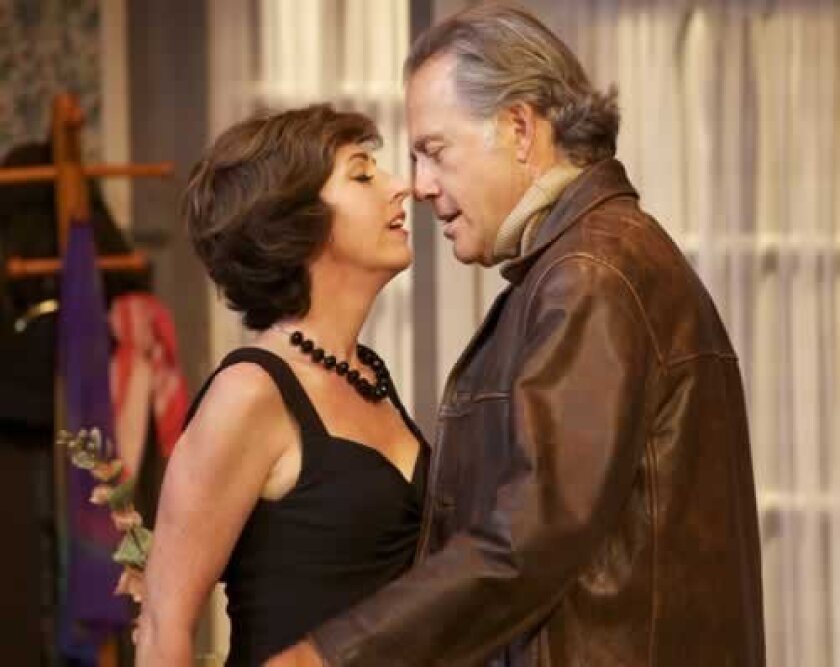 By Diana Saenger
Let's Review!
North Coast Repertory Theatre's (NCRT) decision to take on "The Lover" and "The Dumb Waiter," two one-acts by
Nobel Prize
-winning English playwright, director and actor Harold Pinter, was an ambitious move … and an ill-conceived one. What I enjoyed most about the production was watching the incredible design team (headed by Marty Burnett) change the entire setting from a lovely home living room into a dungy basement hideout during a short intermission break. That was fun.
"The Lover" centers on a married couple who still love each other, but have taken on a bit of role-playing to spice things up. Richard (Mark Pinter – no relation to the playwright) is now two characters in the marriage – the adoring, faithful husband to Sarah (Elaine Rivkin) by day and night, her "lover" in the afternoon.
The actors perform the roles well enough, but the subject – probably more apropos today than in the 1960s when it was written – could have been far more entertaining in many ways. The dialogue, meant to be playful, becomes drab very quickly. The scenario loses its impact within 15 minutes, since nothing but sexual innuendos follows for the remainder of the show. Because of the brevity of the story, the audience knows nothing about the couple, so an understanding of how or why this situation arose is missing. It's hard to care about Sarah and Richard or their method of marriage survival.
Next, the audience must do a complete 360-degrees about face moving into "The Dumb Waiter." This production is about two thugs holed up in a dingy basement awaiting their next dangerous assignment – in this case a murder.
Ben (Frank Corrado) seems to be the leader as he sits on a dumpy bunk reading an English newspaper. He hollers out loud when he reads what sounds like a preposterous story to Gus (Richard Baird).
There's arguing about Gus making tea, but there's no propane. Gus is hungry but gives away the only food he brought when a dumbwaiter door between their beds fly opens and there's a note describing food items.
The conclusion the men come to when this happens over and over makes no sense. At first, Ben seems to know nothing about their assignment, but moments later, he reveals exactly what will happen when their victim shows up.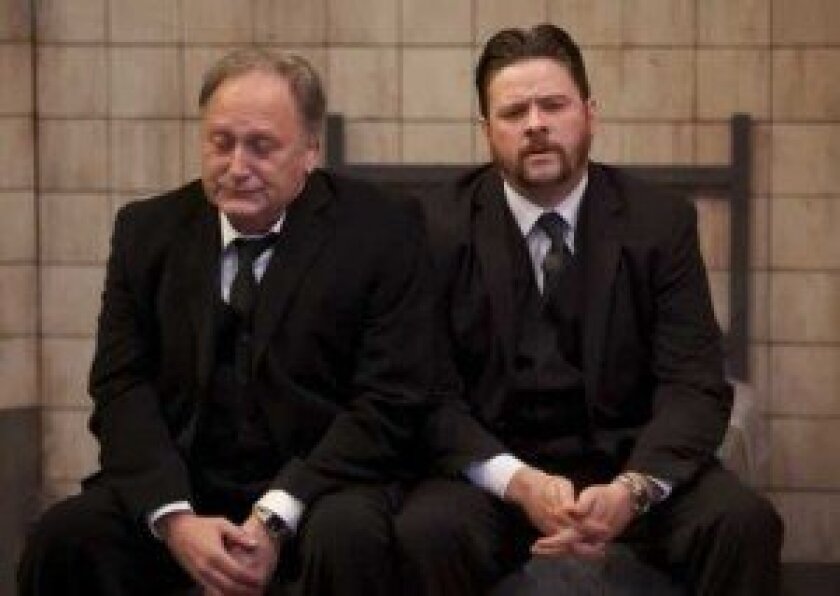 Once again these characters have nothing in common with the audience that is trying to find interest in their story. What creates another stumbling block are the English terms the characters throw out — Lorry, Kip, Crisps, Birk and Pong. Even though there's a glossary in the program, even if a playgoer takes the time to read it, it's doubtful the terms will be remembered. What little humor may be found in some of the lines falls like a deflated balloon.
IF YOU GO .....
What: Two By Pinter: 'The Lover' and 'The Dumb Waiter'
When: Matinees, evenings through June 17
Where: North Coast Repertory Theatre, 987 Lomas Santa Fe Drive, Solana Beach
Tickets: $32-$49
Box Office: (858) 481-1055
Website: northcoastrep.org
---