UPDATED: Pine tree falls on La Jolla Rec Center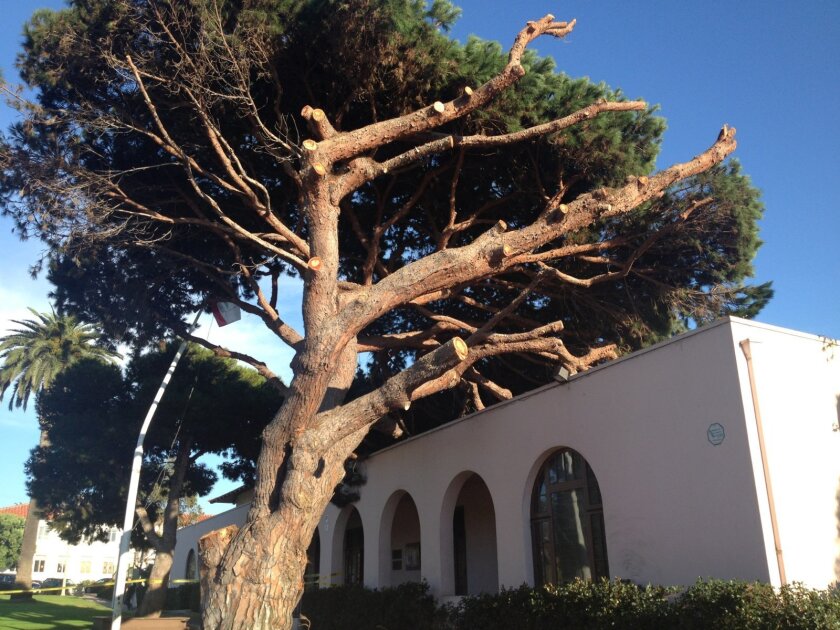 A mature Stone Pine at La Jolla Rec Center — estimated to be 100 years old — had to be removed last week after it tipped over onto La Jolla Rec Center in the middle of the night (between Oct. 22-23), bending a flagpole near the entrance.
La Jolla Recreation Council board Chair Doug Fitzgerald said a city arborist told him there was no way to save the tree.
"They got out there pretty quickly," Fitzgerald said of city workers, adding that although no one was hurt, the city viewed removing the tree as "a safety issue."
"It's kind of a sad thing ... because you don't want to lose trees," Fitzgerald said. "You get attached to them."
The roof and building of the Irving Gill-designed Rec Center, which marks its centennial next spring, were quickly assessed for damage from the topple.
City of San Diego Park and Recreation Area Manager Mark Moncey said the tree made two small indentations in the northwest portion of the Rec Center roof, including a two-inch by two-inch hole. A rooftop electrical conduit was also damaged.
The tree could not be saved, Moncey said, due to its age and weight, and the severity of damage to its trunk, which split above its base. The tree was last trimmed in 2013, he said.
Although the city does not have records dating the pine, Moncey said he suspects it was planted when the recreation center was completed, almost 100 years ago.
Park and Rec crews will repair any damage to the Rec Center, and replace the tree prior to the building's centennial, with input from the Recreation Council and community, Moncey said.
Earlier this year, a large limb fell off the tree opposite the side to which it tipped last week. The limb landed between two cars parked on Prospect Street, though no damage was reported from that incident.
---