Paddleboarding added to La Jolla's Survivor Beach event in June
By Ashley Mackin
The cancer-survivor celebration, Survivor Beach, has always had an "aloha spirit," but this year there are several new elements to the surf-oriented fundraiser.
For the first time, Stand Up Paddleboards (SUP) and paddle surfing will be the vehicle for participants. The event will get underway at 7:30 a.m. Sunday, June 2 at the beach in front of Scripps Institute of Oceanography, and is in need of volunteers (see box below).
"In a few short years, SUP has really taken off and been adopted by a lot of folks, so we thought it would be an appropriate draw for people to be able to participate in a SUP event at many different levels to demonstrate their solidarity and support for cancer survivors," said Greg Gorgas, event director.
The seventh annual fundraiser for UC San Diego Moores Cancer Center will continue to have races, speakers and boarding events, including a photo opportunity with all the boards lined up in the sand.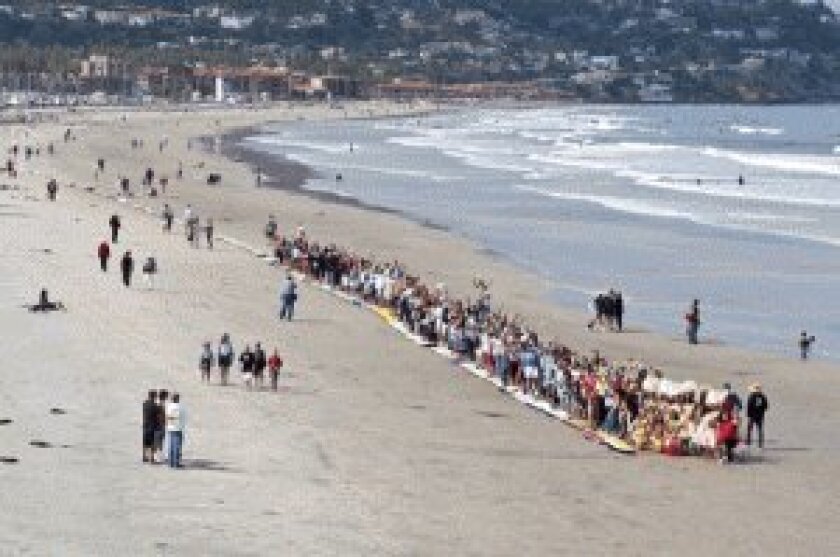 "In the past, we lined up surfboards as a symbol of solidarity from the pier to the Marine Room," Gorgas said of the 300 participants in 2012. "Each year we try to beat that record."
The day opens with a 7:30 a.m. ride with six professional paddleboarders who will paddle out with anyone who makes a donation to the cancer center. "This is an opportunity, for a small donation, to go out and paddle with some people who you'd never get the opportunity to paddle with unless you find out where they surf," Gorgas said.
At 9 a.m., there will be inspirational speakers that volunteer Sam Armstrong said include doctors, current patients, cancer survivors and surfers. While listening to them speak, "You realize what it's all about," he said.
Afterward, at 9:30 a.m. participants can compete in a three-mile race for a $25 donation. Winners will receive medals and awards in the following categories: Cancer Survivor, Surfing Legends, Up to Age 20, Ages 20-49, and Ages 50 and Older.
For those who don't want to participate, the beach festival kicks off at 9:30 a.m. as well. The festival has vendors selling boards, paddles and wetsuits, as well as artists and surf club members who can answer questions about the sport. Gorgas said the fan-favorite Polynesian dancers will be there as well.
Just for show, whether you participate or not, top competitive paddleboarders will be out in the water to show their stuff in the "Expression Session" for about half an hour after the race.
The last event is the Elite Race, which starts at 11 a.m. for those who pay $50 to participate. The race will close at noon with an award ceremony. The first place male and female finishers will receive a $1,000 purse, plus a trophy. The second placers get $500 each and third placers get $250.
Longtime surfer Armstrong said he decided to take up SUP for this event — which he calls a "child of the luau," referencing the Longboard Luau held in August — also a benefit for the cancer center. Armstrong said he is grateful this is an event for all levels because he is a beginner.
Volunteer at Survivor Beach
■ Help is needed 5 a.m. to 1:30 p.m. Sunday, June 2 for set-up, parking lot duty, merchandise and paddleboard valet (must be able to carry 30-50 pounds and go up and down stairs repeatedly). E-mail Maria Talavera at luauvolunteerinfo@gmail.com with your name, contact information and preferred volunteer shift.
■ Website:
survivorbeachsup.org
---