Oil Rigs to Living Reefs: La Jolla's SIO students tout benefits of program for California
By Ashley Mackin
For their graduate studies at Scripps Institution of Oceanography (SIO), students Amber Jackson and Emily Callahan figuratively and literally dived into their research.
Hoping to implement a program called Rigs-to-Reefs for decommissioned oil rigs off the coast of California, they call their
graduate project Rig2Reef Exploration, and want people to understand its potential ecological value.
Callahan said many oil rigs (or oil platforms) situated in the oceans off the U.S. coasts have been in place for decades allowing sea life to grow on the bases, effectively turning them into artificial reefs. Rigs can range in height from 90 feet to well over 500 feet.
"These are awesome ecosystems," Callahan continued. "There is not an inch of the platform that does not have sea anemones, sea stars and other life. With the Rigs-to-Reefs program, the marine life out there can grow and continue to flourish, as opposed to killing whatever is growing on it when you take the whole oil rig out."
Rigs-to-Reefs is an alternative to the complete removal of decommissioned platforms, with three proposed ways to keep some, if not all, the rig in place.
The methods being discussed are: removing only the top portion of a rig and leaving the bottom 85 feet; a topple-in-place method, where the rig is cut off and placed horizontally along the bottom of the ocean; and a tow-and-place method, where a rig is removed completely, but taken to another location and placed.
Similar programs are in effect for rigs off the southern U.S. coast (off Texas), where the decommissioned base remains and the top is repurposed as a research facility.
"Our project is to see how successful this could be in California, and when the time comes for these platforms to be decommissioned, if this would be an economically and ecologically good idea."
The Bureau for Safety and Environmental Enforcement issued a notice that any platform deemed "idle," as of 2010, would be decommissioned by October 2015. An idle rig is defined as one that has not produced oil in five years.
As part of their research, Jackson and Callahan SCUBA dived under platforms off Santa Barbara to see first-hand what kind of life was growing there. Jackson observed shell mounds at the base of the platform — built by animals shedding their shells and having the shells fall to the ocean floor — which she said are ideal breeding grounds for rockfish, some species of which are threatened. Additionally, she observed an increase in the presence of plankton, a food source for other sea animals.
"When we came up from the dive, our suits were squirming with plankton," she said.
Added Callahan, "When we went under the first time, we were in shock. People in California don't know what it looks like under the oil rigs!"
Because the rigs are so covered, the metal legs are slow to corrode. "There isn't one part of the iron that is exposed to water," Jackson said. Based on corrosion rate thus far and observations of sunken ships, estimates suggest these structures can stand in the ocean without maintenance 200-300 years.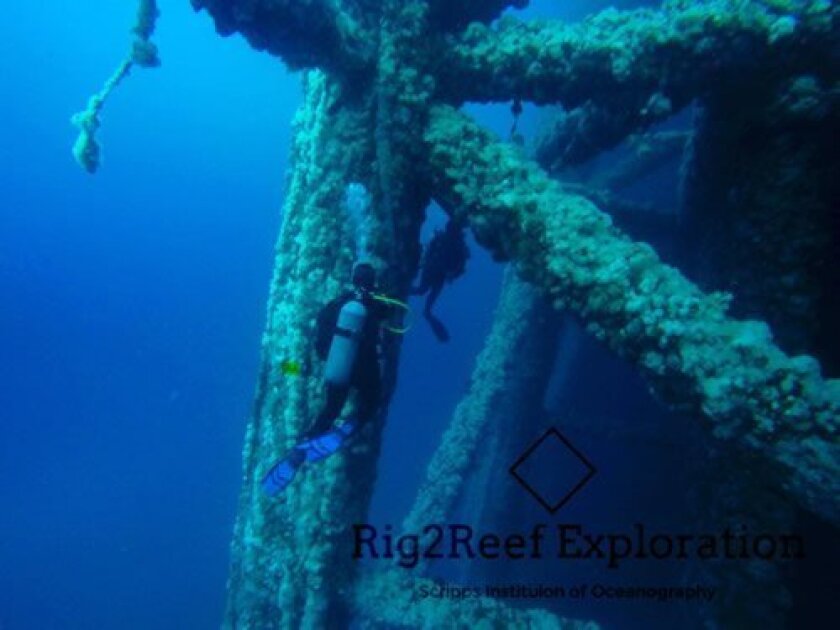 Understanding the opposition
When it comes time for a platform to be removed, what to do with each one is determined on a case-by-case basis. Thus far, each eligible platform in California has been completely removed, largely due to vocal opposition from trawl fishermen.
Callahan explained that if a platform is completely removed, fishermen could trawl (fish via nets that are dragged at different depths) in that area.
Further, those in opposition say the reefs would not meet the terms of current artificial reef legislation, which indicate a need must be met by the reef's installation. While the Rigs-to-Reefs structures do not meet a need, Callahan said they enhance the life that's already there.
Additionally, financial incentives for oil companies create an unfavorable public perception. Jackson said it costs approximately $5 million to completely remove an oil-rig platform, depending on size, but only costs about $800,000, to establish guidelines and have the rig under the auspice of the Rigs-to-Reefs program.
"Oil companies save a lot of money, which puts people off," said Callahan. "They think 'the companies have so much money, we don't want them to save more.' "
However, per the rules of Rigs-to-Reefs, half of the cost savings must go to the state to be reinvested into artificial reef programs, the Department of Fish and Wildlife and other marine research initiatives.
Another downside people see, Callahan said, is the fear of an oil spill. "When a platform is taken out, all the oil wells are capped and sealed the same way. So whether they are taken out completely or cut off, the chance of an oil spill is the same. Plus, the oil company owns that well forever, so they will retain liability."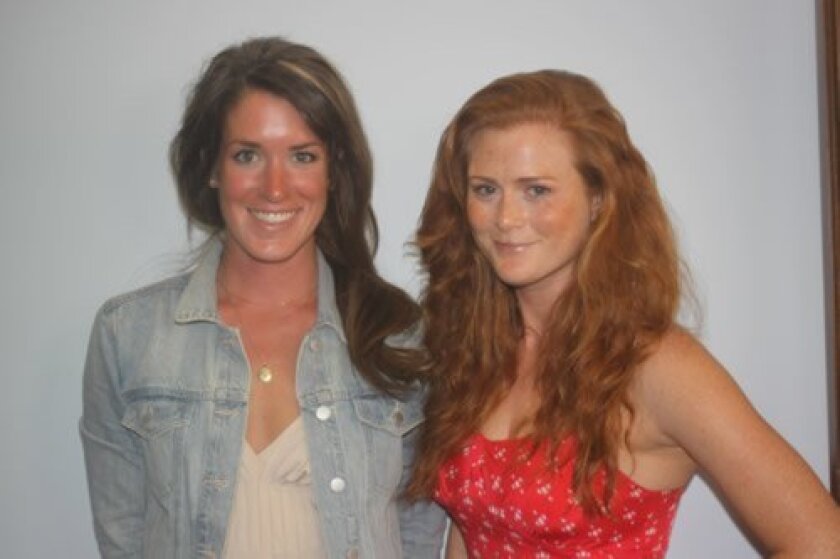 A long time coming
For Jackson, oil rigs have been on her radar since she was a child. "I'm originally from Laguna Beach. Growing up, I could always see these platforms offshore and they always interested me. At Scripps, (Callahan and I) took a scientific diving course ... we started talking about these platforms, which led us to Rigs-to-Reefs."
In the wake of the 2010 BP oil spill off the coast of Mississippi, Callahan volunteered to test core samples and biotag samples taken on site to see how certain species were affected. Her interest in oil spills prompted her research at Scripps.
As the two developed their Scripps research, other students in the graduate program realized they could use Rigs-to- Reefs findings in their own research.
Although they graduated this year, Callahan and Jackson said they would continue their exploration into the program. The twosome will present their findings thus far at the Aquarium of the Pacific in Long Beach in September and have planned dives at other rigs.
More information at rig2reefexploration.org
---