Business Spotlight: Norma Kay 'crochets' distinctive jewelry of metals, gems in La Jolla
• BUSINESS SPOTLIGHT:
As a young Brazilian schoolgirl, Norma Kay learned how to crochet thread into intricately detailed patterns. Now one of her custom jewelry lines reflects that childhood training, but instead of thread, Norma Kay crochets metals into delicate looking (but sturdy) earrings, rings, bracelets and necklaces.
Her husband, Sy, partners with her in the design side of their business, which includes home decor, but Norma Kay designs and creates the jewelry.
"We design and produce a lot of the jewelry in sterling silver, brass, copper and goldplate, and what we don't produce here, we have made in Brazil," Norma Kay said. "We like to work with a lot of natural gemstones (in a variety of colors) — everything but diamonds."
After moving from New Jersey to Point Loma in 1985, Norma Kay and her husband opened a clothing store. By 1989, the couple had expanded to five stores and Norma Kay was growing weary of retail. The couple closed their stores and moved to Girard Avenue where they began designing and wholesaling home decor. Soon after, Norma Kay introduced her jewelry.
"I always loved building things and doing repairs, and then I began working with metal and took extensive training in metalsmithing, " she said.
Norma Kay said she may take one day or a week to become completely comfortable with any of her designs, and working with her crochet design wires is far from an easy task.
"Manipulating the wires is painful on the fingers, so I must pace myself," she said. "We always try to keep up with fashion; mid rings (worn on the middle of the finger) are a trend right now."
Norma Kay has created her bespoke jewelry for eight years and is delighted to have it showcased in the prestigious La Valencia Hotel. "We're happy and proud to be the only retail shop there," she said.
A life-size concrete statue of a "jewelry fairy" sits in front of Norma Kay's La Valencia shop. "It represents every girl or woman's wish for a piece of beautiful jewelry," she said. "The fairy needs a name, so e-mail me a jewelry fairy name and we'll award the winning name $500." E-mail entries to: normakay@sbcglobal.net
Norma Kay is building a website with an e-commerce feature to market home decor and jewelry. It should be online this summer.
• Norma Kay Jewelry
• 1116 Prospect St. Suite A, La Jolla
• Hours: 10 a.m. to 7 p.m. Monday-Saturday and noon to 5 p.m. Sunday
• (858) 692-0486
— The Business Spotlight features commercial enterprises that support the La Jolla Light.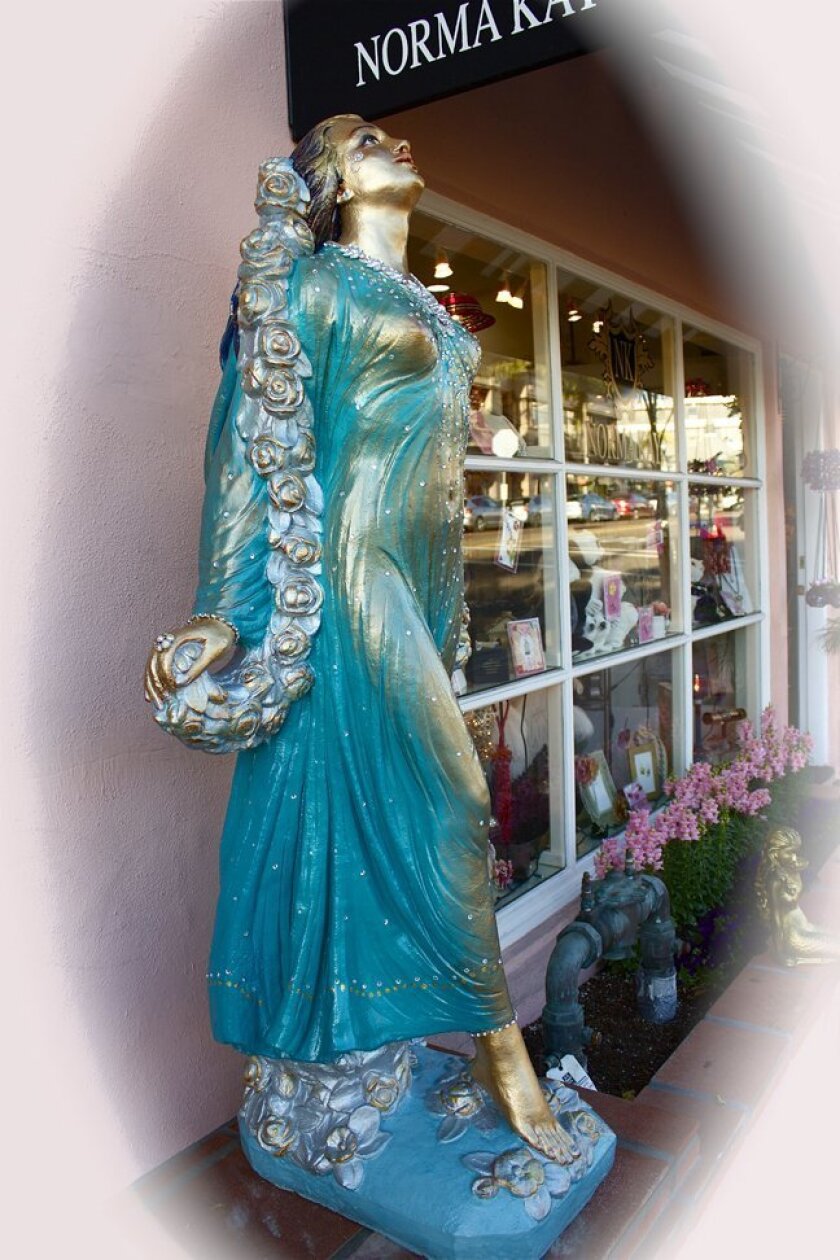 ---