Nobel laureate debuts work during Art San Diego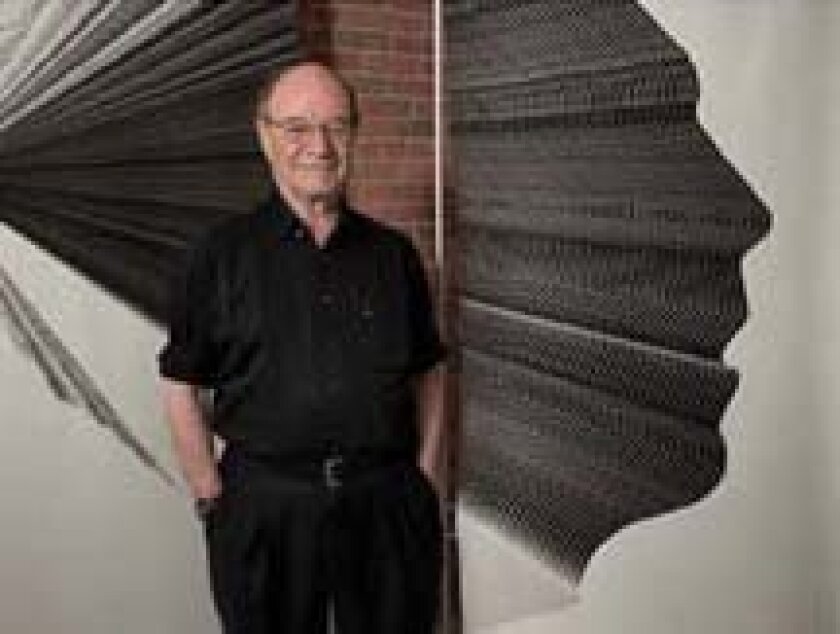 By Sara Appel-Lennon
Contributor
Wally Gilbert, co-recipient of the 1980 Nobel Prize in chemistry, now works with a computer and camera instead of test tubes and chemicals. Gilbert, a current Scientific Governing Board member of Scripps Research Institute, earned the Nobel Prize for discovering "Rapid DNA Sequencing" which transformed the field of molecular biology.
He has shifted his focus from science to digital photography because he was intrigued that he could create large images with a small camera. He prefers large images due to their emotional impact.
Gilbert takes photos of what might be interesting. "Innovative thinking creates random connections resulting in interesting combinations. I use camera and computer in an experimental fashion," said Gilbert. An image takes shape as he creates it.
Gilbert described the process of saving an original image on a computer while making revisions as "fully liberating from the constraints of classic art." Similarly, he believes the development of photography has transformed visual arts.
Gilbert taught various forms of biology for 25 years. In the 1950s while teaching Applied Physics at Harvard, his interest wandered to biology. Rather than continuing to teach the prescribed subject, he pursued his passion of conducting biology experiments. The dean agreed to create a field called biophysics, which allowed Gilbert to continue teaching to reach tenure. Again, he has changed fields.
Are art and science polar opposites? "No, not at all," said Gilbert. "Science and art unleash creative impulses — a desire to find new things about the world. Both require risk and experimentation. Both scientists and artists enjoy seeking what's new and different." Gilbert said most of his discoveries in biology were purely experimental.
With 29 solo art exhibitions during the past eight years, his digital art draws audiences around the globe. Some of his images are based upon his prior works of art. "Four Faces" is based on "Vanishing Profiles." He uses textures, layers, and shading "designed to entrance the eye."
In early 2007 Chang Kim, co-owner of CJ Gallery bought "Madrid," one of Gilbert's digital photographs. Kim displayed it with another artist's work to gauge interest. Kim received such a favorable response he asked Gilbert to present a solo exhibit.
During Art San Diego, CJ Gallery will host a reception featuring Gilbert's work 6 to 9 p.m. Sept. 4 at 343 Fourth Ave. in the Gaslamp district. R.S.V.P. at
info@cjartgalley.com
.
IF YOU GO
Art San Diego
What:'It's an event showcase of leading established and emerging galleries and artists in the world,' said Ann Berchtold of Del Mar, ASD founder. 'Museum-quality art will be displayed by 47 galleries and 500 artists at the Hilton, a great deluge of everything art.'
When:Noon to 8 p.m. Sept. 2-4; to 5 p.m. Sept. 5
Where:Bayfront Hilton Hotel, 1 Park Blvd.,San Diego; (619) 564-3344
Day pass, $15; opening night Awards Dinner, 7 p.m. Sept. 2, $75
On the Web:www.artsandiego-fair.com/visitors.html
Details: Mary Livingstone Beebe, of the Stewart Collection at UCSD, will speak on Sept. 4 at the 'Art in the City' conference
---