No. 6-ranked La Jolla boys water polo edges No. 2-ranked Bishop's
WATER POLO: La Jolla High School Vikings 10, The Bishop's School Knights 9
By Ed Piper
La Jolla's boys water polo team held on to narrowly defeat Bishop's 10-9 Oct. 10 at Bishop's home pool before a large and vocal crowd from both schools, in No. 2-ranked Bishop's' only second loss at home this season.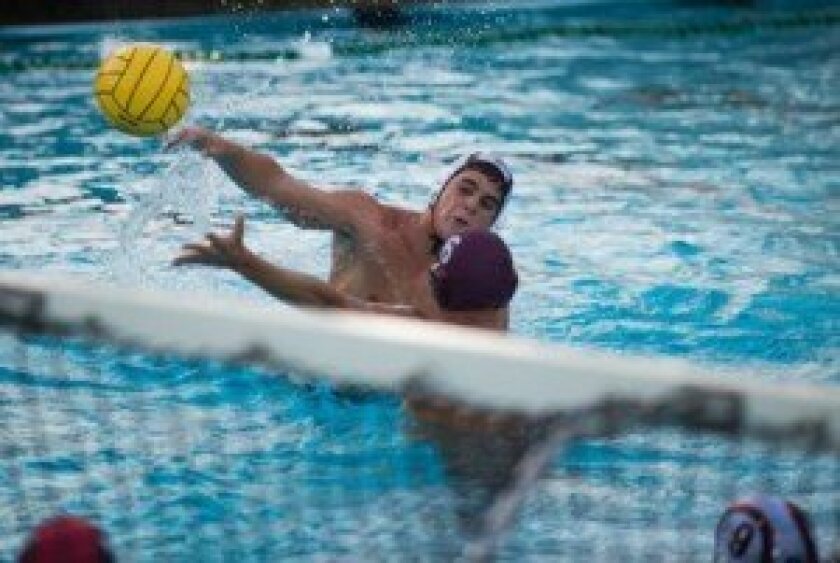 "It was an exciting game. I hate to say it, but La Jolla outplayed us," said Knights' stalwart Tommy Higginson, moments after the final horn sounded. "Their outside shooting was substantially better. Their ball awareness was better," added Higginson, the center defender who played the entire game.
Bishop's, though holding the home court advantage, fell behind early in the match, their deficit expanding to 6-3 after Viking senior Cole Martinez's second goal with 41 seconds left in the second quarter. Martinez scored yet again against Knight goalie Andrew Chun to make it 7-4 midway through the third quarter. The Vikings, coached by Tom Atwell, enjoyed their biggest lead, 9-5, with 1:26 remaining in the third quarter.
The Knights, coached by Jim Fales, fought back. Evan Elig scored at the end of the third quarter, followed by teammate Esteban Vasquez netting a goal to start the final quarter. Elig, an offensive powerhouse, poured in two more goals of his own within 42 seconds of elapsed time on the clock. Evan's last goal was a high floater that he sent from nearly mid-pool, yet it sailed into the La Jolla goal just under the crossbar. La Jolla was only able to make one to Bishop's four, bringing the Knights to 10-9 at 1:03 remaining, at which point Atwell called a timeout to regroup.
Chun made an excellent save on a Viking shot to his goal with only 39 seconds left in the contest to keep Bishop's within striking distance. But it was to no avail, as time ran out without another score by either squad.
"We definitely crashed on the two-meter (center) defense well," said the Vikings' Martinez. "We definitely played good defense on their shooters. We executed our offense well, like Coach (Atwell) wanted us to."
La Jolla's Connor Hallman said, "The key was we played as one cohesive unit. It wasn't just a bunch of guys doing their own thing. We communicated well and we were just all on the same page." Matt Allen, a junior goalie and three-year starter, got to participate in a win at Bishop's for the first time in his high school career.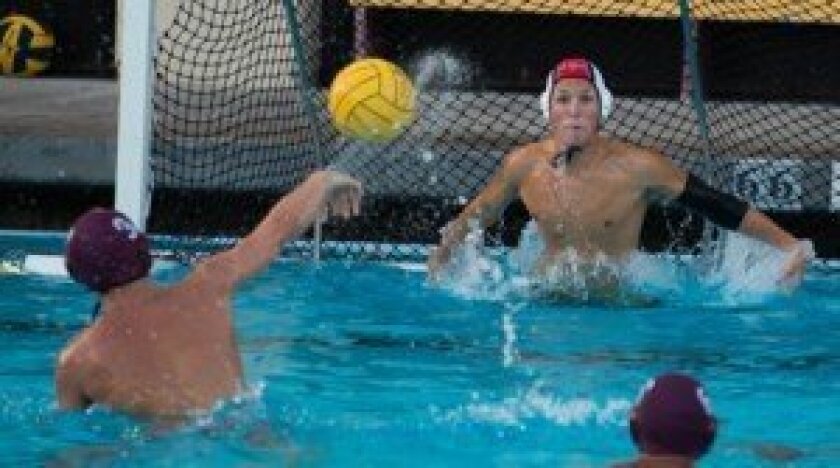 Coach Atwell said of his team: "I'm super proud of them. They fought hard all the way to the end. We started a little bit of playing- not-to-lose ... instead of playing-to-win, so it was a little scary in the last few minutes. But I was very proud of them, at how hard they battled. They were prepared for today." He singled out his seniors, Martinez, Isaiah Porter, Duke Becker and Hallman for excellent play, well as Carlos "Tito" Hernandez and sophomore Max Battle-Picas, a foreign exchange student from Spain.
Commented Coach Fales: "It was another great game with La Jolla in a long rivalry. They outplayed us in all areas. Elig and (offensive shooter) Richard Daly played strong games. Our two-meter man, Tommy (Higginson), had no goals but he played a good game. I was proud of my players. They played the whole game without subbing."
Though the two schools play in different leagues during the regular season, they are rivals in the same division in CIF playoffs, Division III. They play a home-and-away series against each other, in addition to their possible meeting in the post-season playoffs later this fall.
---