News Briefs: La Jolla activist honored, pro-seal attorney penalized, sea lions released ... and more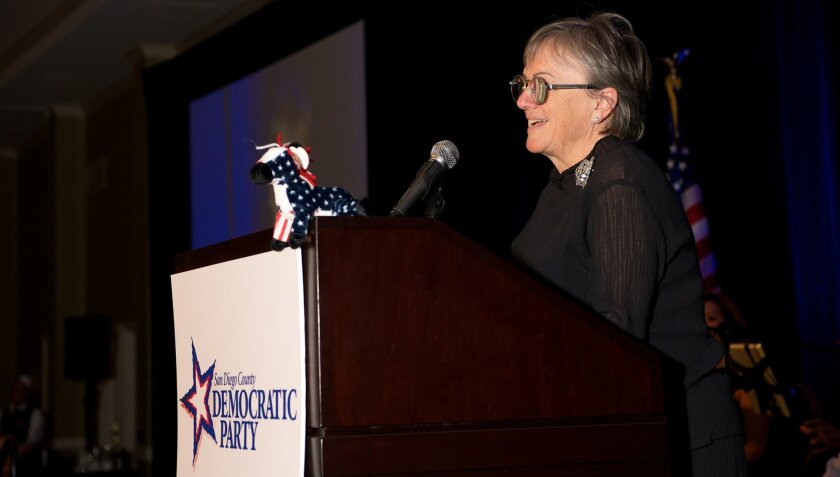 By Pat Sherman
■
Activist honored:
La Jollan
Christine Forester
was honored May 4 during the
San Diego County Democratic Party
's annual Roosevelt Dinner at the Hilton San Diego Resort in Mission Bay.
Forester, one of
La Jolla Light's
2013 "People to Watch," was the event's keynote speaker and the recipient of a Chair's Award, presented by County Democratic Party Chair
Francine Busby
.
Introducing Forester, La Jolla resident and U.S. Congress member
Scott Peters
(D-52) called Forester "a terrific and special person" who "counts the President of the United States and his family as her close personal friends.
"She is known in many circles as a champion of causes that have improved the quality of life for countless persons," Peters said, going on to read a note of congratulations that President Barack Obama sent to be read to Forester.
A native of Switzerland who began raising funds for Howard Dean's presidential bid (2003-2004), Forester said the award came as "an overwhelming honor for past deeds," that "also entails enormous responsibilities going forward.
"I accept the responsibilities attached to it, but the honor needs to be shared," she said, thanking fellow fundraisers, Dale Steele and Isabelle Wasserman, among others.
Forester said she generally eschews titles such as "philanthropist."
"If I had the means, I would be one, but I do work for a living. I have to," Forester said. "My work is what supports my activism."
■
Switching sides:
Also during the Democrats' dinner, former San Diego mayoral candidate
Nathan Fletcher
, who changed his party affiliation from Republican to Independent during last year's mayoral race, then again last week from Independent to Democrat, was hailed for his recent change of party.
As a Republican member of the state Assembly, Fletcher co-authored legislation with then Democratic state Sen.
Christine Kehoe
that changed a public trust to allow the Children's Pool to be established as a marine mammal park for the protection of harbor seals.
■
La Jolla sea lions released near border:
On May 7, SeaWorld released about 10 rehabilitated California sea lion pups to the wild. The male and female pups were all brought into SeaWorld's care malnourished and dehydrated from Oceanside, Del Mar and La Jolla beaches between March 1 and March 28. When SeaWorld rescued the marine mammals they weighed between 19½ and 28½ pounds.
■
WindanSea deal: La Jolla Trust
and
Rose Trust
have purchased the 5,000-square- foot WindanSea Apartments at 6520-6526 La Jolla Blvd. for $1.95 million. The property is comprised of seven residential units on two parcels. Ray Adams of Cassidy Turley San Diego represented the buyer. Alan and Faye Tassviri represented the seller.
■
Pease penalized:
Environmental law attorney and seal advocate
Bryan Pease
pled guilty last week to misdemeanor trespassing, for an incident in which he allegedly stole a sign from members of the pro-beach access group,
Friends of Children's Pool (FoCP).
Pease was ordered to complete 40 hours of community service, and must stay 100 yards from the Children's Pool. The attorney paid restitution of $275 to FoCP for the sign and $75 to the San Diego Council of Divers for the alleged theft of the organization's flag.
■
Beach closure brouhaha:
As the city prepares to have Children's Pool beach designated as an Environmentally Sensitive Habitat Area (ESHA, read more
here
) and close it completely during the seal's winter pupping season,
pro-beach access advocates
are mindful that the
California Coastal Commission
(CCC) did not support this move as recently as August of last year.
In a letter to the city's Park and Recreation Department head,
Stacey LoMedico
, dated Aug. 28, CCC staff analyst Kanani Brown said that after consulting with CCC's staff ecologist, John Dixon, CCC staff did not recommend the city establish the Children's Pool as an ESHA. Brown also wrote that CCC staff did not favor a complete beach closure during pupping season, adding that, "without the results from a comprehensive monitoring program, it is premature to con- clude that beach closure is necessary to pro- tect the seal rookery during pupping season. ... Commission staff would still recommend that some public access be maintained."
■
Developers eying school:
La Jolla developers
McKellar-Ashbrook
offered the San Diego Unified School District $18.5 million for the old Mission Beach Elementary School. The amount exceeds a $16.5 million offer made a year ago for the prime coastal property by San Francisco- based Carmel Partners.
---