New workout and exercise center invites La Jollans to get into 'The Zone'
By Marti Gacioch
The Zone Training Center's mission is to provide members with the only workout they'll ever need, said owner Ned Myan. New clients will receive a fitness analysis where their goals and aspirations are determined.
"We want to insure that we give our clients programs and training suited to their particular needs," Myan said. "We've designed proprietary exercise programs based on the scientific physiological facts about heart-rate training, and our programs help our members achieve their various goals."
The Zone at 565 Pearl St. (across from Jack in the Box) offers an extensive selection of equipment, along with group and personal training sessions for co-ed members ranging in age from 18 to 80, which includes everyone from high-performance athletes to senior citizens.
The center provides members with five trainers (including Myan) and a line of Precor cardiovascular equipment, treadmills and elliptical trainers.
In addition, Zone Training Center features six multi-functional strength machines that provide users with a total workout on one unit. The equipment is supplemented by a full range of dumbbells, weight plates, kettle balls and suspension trainers.
Each trainer is certified to deliver any of the sessions offered, and the group training sessions can accommodate up to 12 people, enabling the class instructor to interact with every person.
Older citizens who want to increase their balance and mobility can take the Twilight Zone class. "These exercises are designed to offset the possibility of osteoporosis and arthritis," Myan said. "Our aim is to help prevent seniors from having a fall by assisting them with coordination, balance and some light weight-training."
Members working to lose weight can join the Drop Zone classes. Those who seek to increase their performance and get into even better shape can participate in High-Intensity training sessions.
Myan, who holds a degree in physiology and anatomy, said he designed and developed Zone's workout brand before opening centers in Dubai, Qatar, Egypt and London. He recently opened the La Jolla center and said he chose the Village for its demographic, its community-feel and its beautiful weather.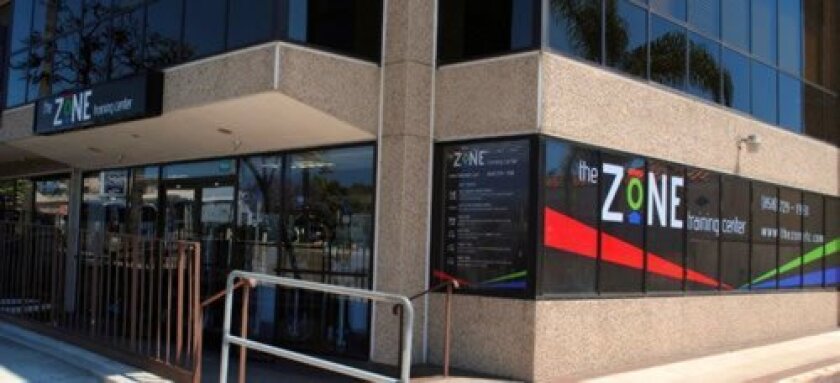 The Zone Training Center has extended its free first trial workout session to a free trial workout week that will expire at the end of July 2014.
• The Zone Training Center
565 Pearl St., Suite 110, La Jolla
Hours: 6 a.m. to 10 p.m. Monday-Thursday; 6 a.m. to 7 p.m. Friday; 9 a.m. to 6 p.m. Saturday and 9 a.m. to 4 p.m. Sunday.
(858) 729-1981
thezonetc.com
The Business Spotlight features commercial enterprises that support the
La Jolla Light
.
---