Museum of Tolerance tapped for lessons on bullying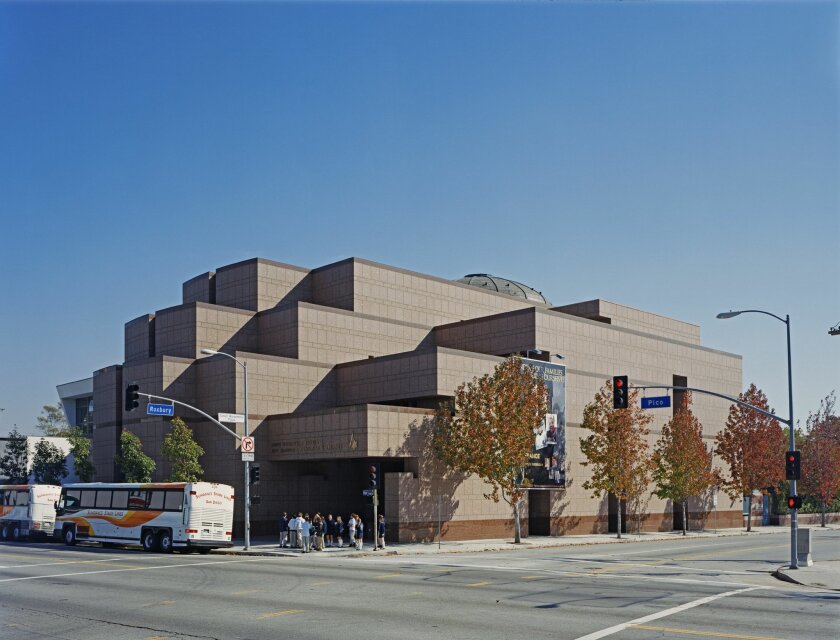 ■ Offending youths tell police, program directors: 'I have a lot to think about'
By Ashley Mackin
In an effort to curb bullying at area schools, San Diego Police Department's Northern Division (which covers La Jolla) has partnered with the Lawrence Family Jewish Community Center to take at-risk youth (and students identified as possible bullies) to the Museum of Tolerance in Los Angeles.
The students are recommended for the trip by their parents or school administrators. The journey includes a three-hour tailor-made tour for this group.
Sgt. Ernesto Servin, speaking on behalf of Northern Division, explained that some students are recommended as a part of a diversion program, which means they've been in trouble or gotten in fights at school or fights with their parents. "We do a lot of outreach to schools about upcoming trips and ask administrators to find students who meet the criteria. They provide the names and we contact the parents," he said.
Students are seen as potential bullies if they've been caught using racial slurs and other terms that suggest discriminatory thoughts. "Having been to the Museum of Tolerance in the past, I knew how meaningful and impactful the museum is and I know during the tours they talk about acceptance and tolerance, and there is a component on hatred and anger and bullying," Servin said.
Servin has organized these trips every other month for the past year, and about 12 youths go on each trip. The police department provides the transportation. Officers from the Juvenile Services Team supervise the participants, and the Jewish Community Center pays for their admission to the museum.
Marcia Tatz, director of Literary Arts & Education for the JCC, said when the police approached them for support, she thought it would be a "wonderful" partnership. "We wanted to assist because the museum does not just teach about the Holocaust, it teaches about tolerance," she said, adding that's much more important to teach when people are young.
"The earlier the better, because that's the time of your life when you are forming who you are," she said. "You're forming your own personal identity and what role you are going to play in the community as you grow up. Trips like this can give students tools to move forward."
For these custom tours, Servin called upon veteran docent, Diana Treister, because she understands the goals police hope to accomplish, and she takes the students through the museum, catering the messages.
Treister said she starts each presentation by asking the students what they did to be there, hoping to teach them about personal responsibility. Over the course of the tour, she shows a film that presents examples of bullying, so the students can see it as a third party.
"I emphasize that they are personally responsible for their actions and words, because it is their life and nobody else's," she said. "We're showing these kids that there is a right way to do things, and although we can show them, it's up to them what they want to do with it." The other message is that someone cares for them, as many of these students are acting out of anger, believing no one cares about them.
"It's hard for kids today, there's a lot out there and they have to know that someone cares," Treister said. "I tell them, 'I don't care where you've been or what you've done, it's where you are going now' with the information they now have."
They end each tour with a discussion with a Holocaust survivor, most of whom were in their teens when they entered the concentration camps.
"This opens their eyes to the fact that kids should be more aware of the conditions in which they live," Sgt. Servin said.
One of the directors of the Museum of Tolerance, who was attacked and bullied in his own youth, often speaks to the group to explain the long-term effects of mistreatment. "The museum has been gracious in allowing us to have a tailor-made tour just for our kids," Servin said.
He added that the tours have been successful, based on feedback from parents and teachers.
"They tell us that the kids have changed; they're more respectful at home and their choices of friends have changed," he said. "Schools report the kids now stand up for kids being bullied. We're just planting seeds and letting the kids come up with their own way to solve these problems."
Treister said she knows the program is a success when the youths say to her, as they often do, "I have a lot to think about."
If you go
■ What: The Museum of Tolerance, a multimedia museum in Los Angeles, is designed to examine racism and prejudice around the world with a focus on the history of the Holocaust. Established in 1993 as the educational arm of human rights organization, the Simon Wiesenthal Center, the Museum of Tolerance also deals with atrocities in Cambodia and Latin America, along with issues like bullying and hate crimes.
■ Where: 9786 W Pico Blvd., Los Angeles
■ Hours: 10 a.m. to 5 p.m. daily. Closed Saturdays
■ Admission: $11.50-$15.50
■ Contact: (310) 553-8403
■ Website:
museumoftolerance.com
---