Mt. Soledad National Veterans Memorial is open as usual, despite government budget shutdown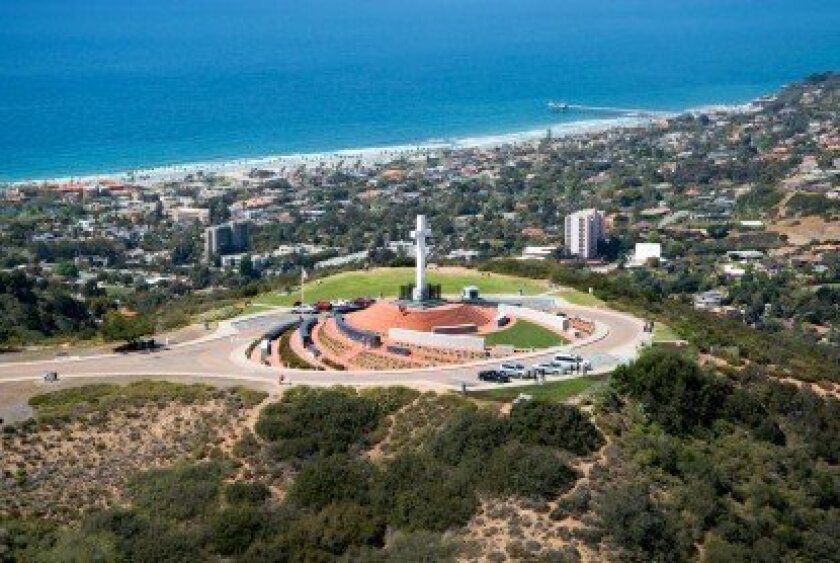 By Bob Phillips
While the Mt. Soledad National Veterans Memorial is owned by the Federal government, it receives no federal funding. Its operations are funded totally through the nonprofit Mt. Soledad Memorial Association, which maintains the memorial under the direction of its landlord, Navy Region Southwest, here in San Diego. The association funds the memorial through the sale of black granite plaques honoring veterans on the Veterans Memorial Walls, membership fees and donations.
Volunteer Docents are present at the site to provide brief tours, assist in locating veteran plaques and share the history of the Memorial. As one of the most unique veterans memorials in America, the Mt. Soledad National Veterans Memorial is the only one honoring veterans, living and deceased, from the Revolutionary War to the current War on Terror with a picture of the veteran.
The memorial is sited at Soledad Natural Park atop Mount Soledad in La Jolla, providing one of the most inspirational locations in San Diego County, offering 360-degree vistas of the city of San Diego and the surrounding ocean, mountains, and Mexico to the south.
For general information about the Memorial, contact the Mt. Soledad Memorial Association office at (858) 459-2314.
---