Mid-century mores collide with today at 'Maple and Vine' at Cygnet Theatre
By Diana Saenger
Cygnet Theater begins the New Year with the Southern California premiere of "Maple and Vine," fresh off a successful Off-Broadway season at New York's Playwrights Horizons Theatre.
Written by Jordan Harrison, the play is part comedy, part reflection, and features a stage turntable that director Igor Goldin promises, "will shift the scenes in a split-second."
Couple Katha (Jo Anne Glover) and Ryu (Greg Watanabe) — one a plastic surgeon and the other an editor at a publishing company — have become averse to their 21st century lives and go in search of greater truth and more meaning. After they experience a personal tragedy and forget who they are and why they are together, they decide to move into a closed-community of 1950s re-enactors. There, they give up their cell phones and sushi for poodle-skirts, milkmen and Tupperware parties.
"The focus of the play," Goldin said, "Is what happens to them when they are denied outside information, live as the world was in 1955, and have to adjust to things that are so different. How does this decision affect their lives?
"This question is a generational thing, but certainly heightened right now by the bombardment of media, social networking and all the technology we hold in our hands today. It's difficult to slow down and 'connect authentically' — words we use in the show. We lose ourselves and start getting a skewed idea of who we are because we're buying into all the stuff we're sending out and other people are sending in. That's where these two characters are at in 'Maple and Vine.' "
New York-based Goldin is in San Diego to direct his first play at Cygnet Theatre. He has directed several plays at Divisionary and said he was excited to get a call from Cygnet's Artistic Director Sean Murray.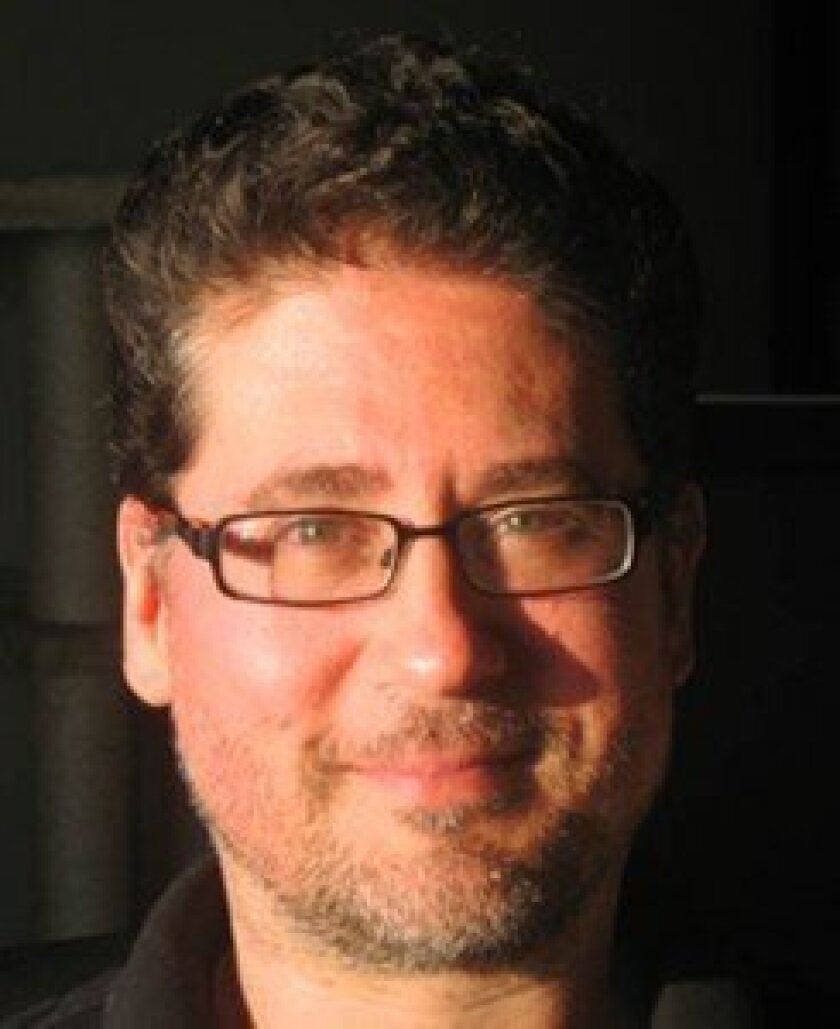 "I've wanted to work with Cygnet for a while," Goldin said. "I've always admired the company and its sophistication matches my sensibility. When Sean called and asked me to direct, it was the perfect opportunity. This play is interesting and challenging, and intellectually and emotionally, I was looking for something to sink my teeth into.
"The turntable is going to be great. There are moments of dream logic in the play, so the turntable will give us a sense of airiness and other worldly ways on moving people. The show has some 30 locations, so we needed a way to shift the scenes in a split-second and keep things clear to let the audience know where they are.
"Revolving; it's also a great metaphor for the play — life goes on and the next generation will take over and face the same situations."
Will the show make playgoers yearn for the 1950s?
"It should make them consider where they are today and ask what have they lost in this new age of information," Goldin said. "Ask, 'What can I do to strengthen my personal connections with others?' Really, what did we do years ago without the technology we have today? Ultimately, we were just fine."
If you go
■ What: 'Maple and Vine'
■ When: Matinees and evenings, Jan. 18-Feb. 16
■ Where: Cygnet Theatre, The Old Town Stage, 4040 Twiggs St.
■ Tickets: $26-$54
■ Box Office: (619) 337-1525
■ Website:
cygnettheatre.com
---