Mesmerizing Mural: New public artwork on Ivanhoe Avenue is first under Athenaeum auspices in La Jolla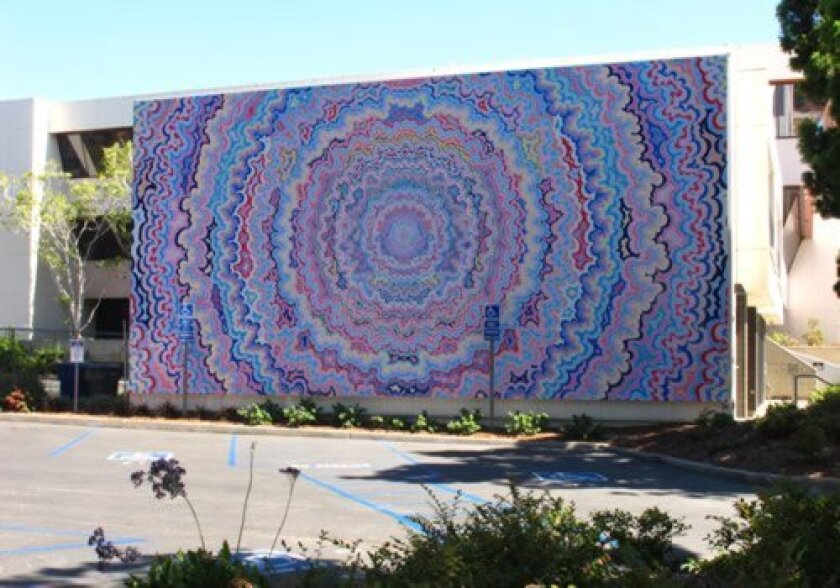 By Pat Sherman
The Murals of La Jolla public art project received a playfully bold addition last week with the installation of "One Pointed Attention" by San Diego artist Kelsey Brookes.
The vividly colored mural — reminiscent of the patterns in a coral reef — is the first to be installed following the transfer of management and stewardship of the project from the La Jolla Community Foundation to the Athenaeum Music & Arts Library.
Brookes' 23- by 41-foot artwork is located on the side of the recently remodeled, two-story office building at 7835 Ivanhoe Ave. The Leadership in Energy and Environmental Design (LEED) certified building is nominated for an Orchid Award in this year's Orchids and Onions architectural competition, Oct. 2 at the Air and Space Museum in Balboa Park, and won a 2014 award for "Best Commercial Project" during the Pacific Coast Builders Conference. The mural joins 12 others installed throughout the Village, for which the Athenaeum offers regular guided tours.
"We are honored we are allowed to oversee the Murals of La Jolla program. It has made us many friends and the large crowds at the monthly tours show great local interest," Athenaeum Executive Director Erika Torri said, in a release. "It is especially gratifying that several of the artists chosen have shown their work at the Athenaeum."
Brookes studied biochemistry at Colorado State University and spent much of his earlier career as a scientist before embarking on a career as a full-time artist.
Building owners Amy and Horacio Valeiras were in Atlanta when the mural was installed, though speaking with
La Jolla Light
Amy Valeiras said she has received positive feedback from others who have viewed it.
"I've been told it makes (the building) look very bright and cheerful," said Valeiras, a ceramics artist who operates Threefoot Clay Studio on the first floor (husband Horacio's business, HAV Capital, occupies the second level).
"When I first saw the mural I said this really feels like the '60s," Amy Valeiras said, noting her surprise when she learned it is inspired by Brookes' knowledge of molecular structure. "I'm definitely looking forward to seeing it when I get back today."
Brookes said the undulating patterns in his acrylic on canvas artwork (reproduced as a framed vinyl mural), were also inspired by the meditative and artistic process — which, for him, are inherently connected. "Creation
is
the meditative process," said Brookes, a Denver native and former Bird Rock resident who incorporates meditation into his daily routine.
Brookes' work has been exhibited at Quint Gallery and the Museum of Contemporary Art San Diego in La Jolla, and has appeared on album covers for the Red Hot Chili Peppers and The Flaming Lips. This is his first public art installation.
Find more details on the Murals of La Jolla public-art series:
LJAthenaeum.org
and
MuralsofLaJolla.com
---