Art Exhibit: House of the Rising Suh lights up MCASD in downtown San Diego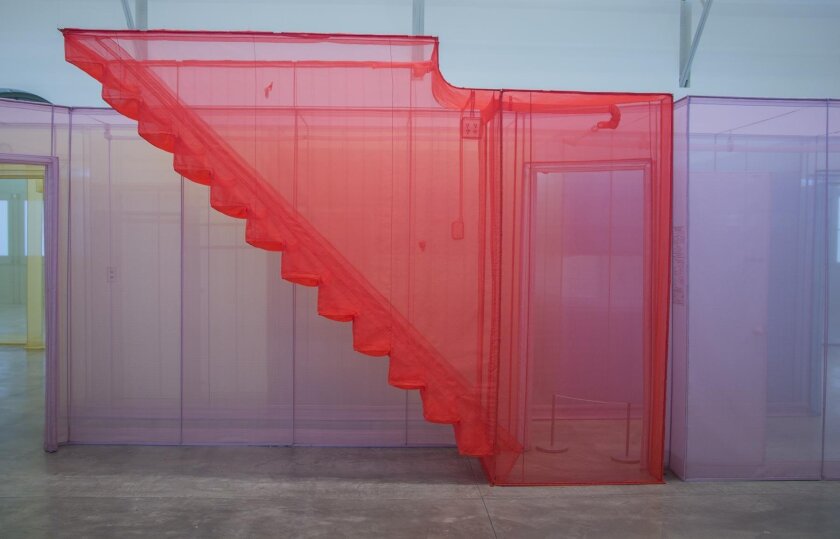 Do Ho Suh may not be a household name to most people, but he's definitely a rising star in the wide world of museum installations and public art. And if you've walked around the UC San Diego campus, looking up from time to time, you've surely seen his piece, "Fallen Star," one of the stars of the Stuart Collection — a small house tilted precariously on the rooftop of the Jacobs School of Engineering.
Now more of Suh's work is on view in a solo show at the Museum of Contemporary Art's downtown location. Like "Fallen Star," the exhibit highlights the artist's preoccupation with the idea of home. Using translucent polyester fabric and slim stainless steel tubes, he has created an ethereal version of his New York City apartment, complete with major appliances, which visitors are invited to enter.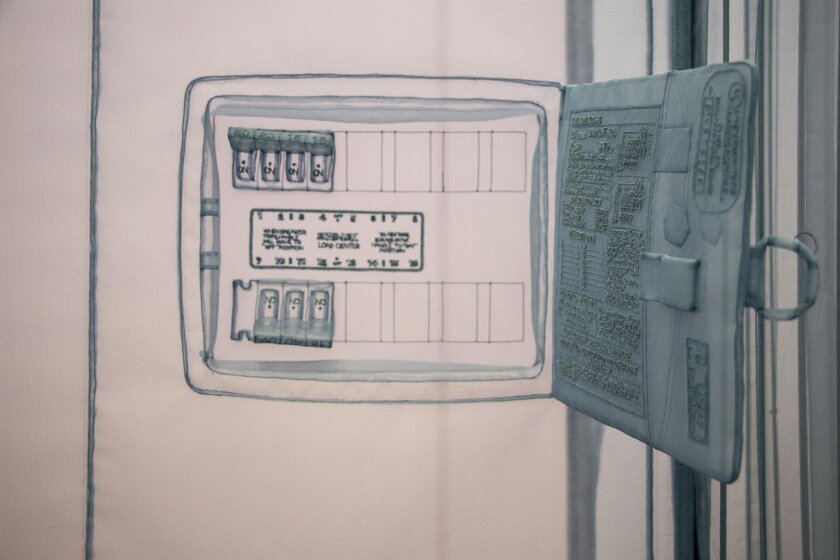 It's hard not to be blown away by the luminous, full-scale apartment, all pale pastels, with a flash of red staircase. Even the gallery's security guard, Juanita Hayes-Vickers, couldn't get over it. "It's so wonderful, it tickles your belly!" she said.
In contrast, the black-walled adjoining gallery displays individual specimens of fixtures in the apartment, offering a totally different experience, almost meditative. Encased, out of context, the softly-glowing, see-through toilet is an object worthy of quiet admiration, a miracle of detail, every tiny, stitched-fabric screw in its place.
In a room by itself is the "Secret Garden," a 1/16th-scale replica of the Korean home and garden Suh's father built installed on a mini-truckbed, as ready to travel as Suh is, with a video of its proposed Seoul-to-New York trip on the wall behind.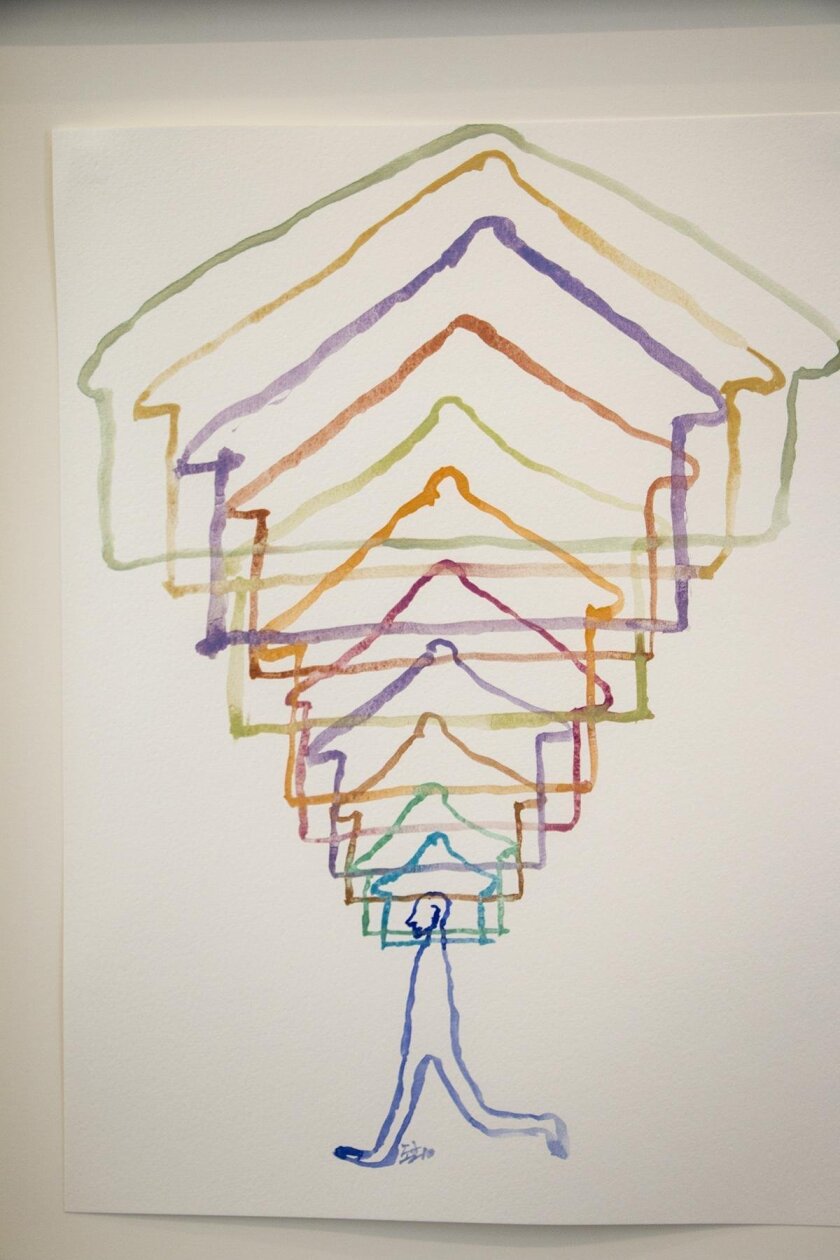 But wait, there's more: A selection of Suh's works on paper, done in watercolor, colored pencil and multicolored threads, and a gallery dominated by the blueprints he made of his New York apartment — actually rubbings he did by taping sheets of tracing paper to the walls and rubbing blue pencil over them.
"He's kind of dissecting the place and re-assembling it, as in a dream," said Kathryn Kanjo, MCASD's Deputy Director and curator of the exhibit. "He's like a couturier, making clothes for the inside of the house. He has these two sides — tightly analytical architectural renderings (his brother is an architect!) and a dreamlike, playful sensibility."
Kanjo said she first met Do Ho Suh 10 years ago in San Antonio's ArtPace, where he was working on a cyclone sculpture with a Korean house crashed into it that he called "Fallen Star: Lone Star Edition."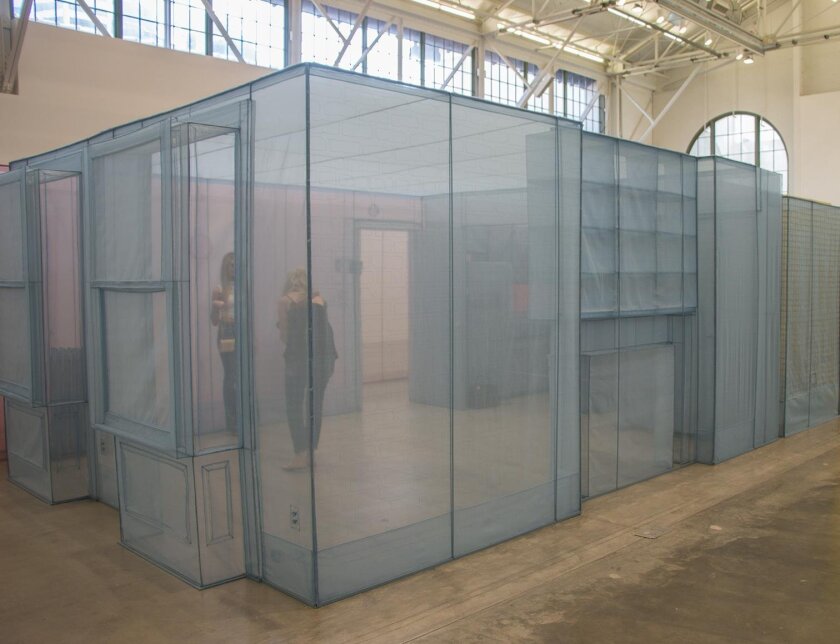 "He worked hard, made a lot of models; he was always busy experimenting," she said. "When I came to San Diego in 2010, I was thrilled to find the project was in process here."
I was thrilled to do a walk-through of the new exhibit with Kanjo, whose comments enlivened every piece. She pointed out Suh's preoccupation with connections — the webs and paratrooper cords in his watercolors and thread-paintings, the fact that thread itself is something that connects us — and noted how often his paper works show corridors, doors and other things we travel through. She also mentioned that installation of the major pieces wasn't easy: "It took 10 days to install the apartment," she said. "We have no ceiling here; we needed struts and wires to hang it. And even the toilet was hard to assemble."
Originally organized by The Contemporary Austin, the Do Ho Suh show is terrific, a haunting look at the artist's life and work that makes you see ordinary objects — like toilets and circuit boxes — in a new way. Don't miss it.
• IF YOU GO: The Do Ho Suh solo exhibition is on view through July 4 at Museum of Contemporary Art San Diego, 1100 Kettner Blvd.in Downtown San Diego. Hours: 11 a.m. to 5 p.m. Closed Wednesdays. Free 5-7 p.m. third Thursdays. (858) 454-3501. mcasd.org
---
••• Who is Suh?
Do Ho Suh was born in South Korea in 1962, the son of a renowned traditional painter. He studied oriental painting at Seoul National University, and then, hoping to make his own way in the arts, he came to this country, following a BFA in painting from the Rhode Island School of Design with an MFA in sculpture from Yale.
He is best known for his meticulously crafted, large-scale installations in public spaces. "My art becomes a part of the architecture," he has said. Much of his work revolves around memory, identity, and home. Maintaining homes in three places — New York, Seoul and London — he says: "I want to carry my home with me all the time, like a snail."
In 2003, Suh was featured in PBS-TV's video series "ART 21." In 2012, "Fallen Star" became the 18th addition to the Stuart Collection. "Fallen Star: Finding Home," a film he produced, premiered April 5 at UCSD's Atkinson Hall.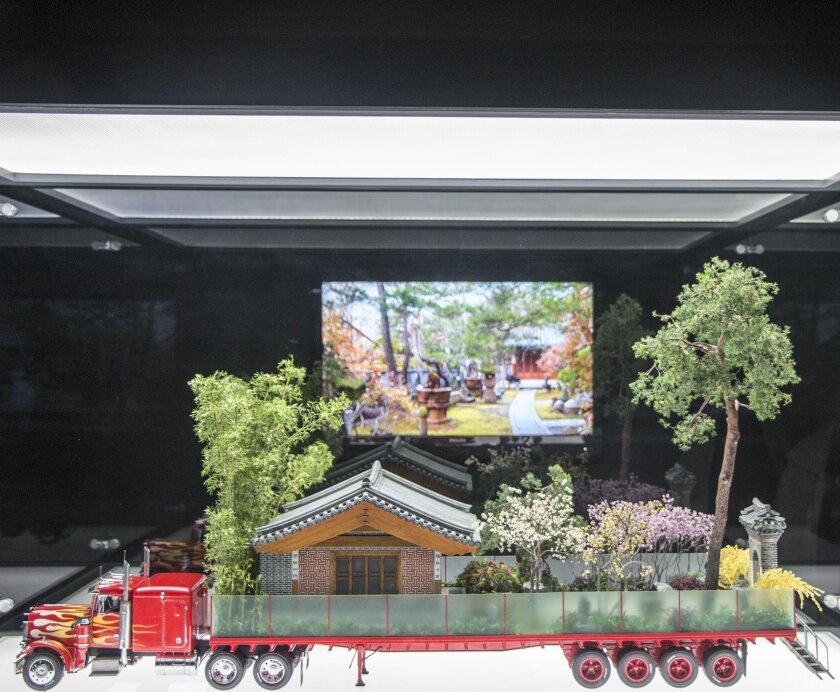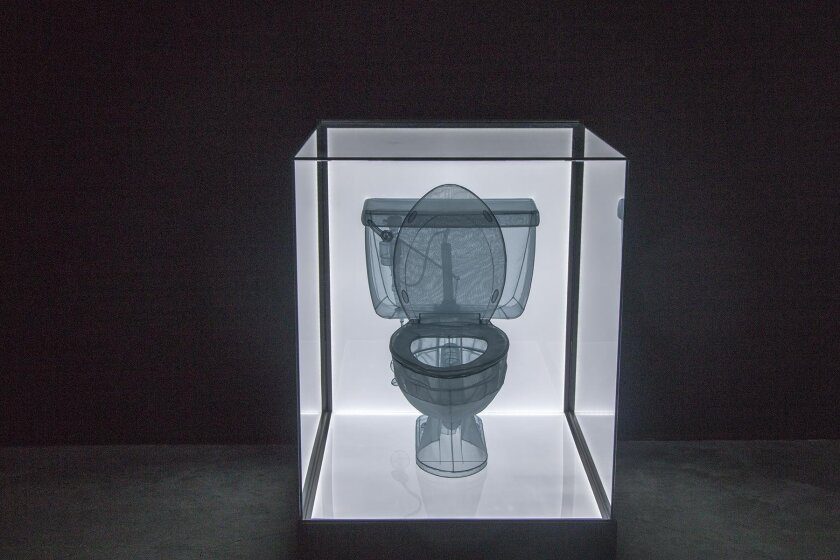 ---