Mayor's revised budget would allocate $50,000 for 'Seal Cam'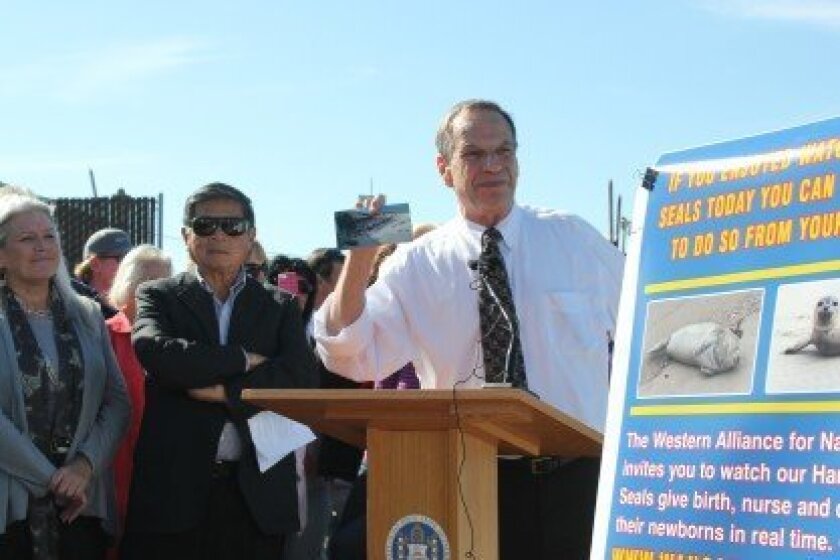 San Diego Mayor Bob Filner released a list of proposed revisions to his $2.6 billion Fiscal Year 2013- 2014 budget this week, which includes almost $11 million in extra funds from an unanticipated increase in property taxes and new savings from renegotiated rents.
The budget increase includes $50,000 for the Park and Recreation Department to handle operations and monitoring of the Seal Cam at Children's Pool (Casa) beach, and $620,000 for San Diego Fire Rescue to add a Lifeguard Sergeant, Marine Safety Captain, Lifeguard Scheduling Sergeant and a Lifeguard Advance Academy.
In addition, more than $6 million would be added to the annual infrastructure spending plan, bringing it from $49 million in the proposed budget to more than $55 million in the revised budget.
"In addition to having a balanced budget, we can put more money into fixing streets and sidewalks, adding more lifeguards and police personnel, and ensuring that there is a year-round shelter for our homeless veterans," the mayor said. "It's been a month since I released the draft budget. During that time, I've listened to the city council members who relayed constituent concerns to me and who have had a significant impact on these revisions."
The mayor's revised budget will be heard at the San Diego City Council meeting scheduled for 6 p.m. Wednesday, May 22 in San Diego City Council chambers.
In addition, the San Diego region will receive $16.9 million from the Department of Homeland Security, as part of the Urban Area Security Initiative grant program, the mayor's office announced this week. The grant will provide funds for surveillance equipment, weapons, and advanced training for law enforcement first responders in order to heighten security in the event of a terrorist attack."It is reassuring that the federal government is allocating this amount of money to aid in protecting San Diegans as the safety of our citizens is a top priority," Filner said, in a statement. "I am committed to making sure all areas of our city are secure from any type of danger."
Last year, the region received $9.2 million in USAI funds.
--Staff Reports
---