Mayor promises increased monitoring at La Jolla Children's Pool, says rope should be up year-round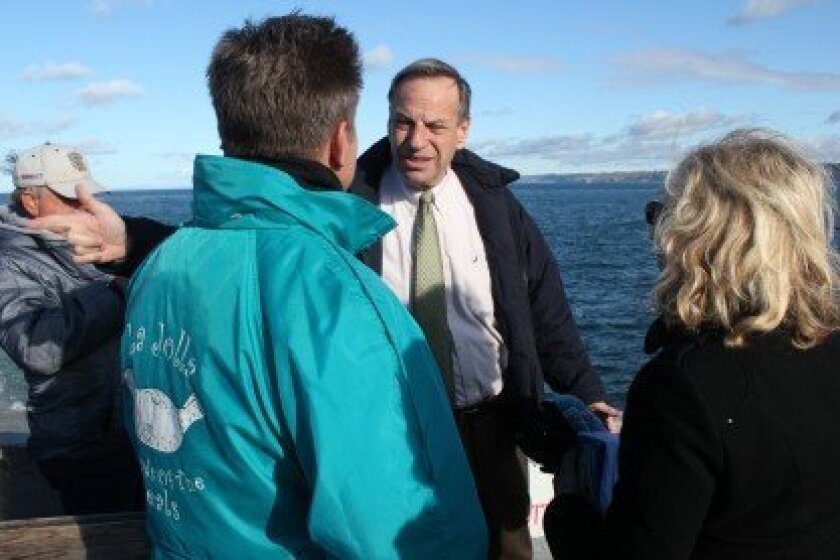 By Pat Sherman
San Diego Mayor Bob Filner made his position on the seals at Children's Pool beach known Saturday morning, during a visit there just hours after city workers reinstalled the guideline rope.
Filner said he believes the rope, intended as a barrier to keep humans a safe distance from seals, should be up year-round — not just during the seal's pupping season, Dec. 15 to May 15.
"The rope is something that's been a long time coming," Filner said. "I think it should be year-round and we ought to figure out how to do that, respecting all the wishes of the community."
Filner also said he would order more resources to staff a park ranger at Children's Pool from "dusk to dawn," seven days a week — by year's end. Currently, Park Ranger Richard Belesky monitors Children's Pool beach from about 11 a.m. to 5 p.m. Wednesday through Sunday.
"We have the rope up; it should not be violated, and we're going to have a ranger present for all the daylight hours to make sure that we enforce that," Filner said.
"Tourists come here all the time just to see the seals, and I think we ought to be protecting them and showing some respect and some love," Filner said. "It's good for our ecology, but it's good for our tourism also. So we're going to do whatever we can to make sure that this is a (marine) mammal preserve."
Filner continued, "Until people get the sense that we're serious about this they're going to continue harassing (the seals) ... I just want to send them a message that they can't do this."
Asked what he would to satisfy divers and beach access proponents that don't want the rope up year-round, Filner told the
La Jolla Light
, "I understand that there are two points of view, … but my observations, personally, are that without a rope people harass the seals. They come here to do that. … I think if we left it to the local people everything would be just fine. … I don't think it's the local people who are the problem. … I trust them. I think it's the outside people."
Filner also assured that the length of the rope would be increased from its current length of 130 feet to 152 feet, as was the intent of the San Diego City Council and the California Coastal Commission when voting for a year-round rope.
The city previously approved a coastal development permit for a 130-foot rope barrier with a 3-foot opening along the east wall for divers and spear-fishermen to access the water during pupping season. However, 130 feet was a miscalculation by city staff. The rope should be 152 feet. As the guideline rope stands, it leaves about a 25-foot opening.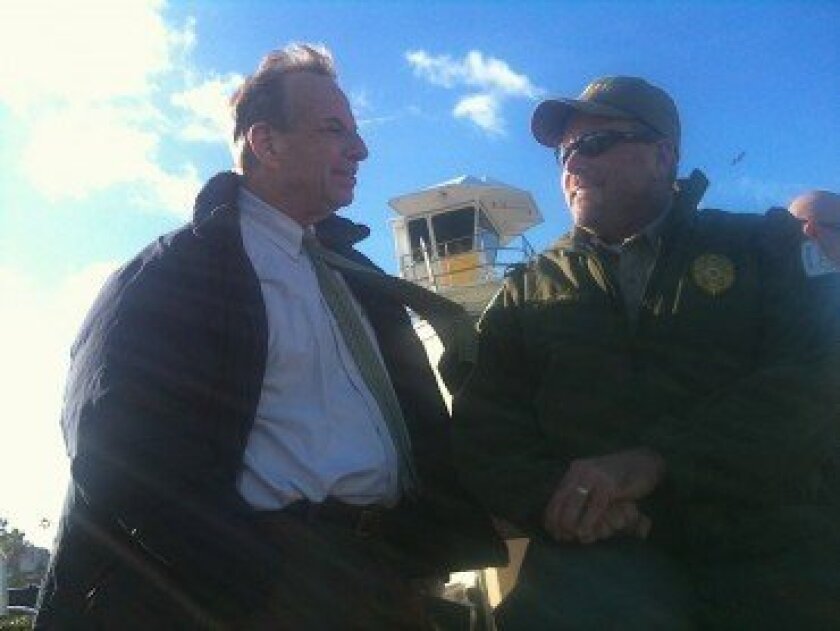 Seal advocate Jane Reldan said the 25-foot gap is large enough that some visitors do not see the rope or informational signage posted on the support posts.
"People think it's an open invitation to go down to the waterline because they don't know better," Reldan said. "I was hoping that the city would correct its own error."
Longtime La Jollan Howard Zatkin, who viewed the seals Saturday morning with his wife, Christy, and young grandson, Axel, said he does not favor the rope barrier in winter or summer, but feels the pupping season rope is a "nice compromise."
"I don't like the rope idea because (the seals) are not an endangered species," he said. "I just think it's too much restriction. I personally wouldn't get too much closer than this out of respect, but I don't necessarily think I need a rope to tell me that."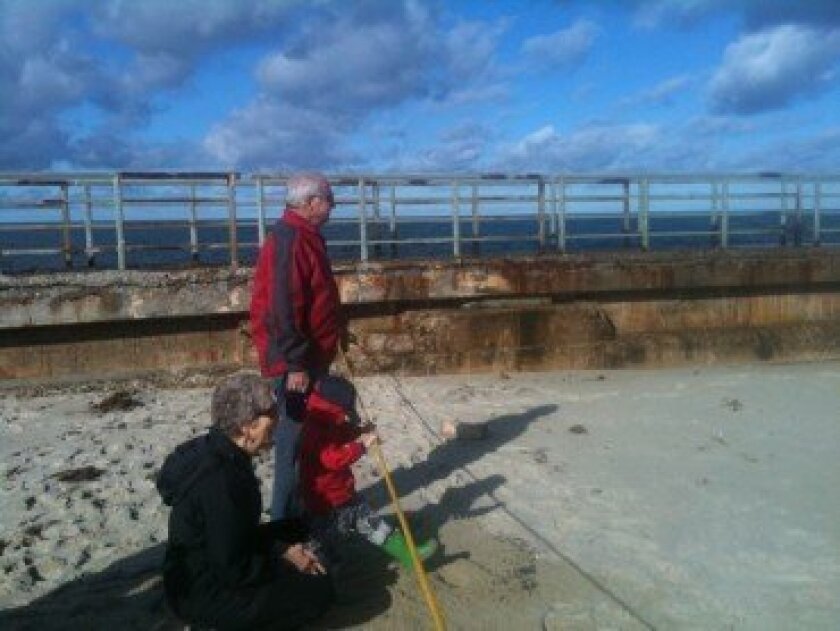 Mark Pretorius, who recently moved to La Jolla from San Francisco, said he has seen seals take over Northern California beaches and bays and thinks the city should be careful not to encourage colonization.
"It's a biohazard," he said. "You've got increased bacteria levels. These guys are pooping all over the place.
"Don't encourage them," Pretorius added. "They'll move on eventually."
---