Madison Gallery in La Jolla to hold private VIP reception for 'Butterflies & Rebirth' exhibit by Hunt Slonem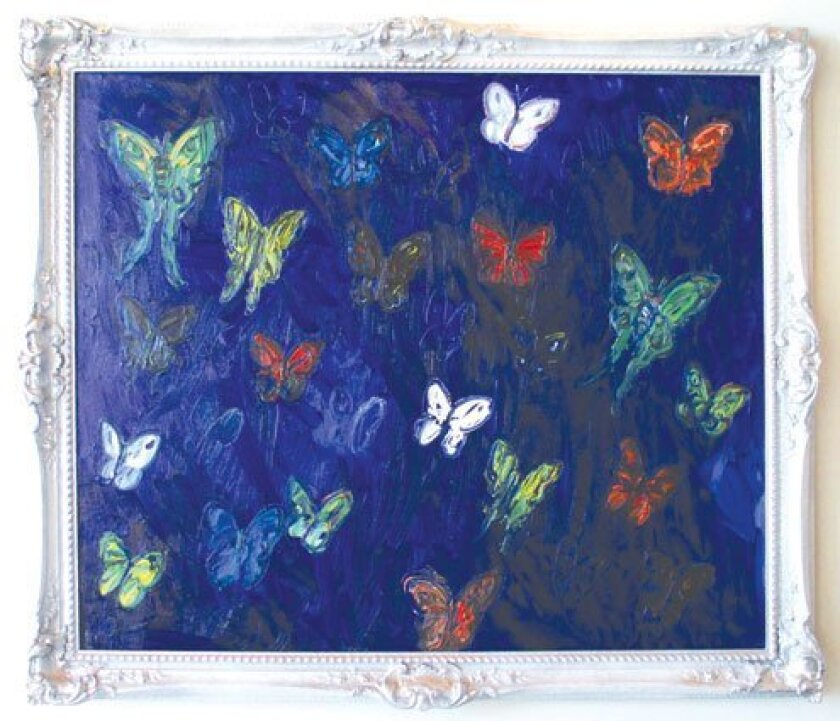 By Marti Gacioch
Madison Gallery will hold a private reception for "Butterflies & Rebirth," a new exhibit by world-renowned contemporary artist Hunt Slonem, which opens 6-9 p.m. Saturday, June 8, 2013 with a private VIP show for collectors and only by advance RSVP at (858) 459-0836.
The exhibition is open to the public from 10 a.m. to 6 p.m., June 5-July 8, at the gallery, 1020 Prospect St., Suite 130, La Jolla.
Both decorative and spiritual, Slonem's exhibit features a mystical blend of animals, exotic birds and saints in a collection, celebrating the beauty of the natural world — a world now in transition and threatened by modern civilization.
Slonem said he grew up traveling to such exotic lands as Japan, Hawaii, Mexico and Nicaragua, and now his ongoing projects take him to an atlas of destinations, including India, Mumbai, Hong Kong and Haiti. Every trip sparks his prolific creativity, and he returns to his New York City studio with impressions of colors, new animal forms, and fragrances that affected him on the trip. He subtly weaves those impressions onto his canvasses.
"As a child, I came out of the Garden of Eden, and now with my work, I travel a lot," Slonem said. "Hong Kong has a certain odor, Mumbai has the odor of the Champa flower, and New Orleans has its own fragrance," Slonem said. "Each smell reminds me of a certain place and a set of colors."
According to Slonem, his "Butterflies & Rebirth" show is finely tuned to the world of spirit. It features pale colors and patterns of shimmering butterflies that emphasize the theme of transformation and rebirth.
"It's a time of transformation and being prepared for it, and we've been going through a lot of it with 9/11, hurricanes Sandy and Katrina," he said, "but I prefer to focus on upliftment; metaphysically, my paintings are gateways to other realms."
Slonem studied art at Vanderbilt and Tulane. He's had more than 250 solo gallery exhibits, and has been featured at the Metropolitan Museum of Art, The Solomon R. Guggenheim Museum, and the Whitney Museum of American Art in New York.
He is currently working on 20 projects that include the Children's Museum of Indianapolis, the National Gallery of Bulgaria, and the Morris Museum of Art in Augusta, Ga. Vendome recently published Slonem's new coffee-table book, "The Worlds of Hunt Slonem." It will be available the night of the show, with a portion of the show proceeds going to Promises 2 Kids.
Madison Gallery
1020 Prospect, Suite 130, La Jolla
(858) 459-0836
madisongalleries.com
The Business Spotlight features commercial enterprises that support the
La Jolla Light.
---