Luck of the Irish follows Sandy Coggan Erickson into her labors for La Jolla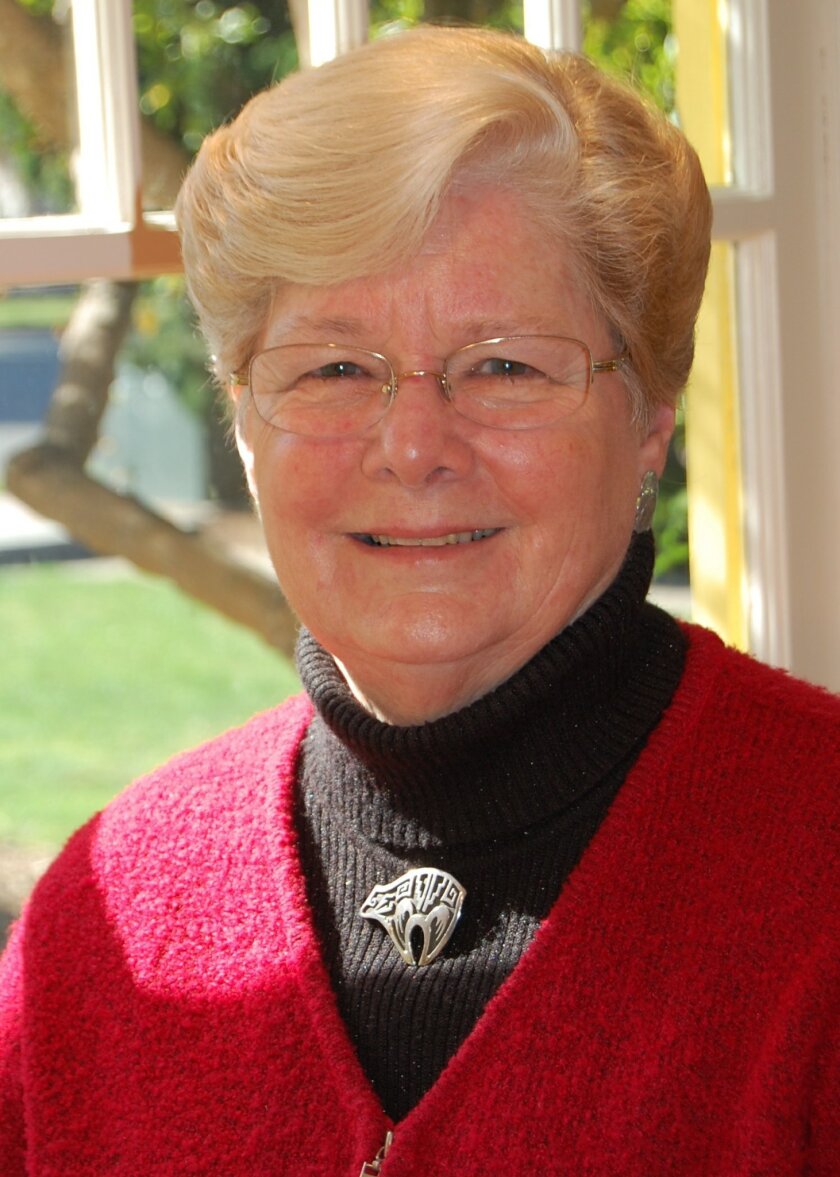 Sandy Coggan Erickson attended La Jolla Elementary School, graduated from La Jolla High School in 1962 and received a bachelor's degree from the UCLA in 1965. She married Dave Erickson and worked for the Los Angeles County Department of Public Social Services. She returned to La Jolla in 1973 when her husband accepted a job at Science Applications International Corporation (SAIC).
During the 1970s, she coordinated the early childhood education program at Pacific Beach Elementary School, served on the Board of San Diego Junior Theatre in Balboa Park, was a Girl Scout troop leader, and a volunteer with the Boy Scouts. During the '80s, she owned Erickson Consulting, a computer training company. She offered her classes through Computerland of San Diego owned by La Jollans Norm Dinnsen and Dave McDonough.
Erickson has been a volunteer at La Jolla High School for more than 20 years. She founded the LJHS Alumni Association in 1991 and is president of the Foundation of La Jolla High School. This year marks the high school's 90
th
anniversary and she is chairing the "Celebrating Ninety Years on Nautilus" committee.
The Ericksons, along with Rita and Richard Atkinson, are honorary co-chairs of the La Jolla Historical Society's "Partners for History" capital campaign to raise funds for the restoration of Wisteria Cottage, donated by Ellen Revelle and family. To date, the campaign has received more than $1.6 million toward its $2 million goal.
What brought you to La Jolla?
My father was hired as manager of Convair in San Diego in 1952 so my family moved from Detroit to La Jolla. My brother Barry and I thought we had arrived in paradise.
What makes this area special to you?
The beautiful Pacific Ocean, fascinating sea life, spectacular sunsets and the amazing Green Flash were special to me as an eight-year-old and will be forever.
What would you add, subtract or improve in the area?
I would add more funding to ensure the conservation of our fragile coastline, remove the people (both pro and con) from the seal controversy circus at the Children's Pool so one could walk the coastline in peace, and improve safe public access to our beaches.
Who or what inspires you?
My father, by example, inspired me to use my time and talents for the support of the things I care about … my family, my alma mater (La Jolla High School) and our unique community (La Jolla Historical Society).
If you hosted a dinner for eight, whom (living or deceased) would you invite?
My parents, Bonnie and Sandy Coggan; their parents, Bernard and Blanche Coggan and Carl and Leota Creagan; and my husband, Dave, so I could hear the answers to the questions I failed to ask when they were ALL alive. I now have only my mother who can no longer communicate, and my husband who is my best friend. I truly regret not having more family oral history.
What are you five favorite movies of all time?
Bambi – the first movie I saw in a theater.
Wizard of Oz – always wanted to be Dorothy with the magical red shoes.
Swing Time – amazing dancing by Fred Astaire and Ginger Rogers.
Sound of Music – a wonderful blend of music, love and history.
Fly Away Home - an inspiring movie I love to watch with my grandchildren.
What is your most-prized possession
?
The memorabilia collection I have acquired for the Coggan, Creagan, Erickson and Stromberg families that I will be able to pass on to my children.
What are you reading?
"The Princes of Ireland – the Dublin Saga" by Edward Rutherfurd. It was given to me by my dear friend, Gleneva Belice, who knows I'm more Irish than anything else.
Your greatest accomplishment?
Marrying the right man, at the young age of 21, who fathered our two amazing children (our daughter Shannon graduated from The Bishop's School in 1987 and our son Shawn graduated from LJHS in 1992 and we have three grandchildren, Annette, Amelia and Linnea Lee) and who has managed to cope with me and my passions for more than 45 years.
What is your motto or philosophy of life?
Whatever you do, do it the best you know how!
---