Local architects in La Jolla host camp for young designers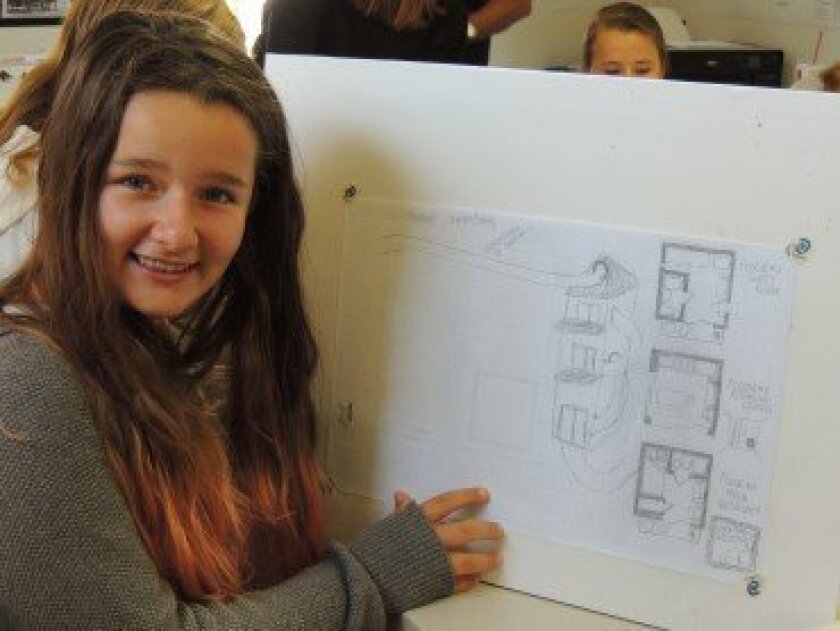 By Shelli DeRobertis
More than a dozen middle and high school students spent a week drawing, measuring, tracing, touring homes and designing their own at the first Young Architects Camp, hosted by the La Jolla Historical Society, July 23-27, at Wisteria Cottage, 780 Prospect St.
The class of nine boys and four girls met daily for six-hour sessions and were taught tools-of-the trade by three seasoned professionals.
Architects Trip Bennett and Laura DuCharme Conboy — who combined, have 45 years of experience creating homes — were teaching the session on July 27, when Bennett jokingly introduced DuCharme Conboy.
"She's the second best architect in town," Bennett said.
Joking aside, both architects have had their work featured in many publications, and both are members of the La Jolla Historical Society, which works to preserve the town's beloved sites and structures.
Jeffrey Shorn, another private-practice architect in La Jolla also shared his expertise and helped teach the camp.
Twelve-year-old Cami Hickman, of La Jolla, said she was excited to attend.
"I really enjoyed it," she said. "I like that we got to design our own space." For her finished product, Hickman drew a three-story modern.
Each camp day led up to the final Friday project, which was to draw plans for a structure on the small plot of open space behind the historical society's building – complete with an ocean view. The students visited the grassy lot to visualize where their building would be, Bennett said.
But they did a lot more traveling than just around the Cottage corner, as part of the camp included a tour of five La Jolla residences — including Irving Gill's 1920s home and Jonathan Segal's contemporary glass-styled house.
The students also received a Computer-Aided Design (CAD) lesson from Tyler Grant, an area instructor.
Quin Cooney, 14, and his friend, Callan Haxo, 14, both came from San Francisco to attend the camp.
"I learned how to use Google SketchUp, how to make these structures, and design three-dimensional spaces," Callan said.
Bennett said the computers were rented for the camp and that SketchUp is a free program that teaches design and engineering.
DuCharme Conboy said the students were given instructions to design a structure that complies with La Jolla's building codes and not rise above 30 feet, noting that building codes are an important part of architecture.
"You might learn about the uniform building codes, but in La Jolla and San Diego, local codes are extensive and they vary from neighborhood to neighborhood," she said.
To become an architect, one must attend college for five years to earn a Bachelor of Architecture degree and also pass a licensure test.
A 2009 Architect magazine survey of 1,392 respondents revealed the median salary for an architect is $88,000. A 2012 poll shows that 26 percent of architects are female.
Businesses that sponsored the camp include: The Cottage Restaurant, Girard Gourmet, Wahoo's Fish Tacos, Baskin Robbins, Extreme Pizza, Brick & Bell Cafe, Jersey Mike's, Coldstone Creamery and Michelle Coulon's Dessertier.
---