La Jolla High School's Scholarship Foundation ready for donations
Want to be part of an ongoing effort to help La Jolla students pay for college? The La Jolla High School Scholarship Foundation is accepting donations for seniors in financial need ready to enter the college world. Donors can give a one-time gift or commit to annual donations and establish a scholarship in someone's name, or something in between.
Since its inception in 1974, the LJHS Scholarship Foundation — not to be confused with the Foundation of La Jolla High School — has awarded more than $900,000 to over 950 college-bound students.
"We as a Foundation want to give back to students from La Jolla High School who came from less-than-wealthy means, and who showed academic promise and community outreach, and were positive role models for other students," said LJHS teacher and board member Joe Cavaiola.
Executive board member Marilynne Leadon added that the students apply for a scholarship, provide the Foundation with financial information and an essay, and then go through an interview process. "The applicants are carefully screened in regard to their academic and personal record, educational and career goals, self-help and community service, and relative financial need. Evidence of financial need in order to meet the academic goals of the student is the primary consideration."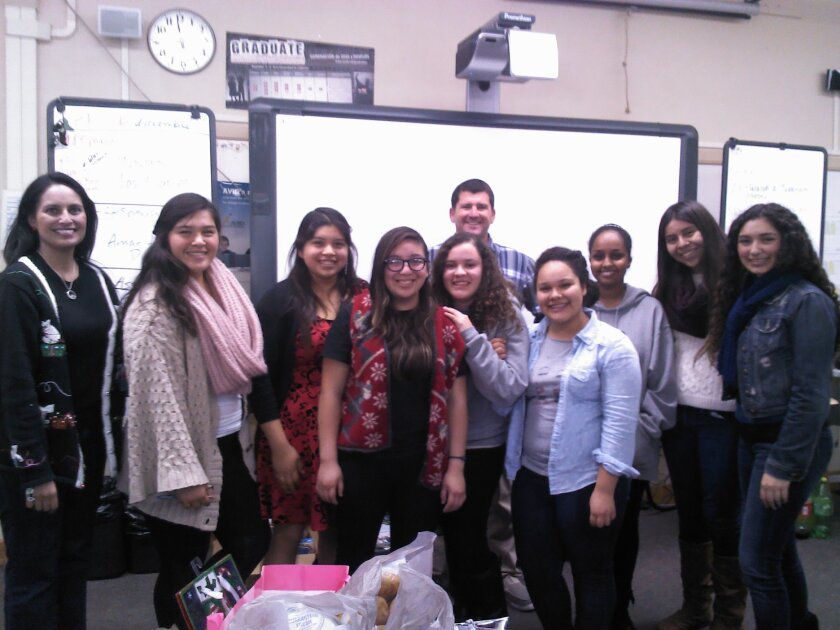 Although the Scholarship Foundation has a fund from which they can distribute scholarship money to students, they accept donations and facilitate dedicated scholarships. Local community groups such as Las Patronas and La Jolla Kiwanis Club give annually, and La Jolla High School's Mariner's Club host events to raise funds. Former La Jolla teachers who have passed away also have left money for scholarships, or their loved ones have established scholarships in their memories. A notable scholarship given out each year is the Brent Woodall Scholarship, named for a La Jolla High School student who died during the 9/11 terrorist attacks at the World Trade Center in New York City, and given to a student-athlete.
To encourage donations, the Foundation sends out a letter of appeal every few years. Foundation member Joyce Abrams, whose son went to La Jolla High School in the late 1990s, said board members hope to issue a letter this year. They formerly held an annual fundraising event, but to save costs and man-hours spent on its planning, changed strategy.
"We have to compete with other groups at the school, mainly the Foundation of La Jolla High School, and they tend to be the first choice as far as donations go," she said. "We don't want to step on their toes when they fundraise, but we are looking for donations as well." All donations are tax- deductible.
In its annual letter, the Foundation offers the story of 2012 recipient Jasmine Mobasseri, who went on to San Francisco State University. "The LJHS scholarship I received made the transition into the real world easier than I could have expected. With a little financial relief, I had more time to focus on school and the ability to get a grip on growing up," she said in the letter. "With the help of the scholarship money I was awarded, I was able to secure a management job at a growing business, establish freelance clientele for my own graphic design passion, get an internship at a successful media group, and all while enjoying the learning experiences as a full- time student. I'll always be grateful for the boost the scholarship gave me to allow me to reach my fullest potential so early in life."
The amount given to each student varies, based on how many students apply and the type of school they plan to attend. For example, someone planning to attend a junior or community college would receive less than someone attending a private university.
For a donation form, call (858) 254-9992.
---