La Jolla High launches strength, conditioning program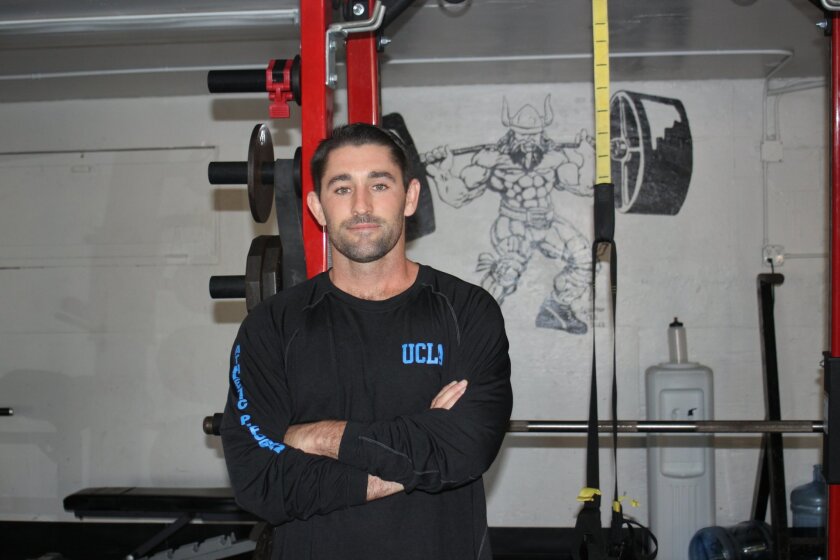 Students at La Jolla High — athletes or not — are on their way to becoming stronger. The school has a new program devoted to strength and conditioning, headed by coach Ryan Lennard. With it, thanks to the Foundation of La Jolla High, comes new weight-room equipment. The program, though common in colleges across the state, is not common in high schools.
When it comes to athletes, "The No. 1 goal is injury prevention," Lennard said. "Everything else, getting faster and more powerful, is really secondary. It doesn't matter how big strong and fast you are, if you're hurt, you can't play."
Part of the program takes in-season teams and puts the athletes through a movement screening to see each individual's alignment and to determine what areas they need to work on.
For example, "I'll put them through a squat and see where their hips are in relation to their knees and ankles," Lennard said. "I can see if they are leaning too far forward, that means they do not have enough strength in their gluteal muscles. If you're not strong in your glutes but stronger in your quads, that predisposes you to an ACL injury.
"It's about balance and having equal strength all across the body. I can make that assessment and work on those problem areas so they will get stronger in certain areas."
As part of the training Lennard provides, he demonstrates techniques for muscle strengthening and then supervises the athletes to make sure their form is correct, and then other coaches implement the exercises daily in their warmups.
Obviously, he joked, that could not be done with 800 students participating in regular PE classes. The special goal for the general student population is to "undo the harm that takes places from sitting all day."
Foremost, he said, is hip flexor mobility. "Kids sit in class all day so their hip flexors get really tight from being in the flexed position. We get them out and stretch their hips and we do hip mobility exercises," he said.
Additionally, thoracic (chest) and spine mobility helps with posture. Because of the different abilities and strengths, Lennard said he is starting with the very basics and will progress throughout the year.
"One goal is to get students ready to pass their Fitnessgram (a physical fitness test required by San Diego Unified School District for students in ninth grade) but I don't have a set number of reps they should be able to do or anything," he said. "It's just to have them get stronger through the core and have better posture."
Of the new program, La Jolla High Athletic Director Paula Conway said, "We are thrilled to have Ryan Lennard on staff to help support our students. He brings a wealth of knowledge about strength, conditioning and wellness."
Lennard coached wrestling at LJHS for nine years before earning his kinesiology degree from San Diego State in 2012. He worked at UCSD in its strength department and spent a summer at UCLA in its program.
"I told Paula Conway before I left for UCLA that the school would really benefit from the strength and conditioning program (because) injury prevention is huge," he said. "And for most of these athletes, when it comes to working out in the weight room, coaches tell them to go exercise on their own. The (coaches) teach as they were taught and they don't always have weight room knowledge."
---