OPINION / LETTERS TO THE EDITOR / OUR READERS WRITE:
—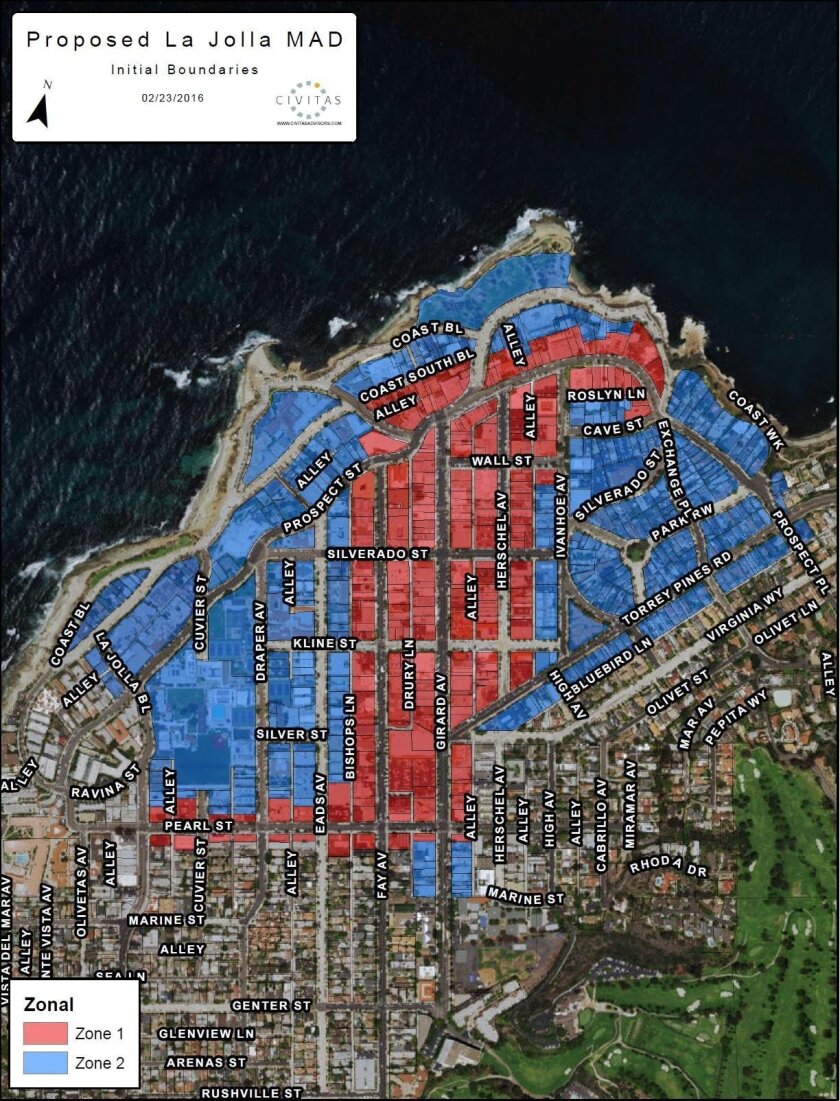 ••• MAD boundaries must be spelled out
Most homeowners having property close to La Jolla's shopping/dining district will be surprised when they learn that outside forces are plotting to have the City of San Diego tax them to help pay for maintenance and "beautification" in the commercial district of the Village. While streets in the commercial district are usually in need of sprucing up, homeowner streets in proximity to La Jolla's businesses are well-maintained and without need of "beautification" through further taxation.
The Enhance La Jolla movement spearheading the so-called Maintenance Assessment District (MAD) is led by individuals and realtors from the commercial district who hope to gain business revenue from homeowner taxes collected and spent in the commercial district. La Jolla businesses already have a financial venue for maintenance and beautification of the commercial district; homeowners stand to gain only an additional City tax.
La Jolla businesses are owned almost entirely by people living some distance away from the Village. The fact that La Jolla business owners have devised a plan to take from near-Village homeowners to increase Village business should cause major red flags among local homeowners, however, most homeowners are lacking the most crucial piece of information: the map/diagram showing which homeowners will be impacted.
To the La Jolla Light's credit, a small rendition of the map was published in the Jan. 14, 2016 edition of the Light, but neither the Enhance La Jolla website nor any of the reporting since have displayed the map. The unjust nature of this proposed taxation effort is thus still quite well hidden. — James Hudnell
Editor's Note: We're reprinting the Proposed La Jolla MAD boundaries here and noting that the MAD map may also be found online at enhancelajolla.org/the-district/district-map
—
••• MAD about fairness
Civic-minded La Jollans should have no problem supporting the goals of beautifying and improving the Village. That is the goal of the Maintenance Assessment District (MAD) as proposed by the nonprofit La Jolla Community Foundation (LJCF). The property owners in the MAD are to be assessed to pay for the cleanup and beautification. But let's think about the details. Are the responsibilities, costs and benefits apportioned fairly? We are convinced that they are not.
The proposed MAD encompasses the both the Village commercial area and the surrounding residential areas. The relationship between these areas is strained for one principal reason: parking. With time-limited onstreet parking in commercial areas, parking in surrounding residential streets is fully occupied by office, restaurant and retail employees from morning to midnight, seven days a week. Indeed, residents rarely can park on the streets in their own neighborhoods.
To compound the problem, the employees who park on residential streets litter the gutters, sidewalks and lawns with beverage containers, fast food remnants, discarded clothing and worse. LJCF, whose steering committee consists mainly of Village merchants, has not provided a rationale either for including surrounding residential areas in the MAD or for asking these residents to share the costs of the cleanup.
If the merchants were first to accept responsibility for their impacts on surrounding neighborhoods, they would receive more support from civic-minded La Jolla residents – who, by the way, are also their most constant customers. That acknowledgement and a fair allocation of cost and responsibility are prerequisites for our support of the MAD.
Absent basic fairness, a more productive approach may be to create residential permit parking districts in adjacent residential neighborhoods approved by at least half of their residents. That would provide an incentive for businesses to provide parking for their employees, and would also solve the litter problem. We cannot remember ever having left a half-empty beer can on our own front lawn. — Ray and Abby Weiss
—
••• Raising Soledad Mountain Road speed limit is ridiculous idea
I live on Soledad Mountain Road between Pacifica Drive and Soledad Road. I strongly object to raising the speed limit on this small stretch of highway. Many drivers routinely speed in excess of 50 miles hours in front of my home. A driver, who was driving in excess of the speed limit, sideswiped my daughter's car, which was parked on the street. Luckily, my daughter was not getting into the car at the time.
As you may be aware, Soledad Mountain Road is a two-lane uphill road as it leaves Pacific Beach heading north. I have often observed cars passing each other at speeds of up to 60 miles per hour while they jockey for position before the two northbound lanes converge into one. It happens so often that the San Diego police routinely set up a speed trap in this location.
The location between Pacifica Drive and Soledad Road is the first reasonably level area on Soledad Mountain Road after a long uphill stretch. As a result, cars that are northbound heading uphill from Pacific Beach, have to apply additional gas to maintain their speed uphill. When these cars reach the level area starting at Pacifica Drive, many drivers do not ease up on the accelerator, causing their cars to reach unreasonable speeds in front of my home.
In addition, there is a great deal of bicycle traffic and pedestrians heading to and from the Mount Soledad War Memorial, which pass by my house every day. On the weekends, this usually includes large groups of motorcycles. All of this traffic, mostly traveling at 50 miles an hour or more, makes it extremely difficult to back out of my driveway.
Raising the speed limit will only make this problem worse. My suggestion would be to install another electronic speed limit sign, similar to the one that presently exists at the corner of Soledad Mountain and Soledad Road. A good location would be midway up the hill between Beryl and Pacifica. — Andrew Shorenstein
—
••• It's good to honor good people
As a follow-up to a column I wrote a few weeks ago for the Light about the credit union security guard who saved me from running over my cell phone, I always chat with him when I'm over there now and I brought him several copies of the column. The last time I saw him, he said, "Boy, Inga do you have fans!" He told me that numerous people had come up to him and told him they'd read the story about him. He mentioned that some wanted to know my real name. "But I wouldn't tell them!" he smiled.
I was so pleased for the attention for him as that man stands outside a credit union six days a week. (Who robs credit unions?) I also asked him if he'd shown the article to anyone. "No," he said, shyly. "My grandma taught me that if you do something nice for someone, you should keep it to yourself." Amazing guy. — Inga
—
••• What's the rhyme and reason behind some street repaving?
The section of Regents Road from Genessee Avenue to Miramar/Executive Streets is a disaster, but the section of Regents Road from Miramar/Executive Streets to La Jolla Village Drive, while in much better shape, was repaved! Could it have something to do with that lower section of Regents Road being in front of a small shopping center? Hmmm? "Business is Business," as the saying goes. — IB
—
••• Time for city to address sea lions at Cove
For the past two years, the sea lion population at La Jolla Cove has steadily grown, creating pollution problems in the water and on the adjacent cliffs, which has also contributed to the odor problems near the Cove. As the Lifeguard Sergeant responsible for patrolling The Cove and Children's Pool areas, I've had a good deal of experience with the sea lions. They are capable of climbing the cliffs and interacting with people, and in fact, they've been doing just that. They started on the rocks and have steadily migrated to the sand where families gather.
Over the weekend, I witnessed several kids put sand on the tops of sea lions' heads, and kick the animals while their parents either looked on or looked away. This is a two-minute snapshot in time, but these dangerous interactions are going on all day, every day.
The current situation at The Cove resembles the same situation that began decades ago at Children's Pool. The parallel between the two is the lack of leadership at City Hall to engage and solve what is quickly becoming a BIG problem. We cannot let citizen groups divide the community while the Mayor sits idly by and hopes a solution presents itself. The City Council allocated money for a park ranger to monitor The Cove, but the ranger hasn't been dispatched to handle this growing problem.
In fact, the Mayor has been more focused on the odor problem. He recently ordered the City's Park & Recreation Department to boost the number of times each month a bacteria spray is applied to the rocks, from two to three. This has had little impact on the guano issue and no impact on the growing dangers from human/sea lion interactions. In fact, it's very likely that it's only a matter of time before someone gets attacked and seriously injured by a sea lion at La Jolla Cove.
Spring Break will bring conditions not seen for several years. Lifeguards will be challenged by large surf, warm weather, and a strong outgoing tide that will make the rip currents dangerous. When we get this combination of elements, our rescue counts go way up. The large, winter surf has removed sand, preventing our ability to deploy seasonal towers, so keeping an eye on sea lion interactions with beach-goers will be a huge challenge. I urge Mayor Faulconer to take action and address the growing sea lion problem before it's too late. — Ed Harris
—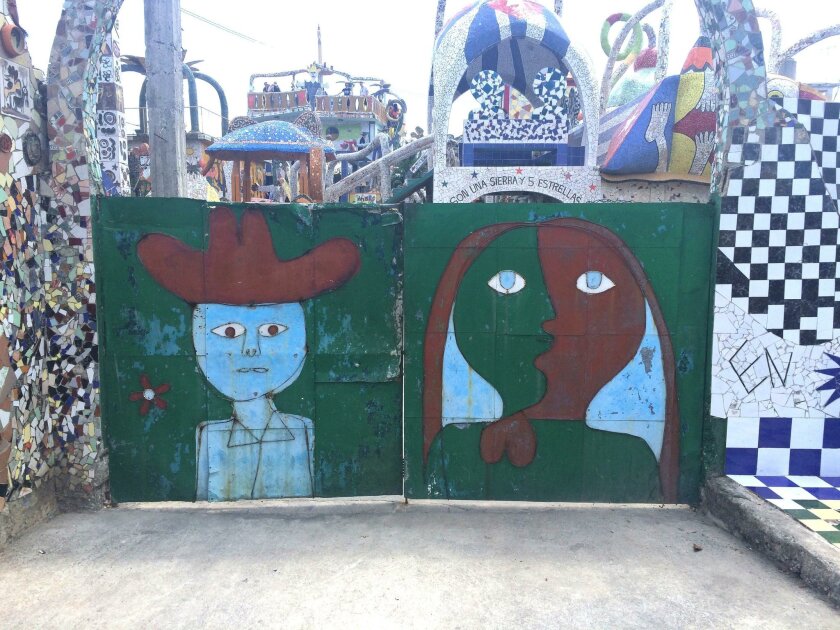 ••• Pirasteh's public art should not be fined!
I read with special interest the article describing artist Nasser Pirasteh's home in La Jolla and his creative art sculptures. I've just returned from an art and culture people-to-people exchange trip to Cuba where one of the highlights was having the privilege of visiting the home of renowned Cuban artist, José Rodríguez Fuster, the "Picasso of the Caribbean." He is a Cuban hero and has made a project out of rebuilding and decorating the fishing town of Jaimanitas, where he lives on the outskirts of Havana, with an explosion of mosaic tile work, built into the structures themselves, and bringing the community alive with color and creativity. (See the photo).
I couldn't help but reflect on the irony of a local artist being revered in a socialist (communist) society for his creative expression in his community, while we, living in a free democracy, are ready to slap the same type of artistic expression with a fine and threat of removal of the artistic work.
We enjoy immense freedoms living here in the United States, thankfully, but yet it seems we have much to learn from our neighbors to the southeast regarding openness and compassion with artistic expression.
Do you think everyone loves every piece of art that goes up across La Jolla as part of the Murals of La Jolla project? (Which, by the way, I love.) Of course not, yet up they go for each one of us to be moved by — positively or negatively. This is the nature of creative expression and art. Nasser's work is to be celebrated. Move on to real issues in our community! — Sigfried Reich
—
••• Lively art is better than bland art
La Jollans should feel honored to have Nasser Pirasteh in our community. This artist has created a visual garden to delight the eye and raise our spirits.
Complain instead about the ugly "vanilla" structures desecrating this community; they are monuments to people hemorrhaging money with no taste. — Gloria Shattil
—
••• Shores Beach is sorely missed
As vice-chair of the La Jolla Shores Association Board and as a concerned citizen who enjoys walking the beach, I was hoping you could run a story titled "What has happened to our beach?" or something similar! — Susan Thomson Tschirn, Ph.D., City of San Diego Human Relations Commission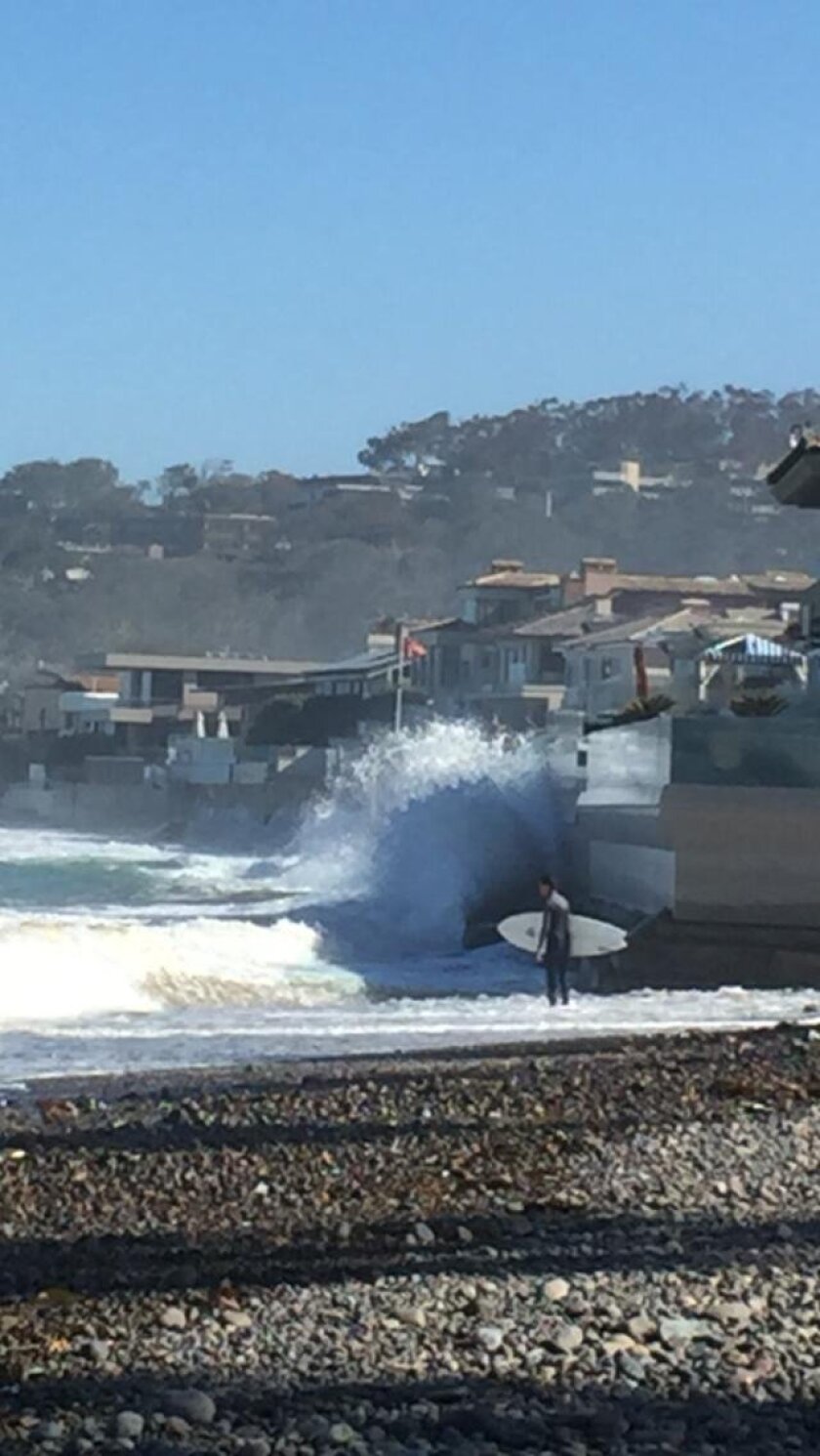 Editor's Note: Due to Spring Break and the Easter holiday last week, it was hard to reach the experts for comment on where all the beach sand in the Shores has disappeared to! The Light will provide a report on the phenom in the April 7 issue. Stay tuned!
—
••• WHAT'S ON YOUR MIND?
Letters to the Editor for publication in La Jolla Light should be 250 words or less, and sent by e-mail to editor@lajollalight.com and must include the full name of the sender, city of residence and phone number for verification. Note: The content of letters are not the opinions of La Jolla Light.
---