Letters to the Editor: La Jollans speak out about beach erosion, Maintenance Assessment District (MAD), traffic, plastic shopping bags and more
OPINION / LETTERS TO THE EDITOR / OUR READERS WRITE:
---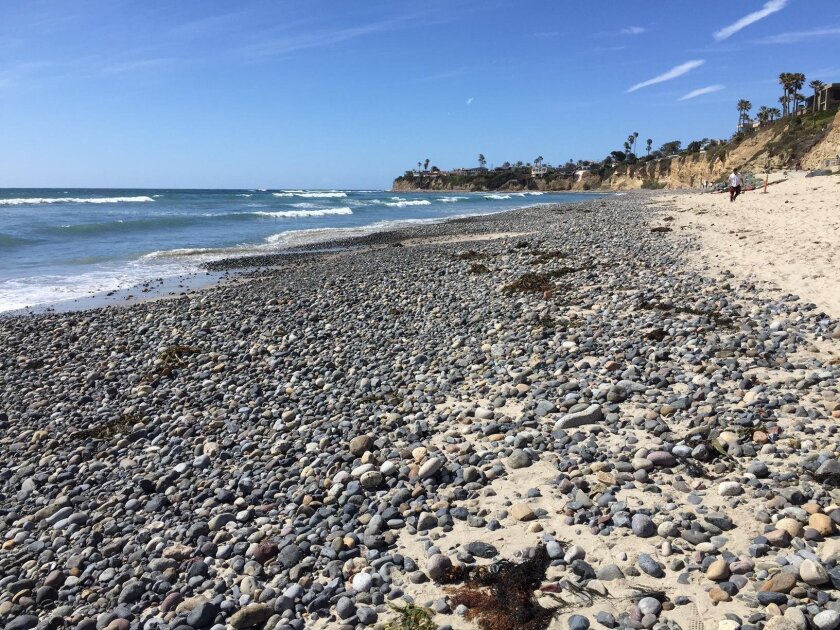 ••• Where's the beach?
Regarding the queries about what happened to La Jolla Shores Beach, North Pacific Beach has disappeared as well, and is now un-usable due to a huge influx of rocks — even at low tide. I've been walking on this section of beach for four decades and have never seen anything like this. (See photo.) I'm hoping the experts will predict that the rocks will disappear as fast as they appeared! — Philomène Offen
---
••• A MAD is the tool for bringing the Village improvements all want
As the chair of the Enhance La Jolla volunteer Steering Committee, I want to respond to recent letters about the proposed Maintenance Assessment District (MAD) for the Village of La Jolla.
The idea to establish a MAD for the Village came from a concerned group of La Jolla property owners – commercial and residential – who recognized the need for greater maintenance in the community. The fact is the City of San Diego simply doesn't have the resources to provide the level of maintenance the Village needs. As a result, we see overflowing trash cans, litter in residential areas, dirty sidewalks, graffiti and more that are taking the shine off our "jewel."
MADs are not a new idea. More than 60 neighborhoods have MADs (including Bird Rock) and they enjoy the benefits of added services, a cleaner environment and the positive impacts to the community that result. A MAD will generate revenue from properties in the Village that will be used exclusively to benefit properties in the Village. For both residential and commercial properties, this means that litter will be picked up, sidewalks will be cleaned, graffiti will be abated, and landscaped areas will be maintained on an ongoing basis.
It is understandable to question a new fee, but we feel this is long overdue for the Village. We have worked hard to apportion the costs in a fair and balanced way – residential owners will pay a flat annual fee of $86.87 and commercial owners will pay based on their parcel size.
As the largest property owner in the Village, the City of San Diego would be the MAD's top contributor to help fund these enhanced services.
We all love the Village and want to help keep it beautiful. A MAD will give us the tool we need to accomplish this goal. — Mark Dibella, La Valencia Hotel
---
••• 4 ugly things they don't tell you about the MAD
The four ugly things the city and others don't want to tell you about the establishment of a special Maintenance Assessment District aka "MAD" are:
The City of San Diego uses it as a scapegoat to duck their responsibility. The City of San Diego should be doing a hell of a lot more to support La Jolla.

Our District 1 City Councilmember used the Bird Rock MAD as a scapegoat to pay the fees the City of San Diego should've paid to have the trash cans emptied at the end of Forward Street and Bird Rock Avenue.

La Jolla and La Jollans pay more property tax, federal income tax, and state income tax more per capita than anybody else in the city, so where the hell is our money going to? Certainly not La Jolla, but to other parts of the City and State of California.

Demand that the City of San Diego and our District 1 Supervisor do their jobs and clean up this stinking eyesore that was formally the Jewel of San Diego.
La Jolla has about 13 different boards and councils now. Isn't it time we show leadership to the rest of the City of San Diego by creating our own City of La Jolla, and then share that model and success with the rest of the downtrodden areas of San Diego such as Hillcrest, The Midcity and North and South Park?
I say yes! Follow me! — Lance A. Pelky
---
••• Yes to road humps on West Muirlands Drive
I was struck by the short report in last week's La Jolla Light in which La Jolla Community Planning Association President Cindy Greatex commented negatively about the petition made by residents of West Muirlands Drive for installation of road humps on their street.
Her comments that "It's been quite a volume of mail – all in disfavor" and "we at LJCPA are expecting a full room —due to this being the second round of traffic calming devices requested by the same people at the same addresses, and also the problems with the first island installation" are (whether intentional or not) potentially prejudicial against the residents' petition. I think that would be unfortunate!
I drive down West Muirlands Drive almost twice daily en route from our home to the Village, and can attest to the unnecessary, often thoughtless, driving by some persons (obviously in a hurry) who use this narrow, windy road to reach Fay Avenue.
I agree that the original "island installation" attempt to calm traffic just before reaching the school has been a failure, and should probably be removed – in favor of judicious, and carefully placed road humps above and below that perilous section of the road. — David H. Katz, M.D.
---
••• Water District must make rate model public
I'm writing about about a serious problem facing San Diego County and I'm asking for your help to protect our ecomony from predatory water rates and charges being considered by the board of directors of the Metropolitan Water District of Southern California. I invite you to take a moment and weigh in on this important issue.
The MWD board is scheduled to vote April 12 on a rate proposal that would increase the cost of treated water for our region in 2017 by 62 percent and increase the cost of untreated water by 12 percent. The district's public relation's spin is that the "average" cost increase for its entire service area is 4 percent — but that number doesn't apply to the San Diego County Water Authority. MWD's methodology increases San Diego County's costs while lowering costs for Los Angeles, without any rational basis for doing so.
The huge proposed increase in the treated water rate is the result of a new fixed treatment charge that will be a permanent tax that doesn't go away — no matter how much or little treated water MWD's member agencies actually purchase. It accomplishes this feat by basing the charge on treated water purchases during the time period 1998-2007; MWD's approach is not supported by water industry practice or California law.
MWD is also increasing by 6 percent the "wheeling rate" paid by the water authority to transport its independent Colorado River water to San Diego. And, it is proposing to increase property taxes by $112 million in 2017 and 2018, in a manner that is inconsistent with the laws that govern MWD.
Lastly, MWD is continuing to impose rates and charges based on a methodology ruled illegal in superior court last year. The judge invalidated MWD's transportation rates for 2011-2014, finding that they violated numerous provisions of California law and the state Constitution. He also ordered MWD to pay the water authority $188.3 million in damages and $46.6 million in prejudgment interest. The judge mandated that MWD "enact only legal transportation and wheeling rates in the future" and "set its rates based upon cost causation" – that is, MWD must charge for its services based only on what it costs to provide them. Despite the clear ruling, MWD is poised to adopt two more years of illegal rates.
Please join me in asking MWD to make its rate model public, and produce a cost-of-service study and rates and charges that conform with state law.
Please consider submitting a letter or e-mail in opposition to the MWD's proposed actions. It should be addressed to MWD Board Chair Randy Record or may be e-mailed to Dawn Chin, Office of the Board of Directors, at dchin@mwdh2o.com. E-mailed letters should indicate in the subject line "Comment Letter – Rates and Charges for 2017 and 2018."
Mail written comments to: Randy Record, Chair, and Members of the Board of Directors, Metropolitan Water District, P.O. Box 54153, Los Angeles, CA 90054-0153
Comments are due to MWD by Monday, April l1.
Thank you for your ongoing support of our region's water supply reliability efforts. — Mark Weston, Poway; Board Chair, San Diego County Water Authority
---
••• Make the switch from plastic shopping bags
I moved from Switzerland to La Jolla more than a year ago and immediately fell in love with the city and its people. I had the idea that in California, people were highly aware of the big problem of plastic pollution and its adverse effects on the environment, wildlife and humans. So, it was really shocking to me to see how much of a common practice was to have available plastic bags in so many shops in La Jolla and surrounding areas.
When we shop for groceries in Switzerland, we have two options to carry out our supplies: 1) pay for paper bags or 2) organize them in our own shopping bags. In Switzerland, plastic bags are almost extinct from the cashier station and are given for a few special occasions.
When I started to shop for groceries in La Jolla, I ended up having lots of plastic bags to carry for a few products, and as they accumulated at home, I had to store them as I didn't want to throw them away since I could reuse them. This became a challenge. Then I discovered with great pleasure that I could ask for paper bags instead of plastic bags and I could reuse them. What a good change!
I want to bring your awareness to this matter; avoiding plastic bags is not only good for me/you and my/your family, but also for the reduced plastic chemicals in the environment. I want to encourage people who still use plastic bags to change their habits. You will be very helpful! — Maria Delgado
---
••• What's on YOUR mind?
Letters to the Editor for publication in La Jolla Light should be 250 words or less, and sent by e-mail to editor@lajollalight.com and must include the full name of the sender, city of residence and phone number for verification. Note: The content of letters are not the opinions of La Jolla Light.
---