Let's Review: Three don't-miss shows open at three La Jolla's UCSD galleries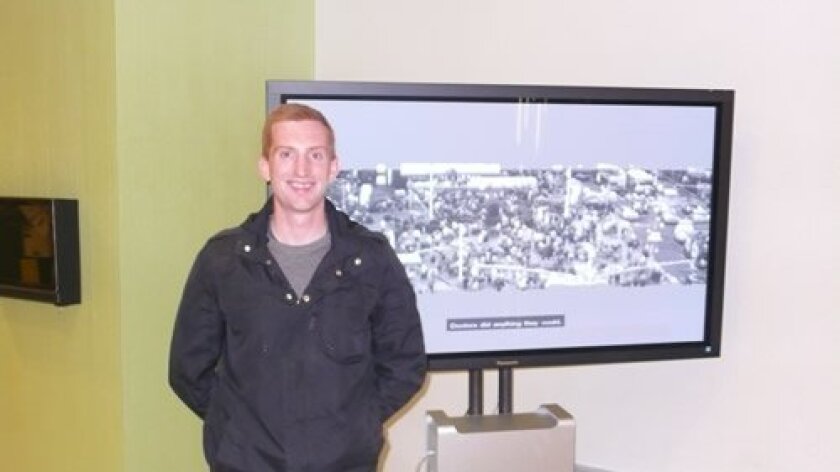 By Will Bowen
Three art spaces recently opened exhibitions on UC San Diego's campus — The University Art Gallery (UAG), the California Institute of Technology (Calit2) gallery, and the Structural & Materials Engineering (SME) building gallery.
Each is an important place to keep an eye on because there is a great deal of high-level conceptual thought by leading-edge artists and theorists going into each new exhibition — much more so than other galleries in the public sphere that focus more on art as something beautiful to behold, or as an admirable skill or craft, or as a commodity that denotes taste and status.
University Art Gallery
Located at the west end of the Mandeville building complex, UAG is hosting an exhibition composed entirely of videos. There is one large-screen video and 10 smaller screens, showing videos on television monitors with headsets in the gallery space.
Curated by Michelle Hyun, "Timing is Everything" is about better understanding temporality, in terms of the built spaces we have constructed or are constructing. "The purpose of trying to resituate and rearticulate ourselves in time and history," Hyun said.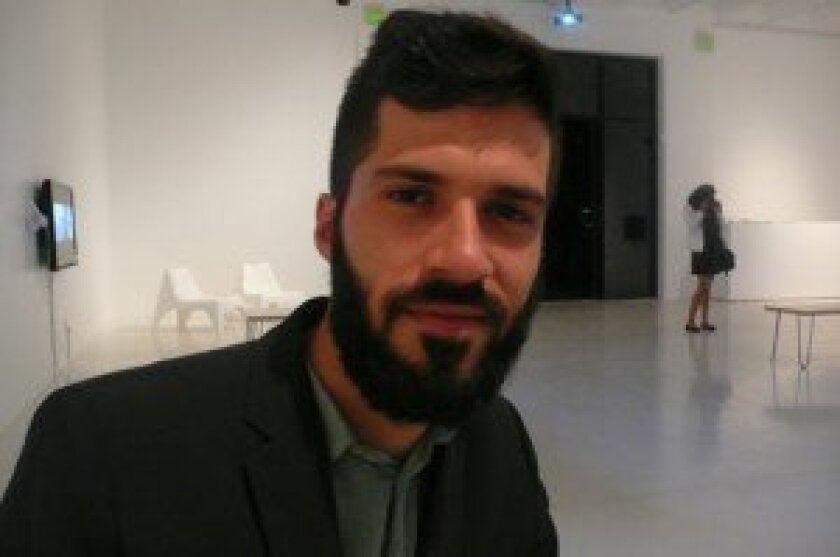 The show rotates four large-screen video productions (each running about two weeks), against the more permanent backdrop of 10 films shot in 10- minute segments on a Canon Rebel camera by Joseph Redwood-Martinez, which will remain on view throughout the run.
The first of the large-screen videos, by Charles G. Miller, is about the development of the UTC/Golden Triangle area into a high-tech, high-density, apartment-orientated community, which occurred without input from citizens or without much thought about preservation of the natural landscape that was once here. It's a political study that will open your eyes to the area and cause you to think more deeply about who is actual designing our cities, and for what purpose, and in whose interest.
Following, as the show's centerpiece, will be "The City & The City" by Hong-An Truong and Dwayne Dixon, which is about urban development in Saigon and Tokyo; "Remote Viewing" and "The Grid" by Cauleen Smith; and then "Remnants of the Future/Plans for the Past, 2010-2012" by Uriel Orlow.
The smaller TV set-size videos, collectively called "The Exhibition of a Necessary Incompleteness," are all by Redwood- Martinez. They line the walls and inhabit the gallery space back room and will remain in place throughout the course of the show. These videos are interviews with people around the world, explaining different sites where building was arrested.
Redwood-Martinez said his videos give attention to "deliberately postponed construction ... buildings continually in the process of becoming." The videos help us to "read these objects in a different way, with a multiplicity of vocabularies and points of references, in order to create understandings which may not have immediate use," he said.
Calit2 Gallery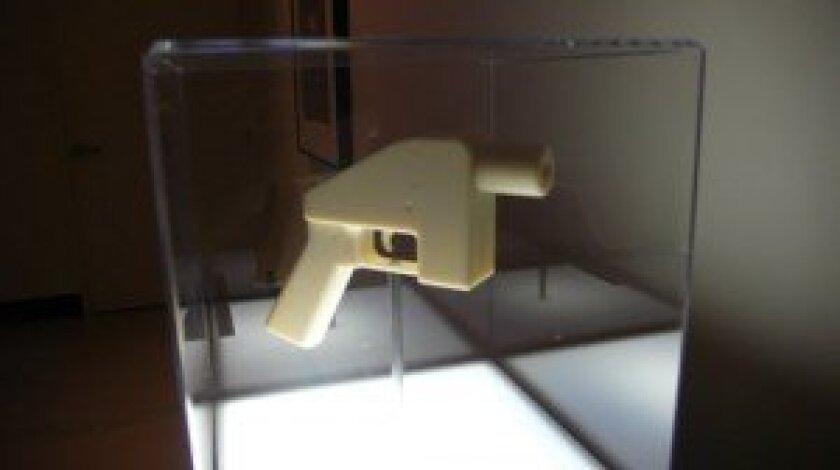 Heading northeast across campus and past the Geisel Library is the Calit2 Gallery on the first floor of the Calit2 building. This is a small gallery, but the density of meaning in the artwork makes up for the space.
Visual Arts professor Jordan Crandall curated the current show, "Autonomous." Eleven artists contributed to the exhibition, which is a study of the artistic possibilities of inert objects and the processes that may develop an independent life of their own — sort of the same way that HAL the computer in "2001: A Space Odyssey" began to take action independent of the programming of his makers.
"As new materials technologies are developed to harness sources of energy and as networked computational elements become embedded into physical objects, structures and environments, aspects of our world that were formerly considered inert are becoming endowed with communicative ability and intelligence," Crandall said. " 'Autonomous' explores analytical frameworks, methods, and creative forms that can help provide orientation in this new landscape."
Andrew Olson, a structural biologist at The Scripps Research Institute who has studied viruses for 35 years, built a small Plexiglas shaking device for the show. It shakes up broken golf ball-sized Monterey Cypress cone-shaped red and white balls imbued with left/right magnets and puts them back together again!
According to Olson, "The shaking does not break the balls apart as people often think, but rather it puts them back together. This is the same thing that happens in nature where random shaking movements help put complex molecules together."
Nathan Wade submitted a computer- enhanced and processed video of human activity in Times Square that looks like a billowing cartoon. The program predicts movement and is based on surveillance and weapons sighting technology. Wade's program also used computer intelligence to provide computer generated subtitles or commentary on the action, which is taken from a data pool of stock Internet recordings of people's near-death experiences!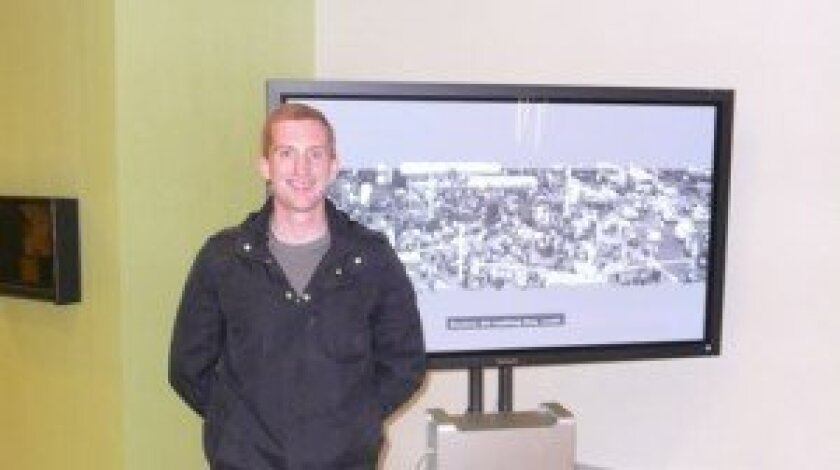 The most controversial piece in the show is a gun that was printed out from a 3-D printer. Such printers, which cost in the $15,000 range, print out physical objects level by level with a hot polymer glue gun.
There are also pictures of the Mars Rover, which it took of itself, and, as an item of contrast, a large color photograph of an Israeli soldier in the Golan Heights.
Gallery coordinator Trish Stone commented that, "Our gallery fulfills important educational purposes — for many students, this is their first chance to encounter very important artists and theorists and is a starting point for the development of their critical thinking process."
SME Visual Arts Gallery
The Structural & Materials Engineering Building Visual Arts Gallery is located on the first floor of the building of the same name. SME is a new building that engineers share with artists. The current show is called "Subterranea," and was curated by two UCSD Art History Ph.D. students — Melinda Guillen and Elizabeth Miller.
Miller said this is the third art show in the new building and it is a literal and metaphorical exploration of the concept of the underground in relationship to certain specific sites, such as Paris or the Rolling Stones' 1969 concert site of Altamont. Miller said the show can also be thought of as an exhibition of "oddities," and it helps to expand the notion of what art really is or can be.
"The curators have brought together historic works with contemporary, local artists to explore the theme of how we are all living so near a time of a pending apocalypse," said Sascha Crasnow, a Ph.D. Art History student, who studies art in relationship to the conflict in the near East.
The show consists of two photographs of a salt-gathering apparatus located at the ecologically-deteriorating Salton Sea, a floor map of the Salton Sea made from this salt, a video of the Paris underground, a video shown backwards of the Rolling Stones' Altamont concert (where four people died), a album plate from the Rolling Stones' "Exile on Main Street," a small photograph, and a fold-up star map book.
By far the most interesting piece is the Rolling Stones concert, where you can see the hairstyles and fashions of the day and the Hell's Angels, who were hired for event security.
If you go
■ What: Art exhibits at three UC San Diego galleries
• UAG: 'Remote Viewing' and 'The Grid,' 11 a.m. to 5 p.m. Tuesdays, Thursdays; 11 a.m. to 7:30 p.m. Mondays, Fridays to Dec. 6.
uag.ucsd.edu
• Calit2: 'Autonomous,' 11 a.m. to 5 p.m. Mondays-Fridays to Jan. 30 (closed for holidays).
gallery.calit2.net
• SME: 'Subterranea,' 11 a.m. to 5 p.m. Tuesdays-Fridays to Jan. 16 (closed for holidays).
subterraneanucsd.edu
■ Admission: Free at all galleries
---