Let's Review: Iconic figure comes alive with 'The Tallest Tree in the Forest' at La Jolla Playhouse
By Diana Saenger
Daniel Beaty, playwright and star of La Jolla Playhouse's world premiere of "The Tallest Tree in the Forest," (a tribute to Paul Robeson), seamlessly takes up the challenge of a one-man show with an exhilarating performance.
Moisés Kaufman directs the play that is accompanied by musicians Kenny J. Seymour (music director, conductor, piano), John Reilly (woodwinds), Jennifer Epler (cello) and Lorin Getline (contractor).
From his first moment on the stage, Beaty is Robeson, internationally renowned vocalist and star of stage and screen. As he sings Robeson's signature, "Old Man River," it's a given this show will surpass expectations.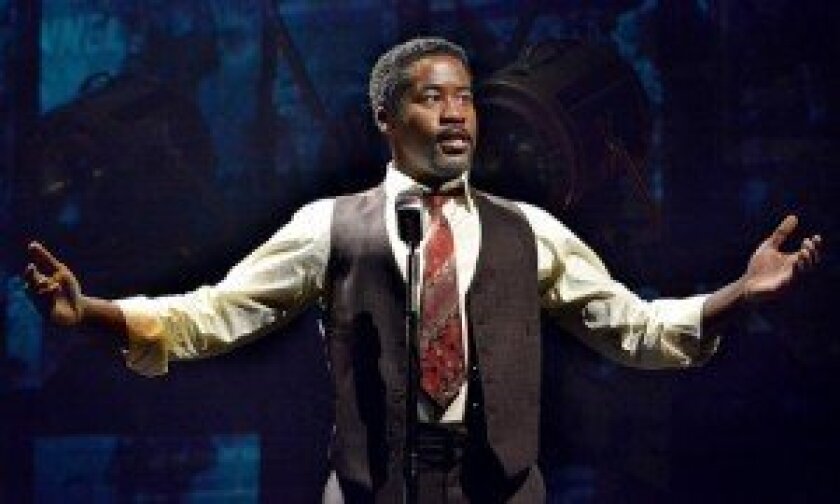 Robeson was the son of a runaway slave who became a man of vision, determination and many talents, forging through racial prejudice in an era that began for him in 1915.
Beaty unfolds the layers of Robeson's life (portraying more than 40 different characters) as if he lived it. In his early years, Robeson was an actor and a singer who rose to fame in the 1920s. People not only liked his amazing voice, they liked that he made fun of the way Caucasians made fun of African-Americans. Along with Robeson's own history, Beaty's other characters fill in the blanks about him: Robeson won an academic scholarship to Rutgers University; became a football All-American and the class valedictorian; and after graduation, he went to the New York University School of Law.
Beaty throws in constant voices of both female and male characters who had some connection to Robeson's life. Some are amusing, some a bit heartbreaking, but all vividly bring this luminary to life.
We learn that Robeson spent many years in London, where royalty acknowledged him. In 1930, Robeson became the first African-American in 100 years to play Othello at the Royal Theatre. During one racial situation, brought on by an American in London, Robeson was reduced to rage and misunderstanding.
However, he never gave up on his beliefs. His talents became known in Russia, along with his activism. In the 1950s, he was labeled a communist in the United States and was blacklisted. His passport was revoked for three years.
Beaty also exposes us to some of Robeson's personal life, his marriage and his female suitors during his unbelievable successes and few failures. But for all Beaty's stage presence, it's his rich singing voice that captivated audience members already raving about the show during intermission.
In a reference to the show's title, Beaty proclaims, "(From) height we can see what others do not." Beaty, who has garnered 10 major awards for his work, is a rare talent who stands tall in his own artistic endeavors as a playwright, author, performer and superb singer. Like myself, many could have stayed another hour just to hear more heartfelt songs from him.
If you go
■ What: 'The Tallest Tree in the Forest'
■ When: Matinees, evenings to Nov. 3
■ Where: Sheila and Hughes Potiker Theatre, La Jolla Playhouse, 2910 La Jolla Village Drive, UC San Diego campus
■ Tickets: From $15
■ Box Office: (858) 550-1010
■ Website:
LaJollaPlayhouse.org
---