Let's Review: Head 'Into the Woods' for laughs and lunacy at the Globe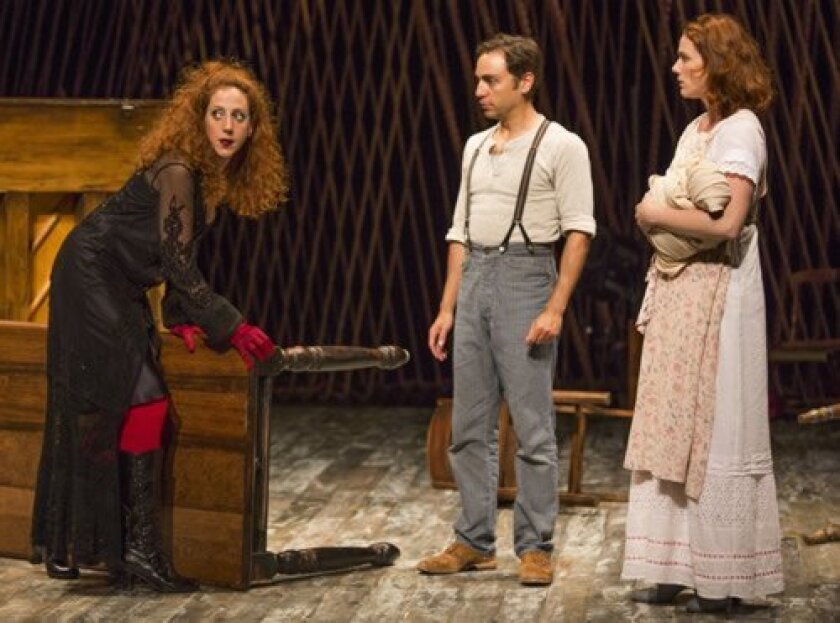 By Diana Saenger
Let's Review!
Theater patrons who love the different and amusingly outrageous will certainly enjoy The Old Globe Theatre's production of "Into the Woods." With music and lyrics created by Stephen Sondheim and book by James Lapine, this production is reimagined by Fiasco Theater and co-directed by its founders Noah Brody and Ben Steinfeld.
Putting together a cast of adults — all with beautiful voices, dressed up like a bunch of fairy tale characters — was quite a feat for Sondheim and Lapine. They probably never imagined that their story, framed around Brothers Grimm tales, would ever receive all the accolades it has, including appearing on Broadway, winning several Tony Awards, playing in world theaters, going on tour, and being adapted for a film opening in December.
Known for the "oohs and aahs" from patrons who walk through its theater doors, The Globe stages a mean set. It's status quo in this play as scenic designer Derek McLane again astounds with tall props that resemble forest trees behind the stage and a mountain of harps arching their way upward on the right.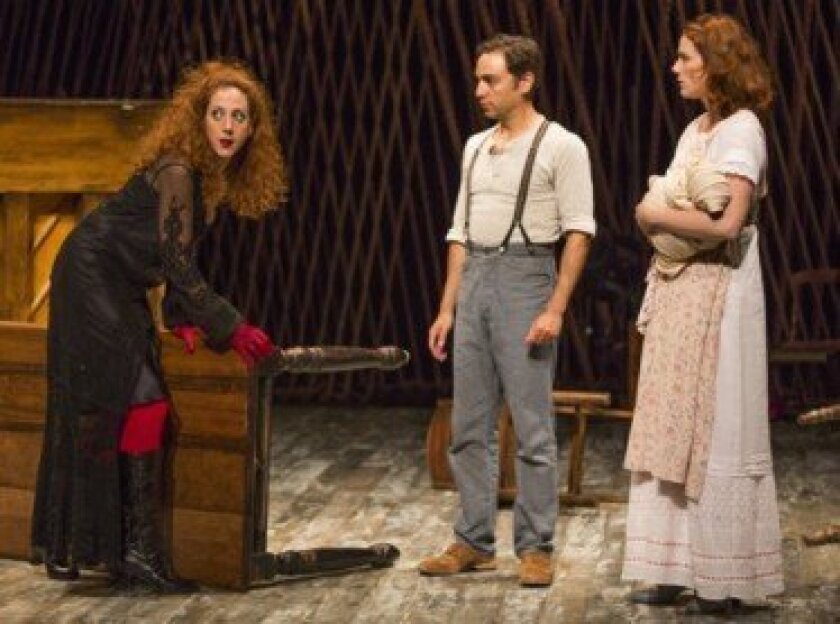 A simple plot gets very complicated in this unusual tale. The Baker (Steinfeld) and his wife (Jessie Austrian) have been trying to have a baby for some time with no luck. But a Witch (Alison Cimmet) tells them it's a curse she can remove.
Of course, what witch would not expect something in return? This one tells the anxious couple they need to bring her a few things and she will fix the curse. A wild scavenger hunt in the forest ensues as baker and wife are off to bring back — a slipper (Cinderella's) as pure as gold, some hair (Rapunzel's) as yellow as corn, a cow as white as milk, and a cape (Red Riding Hood's) as red as blood.
The cast of 10 enters in attire created by costume-whiz Whitney Locher. It's not hard to recognize some of the fairy tale characters. The cow, Milky White (Andy Grotelueschen, amusing as a cow and also Rapunzel's Prince), walks on two feet and has a cowbell around his neck. When it's time for Brody to appear as the Wolf, he merely brings a large wolf face up to his. It's easier when he has to change into his role of Lucinda or Cinderella's Prince.
There's no mistaking Rapunzel, hiding in her castle with her yellow hair hanging far down the side. Emily Young has no problem playing Rapunzel when she's not portraying little Red Riding Hood.
Brody and Steinfeld play several characters, too, as do others, and many of them have intense physical stunts as they fall, jump, roll over, are mangled, climb ladders and even fall off the stage.
There's rarely a moment without laughter, but it's magnified when two sisters bound together by a broomstick through their arms and portrayed by Brody (as Lucinda) and Grotelueschen (as Florinda), take the stage. Amusement and respect of craft stand out in "Into the Woods." u
IF YOU GO
: "Into The Woods" plays through Aug. 17 on The Old Globe Theatre's Shiley Stage, 1363 Old Globe Way in Balboa Park, San Diego. Tickets from $29 at (619) 234-5623 or TheOldGlobe.org
---