Let's Review: 'Ether Dome' takes the lid off story of anesthesia at La Jolla Playhouse
By Diana Saenger
Let's Review!
The traumatic experience behind performing amputations, tumor removals and vasectomies without anesthesia is immediately intriguing when Playhouse patrons view the incredible set design by James Youmans, representing the real ether dome at Massachusetts General Hospital in 1886. Below a well-lit dome, images of these crude medical procedures are projected on the wall.
The question of who really discovered pain medicines such as ether, chloroform, nitrous oxide and others, intrigues throughout the drama, aided by "Ether Dome's" tremendous cast.
Dr. Horace Wells (Michael Bakkensen) is a dentist, who is disturbed by the pain he causes his patients. He's a fanatic about his office protocol, even telling his helpers, "There's no running in front of patients" as he doesn't want them all hyped up.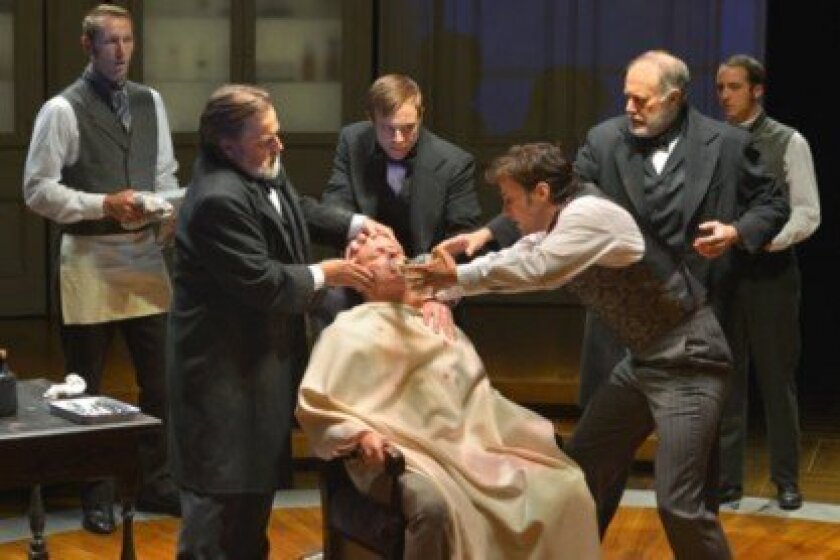 Wells and other surgeons at the time are all experimenting with different drugs. His partner and former student, William Morton (Tom Patterson), has been making his rounds and has discovered that laughing gas — nitrous oxide — not only makes people laugh, but puts them into a state of suspension in which they momentarily feel less pain.
Morton is anxious to worm his way into a group of renowned physicians led by Dr. John Collins Warren (Richmond Hoxie).
Dr. Charles Jackson (William Youmans) is a chemist and former student of Warren's who does not like Morton and thinks he's a risk. He discourages Warren from listening or allowing this anxiety-driven student to help with surgeries. Warren, however, is intrigued by the possibilities of relieving pain that Morton seems to be able to deliver.
It's an interesting tale about historical events fictionalized around a host of characters who attempt to work with each other, but at the same time outdo each other with claims each new drug discovery is his alone.
There's marital drama, physicians trying drugs on themselves that don't end well, threats between Harvard and Boston doctors, a hint of politics and even religion with comments like, "We can't live without God, but God can't live without us."
Bakkensen expertly performs several of the arcs in Wells' life, including sanity and insanity, his time as an artist in Paris and total breakdown. Patterson is equally effective as an innocent wanting to forge into medicine, a man willing to do anything to prove his point — true or not — and eventually accomplishing none of his goals.
It's a story many will find fascinating, well performed and superbly directed by Michael Wilson. u
—
IF YOU GO:
"Ether Dome" plays through Aug. 10 at the Mandell Weiss Forum, La Jolla Playhouse, UC San Diego campus. Tickets from $15 at (858) 550-1010. LaJollaPlayhouse.org
---