Let's Review: Cast in Sleeping Beauty Wakes at The Playhouse outshines its story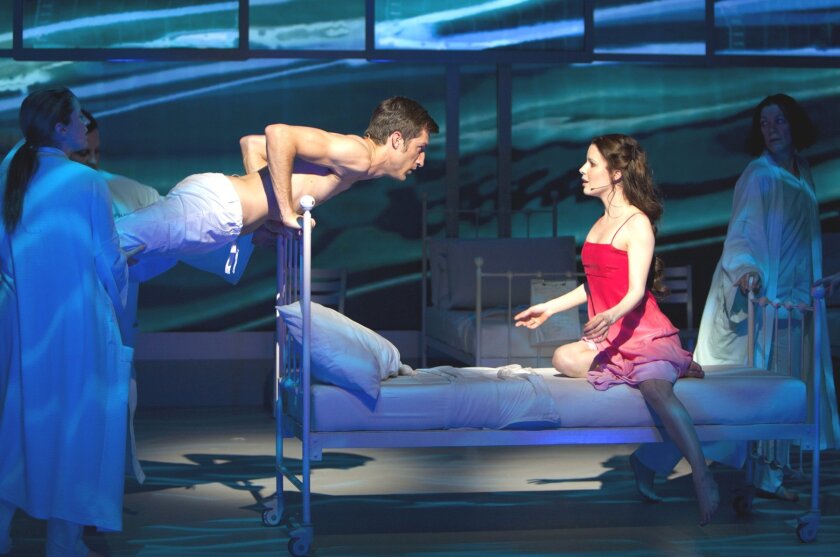 By Diana Saenger
Let's Review
An absolute spark in "Sleeping Beauty Wakes" is Aspen Vincent as Beauty "Rose." A San Diegan, Vincent learned her craft in area productions and went on to became a star on Broadway and in theaters across the nation. She's adorable, sings beautifully, and has lots of energy as the confused girl who only wants a happy ending. That's the goal of this show, but it's subjective to those in the audience. Some patrons might wish they had a scorecard while others will simply enjoy the fine performances and great singing voices.
A very talented cast undertakes Rachel Sheinkin's musical at the La Jolla Playhouse through Aug. 28. The "tale" (as in fairy) is about a girl who can't wake up and a father so desperate to have her back he hand carries her into a modern sleep disorders clinic. Her problem is soon linked to those of an assortment of patients at the clinic.
Plots centered on someone's dreams can often be difficult to follow, and that's one of the problems I had with this somewhat disjointed production, which often centers on confusing dreams from all of the patients.
Audiences need to understand a lot about the story before it unfolds; for instance that Rose has been asleep for 900 years, and that her father is really a King. Tying this scenario to the lives of patients in a 2011 sleep clinic takes a big leap. The audience also comes to learn, but not necessarily understand, that Rose was somewhat rebellious about her father's control back in the old days.
The production design team — Riccardo Hernandez, set; Miranda Hoffman, costumes; Christopher Akerlind, lighting; Leon Rothenberg, sound; Peter Nigrini, projection — does a superb job of creating the clinic on stage.
As the new patients arrive to take their places in beds assigned by the aloof Doctor (Kecia Lewis-Evans), we can all relate to the clinical procedures. Taking the beds are Murray (Steve Judkins), Harara (Adinah Alexander), Leon (Jimmy Ray Bennett) and Cheryl (Carrie Manolakas) who share their issues of night terrors, restless leg syndrome, insomnia and sleepwalking.
These actors do a super job singing and performing dance routines by choreographer Doug Varone, but the weird dreams they try to explain throughout the show, don't seem to meld with Rose's problems and result in the pacing and focus of the play becoming tedious at times.
Great performances by Lewis-Evans and The Orderly (Bryce Ryness), constantly rescue the mystifying story. Lewis-Evans is quite amusing as the doctor (and also the bad fairy) who is clueless about this clinic and disinterested in these weird people she cannot "fix." Her gut-belting and rousing rendition of "Uninvited," reveals a character who is more than she appears. What a talent!
Ryness is terrific as The Orderly and one of the best characters in the show. He, too, has an odd assortment of ailments that produce surprising reactions – along with lots of laughs. Much to her dad's dismay, it's The Orderly who eventually falls for Rose, and who will ultimately give her the kiss that awakens her. Ryness's take on the sympathetic, amusing oddball is brilliant.
Bob Stillman is just as wonderful as King. His distress over his daughter's situation in songs such as, "I Think You Understand," hint there is more to this father than meets the eye.
If you go
What:
The musical 'Sleeping Beauty Wakes'
When:
7:30 p.m. Tuesday-Wednesday; 8 p.m. Thursday-Saturday; 2 p.m. Saturday-Sunday; 7 p.m. Sunday, July 19–Aug. 28
Where:
Mandell Weiss Theatre, La Jolla Playhouse, UCSD campus
Tickets:
From $37
Box Office:
(858) 550-1010
Website:
lajollaplayhouse.org
---