Let it rise!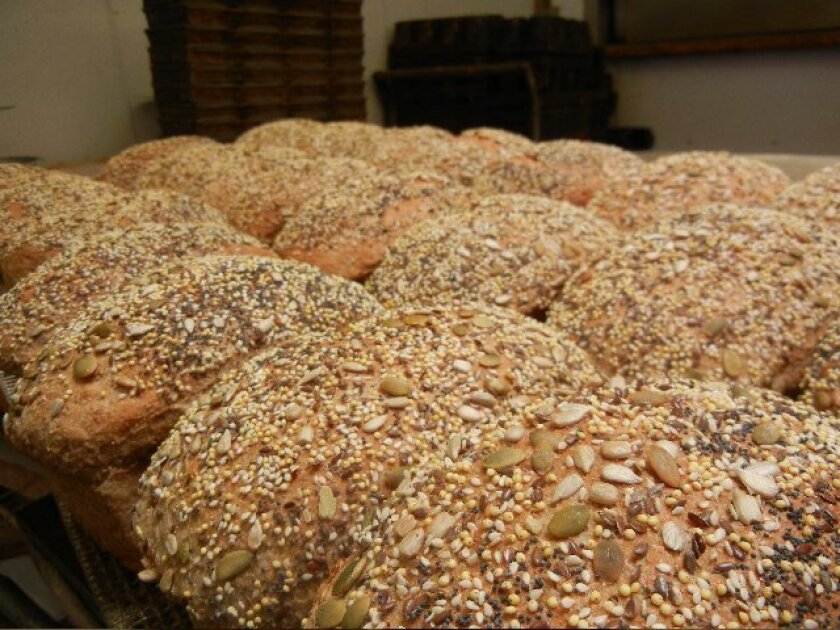 By Patricia B. Dwyer
Here's who still bakes fresh bread in La Jolla
The act of breaking bread shares an importance in dozens of cultures around the world that is easily forgotten in the practice of the pre-sliced and mass-produced loaf. Still, there a handful of bakeries in the La Jolla area that maintain the tradition, baking bread fresh daily — ready to be broken and shared.
Aroma Bakery
909 Prospect St
(858) 454-7272
aromalajolla.com
Mostly regarded as a conventional restaurant, Aroma Bakery also sells loaves of fresh bread to go. It sells all the breads that are on its restaurant menu — the most popular being the French baguette.
The first load of dough goes into the bakery's state-of-the-art oven at 4 a.m. and loaves are baked continuously all day long for the more than 500 customers who walk into Aroma Bakery each day. Visitors can sit down and enjoy the fresh bread with a meal, or purchase it to go for no more than $3 per loaf.
Jonathan's Market
7611 Fay Ave.
(858) 459-2677
www.harvestranchmarkets.com
Barbara Sanchez runs the bakery and points out that freshly baked bread is available as soon as the store opens each day. The loaves come part-baked and Jonathan's finishes the baking process to offer 12-inch baguettes ($1.79) and whole loaves like ciabatta and Rosemary and olive breads ($5.99).
Julian Bakery
5621 La Jolla Blvd.
(858) 454-1198
julianbakery.com
Julian Bakery has been a part of the La Jolla community for more than 20 years and spent all of that time dedicated to creating and producing healthful and alternative breads. The bakery's bread menu is comprised of gluten-free, yeast-free, high protein, low carbohydrate, low calorie, fully sprouted bread variations, each one made with 95-percent organic materials.
Apart from the actual bakery on La Jolla Blvd., Julian Bakery breads are distributed across the nation at stores like Whole Foods, Albertsons, Jonathan's, and Jimbo's.
All of Julian Bakery's materials are shipped from an organic farm in Montana and the flour is sprouted and ground from scratch on site for each loaf, which further sets it apart from other bakeries in the area. Each loaf is ensured to be as fresh and organic as possible.
Girard Gourmet
7837 Girard Ave.
(858) 454-3321
girardgourmet.com
The dimly lit and quaintly classic Girard Gourmet may not have the fanciest storefront display on the Avenue, but there will still be a line out the door at lunchtime.
The cafe's selection of breads is traditional as its entire menu and general establishment. The big seller is the French loaf for $3, but the eight-grain, Herbes de Provence, and Venezia don't sit on the shelves too long either.
Ingredients for the breads are received from a bakery supply company in Los Angeles and prepared and baked in the bakery.
All the loaves cost under $5, and the cafe also uses them for its sandwiches.
"Certain sandwiches work well with certain breads," said owner François Goedhuys who opened Girard Gourmet almost 24 years ago. "My favorite is the eight grain, because it's healthier, but I really like the Herbes de Provence."
Panera Bread
7863 Girard Ave.,
(858) 812-0547
"We bake all our breads fresh seven days a week — none of it's frozen, none of it's day-old," CEO Patrick Rogers told The Light when Panera opened in La Jolla earlier this month. The loaves range in price from 99-cents to $8, and there are at least 10 different styles and flavors.
Albertsons & Vons
Albertsons: 730 Turquoise St.
(858) 488-0600
Vons: 7544 Girard Ave.
(858) 454-2620
The local Albertsons and Vons grocery marts in La Jolla also offer a selection of freshly baked bread each afternoon, baked from frozen loaves of dough received by the markets.
The history of bread
The Hungry Monster website has a note-worthy look at bread through the ages. Here's an excerpt. If you'd like another slice, read the whole report at
here
"Humans have eaten some form of bread since the Neolithic era, when cereal grains were crushed and mixed with water to form a thick paste that could be cooked over the fire and consumed.
The Egyptians, in approximately 2600 BC were lucky enough to have a sufficient amount of wild yeasts in the air from the beer brewing to accidently discover its uses in leavening bread. Workers were often paid in loaves of bread. Paintings in the pyramids show that the dead were buried with loaves of bread, to provide sustenance in the afterlife. (The British Museum has one of these loaves — 4000 years old!)
Greek sailors and merchants brought the Egyptian flour back to Greece, where bread baking flourished. Rome took over the enterprise after their conquest of Greece, and in 150 BC formed the first Baker's Guilds.
---