Fastest sport on two feet!
Lacrosse, considered the fastest sport on two feet, might also be the fastest growing in popularity in La Jolla. With expanding divisions, The Jewel is currently home to a female recreation league and a tournament team, in addition to thriving high school teams.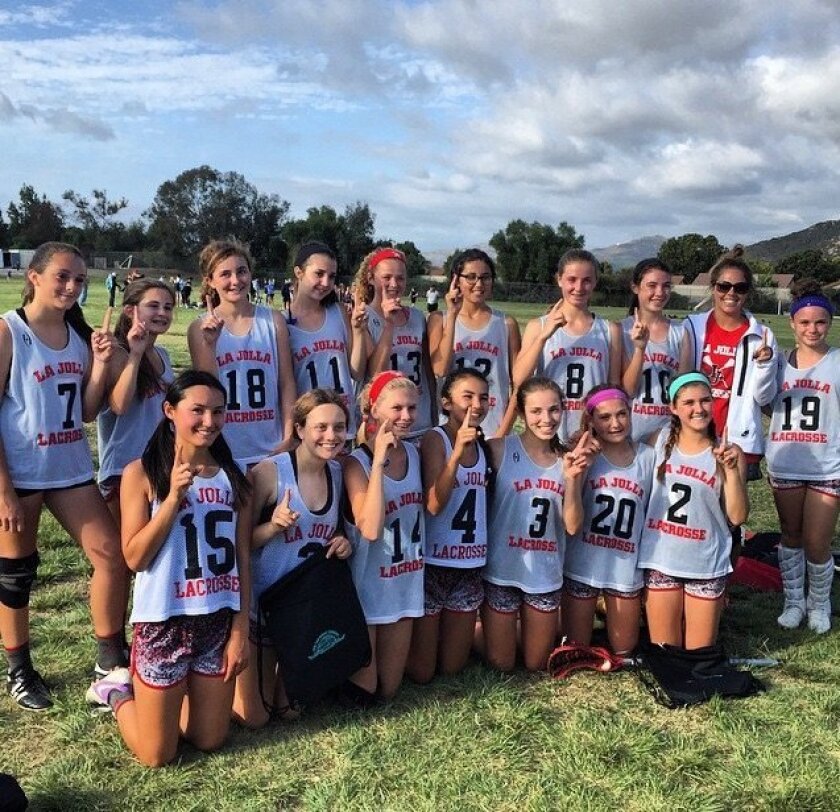 Best friends Sam Farrell and Kitty Cullen coach all the female teams in town, and moved to San Diego from Maryland to establish a girls lacrosse program here. While there is a boys counterpart to these programs, it was established years ago; the girls are just gaining steam.
La Jolla Lacrosse Club recreation league (home field La Jolla High School) consists of six girls teams — two peewee teams for those in kindergarten through grade 4, and four middle school teams for those in grades 4-8. "Anyone can sign up for the rec league. We practice twice a week with games on the weekend in the fall and spring," Farrell said.
She added there are other rec leagues throughout San Diego, and these compete against each other.
Cullen said one of La Jolla's middle school teams ended its season undefeated after winning the Division A championship in the spring. "It was awesome. It was really fun to watch them improve this year and they worked really hard."
The athletes who thrive in recreational lacrosse have to be fast and have good hand/eye coordination, Farrell said. "You are holding a stick and have to use it throw, catch and scoop up the ball. It's a sport that's easy to pick up, but athletes who played basketball and soccer pick it up a lot faster," she said.
The ladies tournament team, called the Mad Dogs, is by invitation or tryout only, and they travel across southern California to compete. Last summer was their inaugural season, so they stayed fairly local, traveling to other areas of San Diego and Los Angeles. "We'll play five or six games in a tournament and come home, but once we're more established, we'll travel further and play more, like to Colorado or the East Coast," Farrell said. The La Jolla High School varsity team also had a successful season, Cullen said. They ended their spring season 14-7 overall, 7-4 in the league.
"We were a very young team this year; we had six freshmen on varsity, which was crazy," she said. "We ended up finishing in eighth place, which granted us a spot in the (high ranking) open division — a huge accomplishment." A season highlight came when the lady Vikings defeated Coronado in overtime. "It was the first time La Jolla High School beat Coronado in 11 years. That was huge, especially for our seniors," Cullen said.
While victories are great, seeing the growing excitement in La Jolla athletes for the sport Cullen and Farrell love so much has been the most rewarding part of the experience for them. "It's so big back East, everyone plays it. It's so crazy that it's not bigger out here," Farrell said. "But I guess it's always been a New England/East Coast sport and now that people are starting to see it, it's going to spread."
The two recently offered a demonstration at Bird Rock Elementary and Muirlands Middle schools to introduce young athletes to lacrosse. "We got so much interest. They just had no idea what the sport was ... they didn't know about lacrosse," Farrell said.
Cullen attributes the rising awareness to West Coast colleges adding lacrosse programs. "With nearby colleges offering it, young people are seeing lacrosse more," she said. "My lacrosse experience helped me get into the college of my choice. I grew up loving the sport and being able to give back to it is really important to me."
---