Labyrinth makers send message of peace across the sea
At low tide on Sunday, Oct. 12, the Bird Rock Artist Guild, La Jolla High School Interact Club, Splatter Art Club, and Bully Busters/Kindness Counts Club created a labyrinth in the sand at Law Street Beach and dedicated it to the Rotary Club's 2014 Peace Initiative.
Many community members came to experience the ancient spiral walking path and temporary art experience. At sunset, the path was lit with 200 luminaries. As guests listened to sounds of the healing harp played by Cheryl Angela, they walked the path to send out a message of peace across the sea.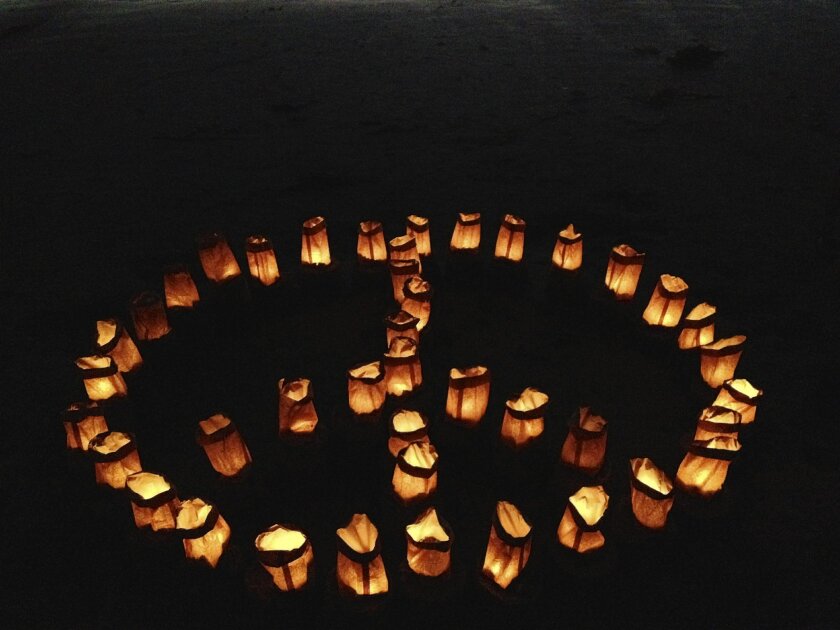 Located in the center of the labyrinth was a no-obligation donation jar to collect funds for Interact Club's fall project — building its 21st home in Mexico for an impoverished family. The donations will be used to purchase building materials. Interact is an action-oriented community service club tied to the La Jolla Rotary to foster ambitious volunteerism and leadership development.
Peace is one of Rotary International's six "Areas of Focus." On the regional level, Rotary District 5340 (San Diego County and part of Imperial County) promotes peace primarily through a Model UN program for high school students.
The Rotary MUN initiative takes place over several months preparing for a weekend mock UN session in San Diego. More than 150 students participate. The district's Peace Initiative committee is developing new projects. To become involved, contact Cal Mann at Calmann@me.com
LJHS Splatter Art Club members came to the beach to learn how to create improvisational art. At the labyrinth, they made the spiral and candle bags, and drew peace art in the sand. Splatter Art Club is an art and community service program.
The Bully Busters/Kindness Counts Club was on hand to also get the message out. LJHS students are organizing projects this year with Muirlands students to encourage a culture of kindness. For more information, call the school at (858) 459-4211.
Filling the air with the aura of PEACE was healing harpist Cheryl Angela, who played the harp in the frequency of love (528 Hz) and the frequency of peace (432 Hz). Scientists are now studying the effects of sound frequency on healing. Angela performs throughout San Diego and is a regularly featured artist at The Chopra Center. For more information, visit cherylangela.com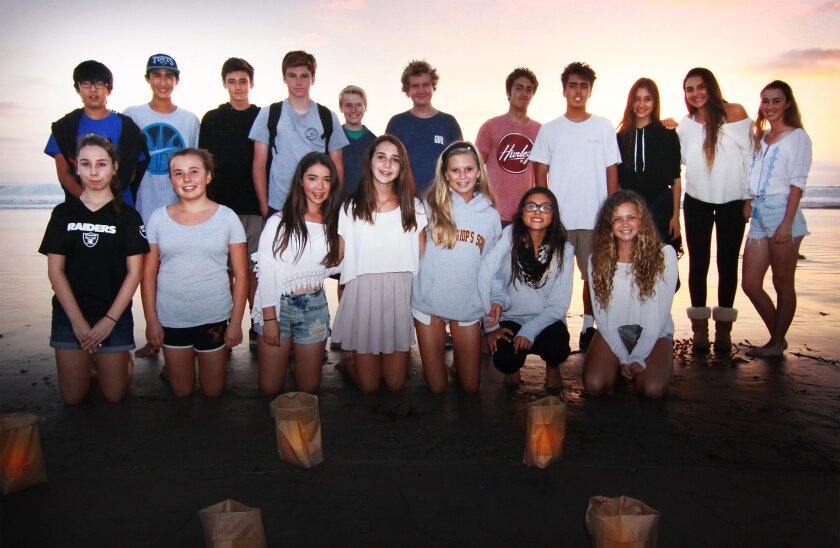 ---