La Jolla's Ivanhoe Avenue: A laid-back treasure then, now ... and evermore?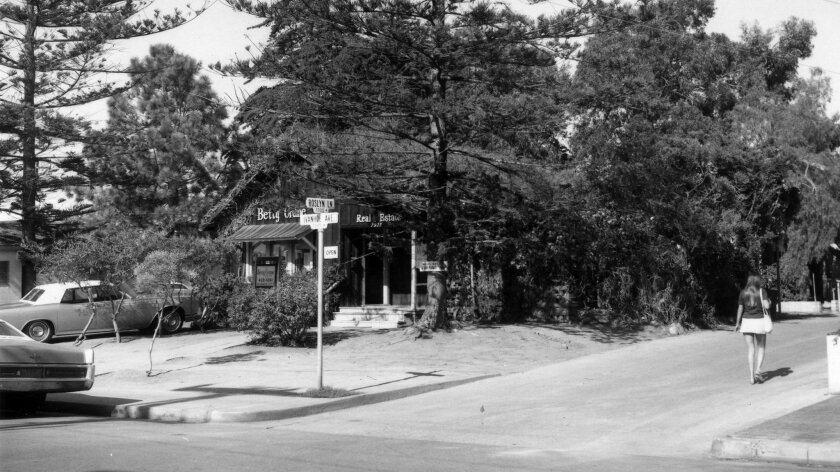 Etymology of an Avenue
■ Ivanhoe Avenue takes its name from the popular 1820 novel 'Ivanhoe,' by Scottish historical novelist, playwright and poet,
Sir Walter Scott
, where it is used as the surname of the protagonist Wilfred of Ivanhoe.
■ Ivanhoe Avenue was first named
Ictinus
after the Greek architect, known for his work on the Parthenon and the Acropolis. Ictinus lost to Ivanhoe in a major renaming of La Jolla streets in 1900, reportedly at the suggestion of Ellen Browning Scripps, who probably admired Scott's acclaimed novel and its battle-worn, but triumphant hero, who endures burning castles, devious monks and
combat with errant knights to achieve his kingdom and the hand of the lovely Lady Rowena.
— La Jolla Historical Society
Learn more about 'The Shops on Ivanhoe' online
facebook.com/TheShopsonIvanhoe
instagram.com/shopsonivanhoe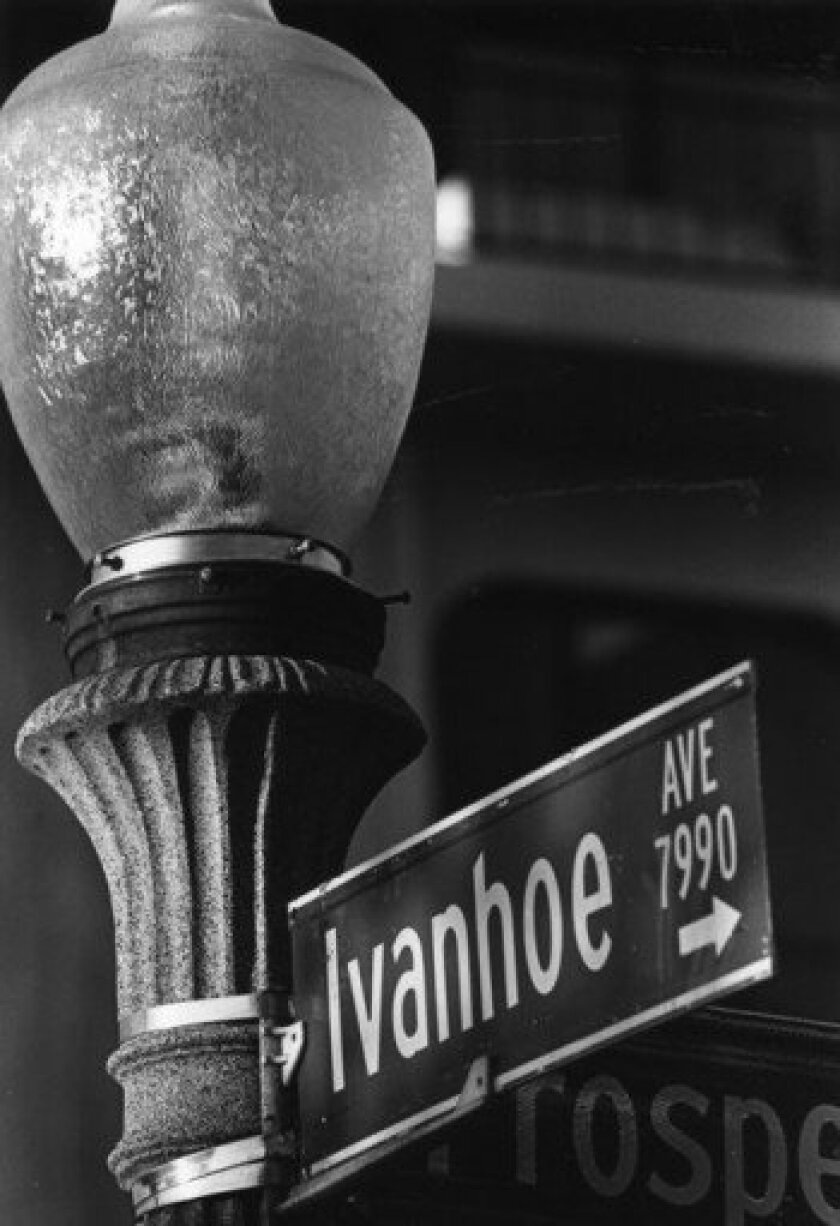 By Pat Sherman
Removed from the bustle of Prospect Street and Girard Avenue, the quiescent, three-block stretch that makes up Ivanhoe Avenue (between Prospect and Torrey Pines Road) doesn't always get its due.
"In its earliest days it was a street of mainly small cottages bearing names such as Linger Longer, Michiquita and Waverly," La Jolla Historical Society historian Carol Olen writes, in the society's
Timekeeper
newsletter. "One of La Jolla's most-treasured book stores, John Cole's, started on Ivanhoe before moving to Wisteria Cottage on Prospect Street" (today part of the La Jolla Historical Society campus).
But this tree-lined, tranquil street, with its current array of notable architecture, boutique shops, office space and two cozy eateries, is worth another look.
Like a phoenix rising from the ashes of the 2012 Mr. Taco fire — which led to the popular eatery's demise — the ground-level retail spaces in the Bentz Building between Wall and Prospect streets are all rented and business owners have created a palpable synergy.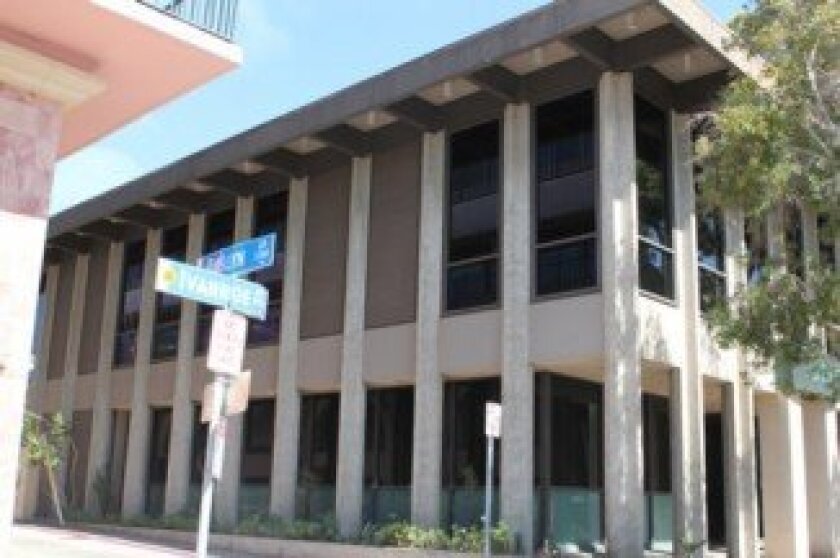 "It's like a little family; we all take care of each other," said Lisa Lehmkuhl, who opened Barre 59 studio six years ago in the Bentz Building, which was built where the Balmer School (forerunner of La Jolla Country Day School) was once located.
"It's a little bit more affordable for a small business," Lehmkuhl said of Ivanhoe. "There's a lot of parking and it's close to where the action is, although you don't have to pay the high rents like on Prospect or Girard."
Lehmkuhl is one of several female business owners in the Bentz Building, including Kate Yetman of Swoon Collection clothing, Alison Brown of Mary's English Kitchen and Molly Cygan Rossettie of Hi Sweetheart gift boutique.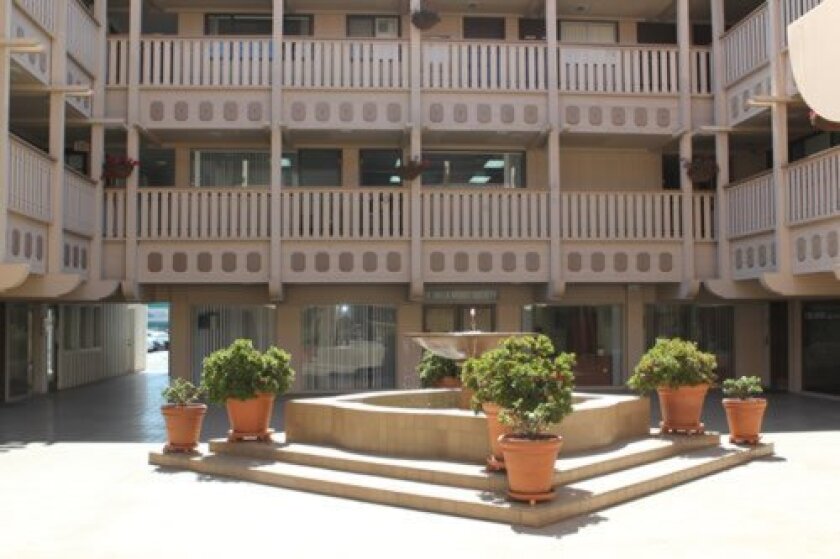 Yetman said a lot has changed on Ivanhoe since she opened Swoon in December. "With the new shops opening, there is a new pulse on the street," she said.
Brown noted her English tearoom and café's proximity to reasonably priced public parking on Cave Street and an underground garage at Ivanhoe and Silverado Street (just $5 a day). "I believe there's lots of variety here," she said. "It's a good street, and it's coming back to life."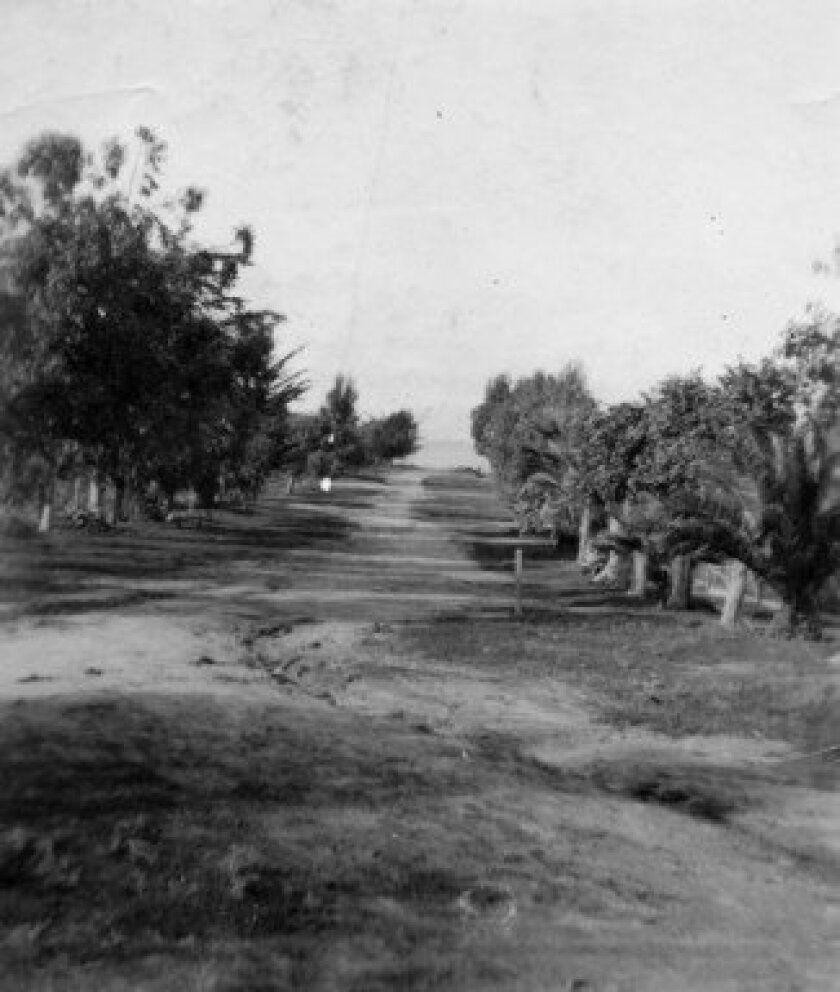 That variety — and history — is evident while sipping tea and nibbling finger sandwiches from the patio of Mary's English Kitchen or enjoying an Italian dish and glass of wine on the Bistro Pazzo patio (also in the Bentz Building). From either eatery, one can watch people coming and going from the historic Wall Street Post Office, or gaze across at the majestic Congregational Church of La Jolla. The building was designed by architect Carleton Winslow in 1915, who also designed many of the buildings in Balboa Park for the 1915-1917 Panama-California Exposition (World's Fair). The congregation will celebrate the building's centennial next year.
One of the two oldest public buildings in the Village (Bishop's School is the other), Congregational Church held its first service in January 1916, adding a fellowship hall, social hall, Sunday school rooms and stained glass in the 1950s and '60s, Pastor Sam Greening said.
Although its tower was absent a bell for many years, in the early 1960s children in the congregation raised money to purchase one of the last original bells belonging to the more than 600-mile-long El Camino Real trail (later roadway) that connected 21 missions, from San Diego to Sonoma. "To this day, it's always a child who rings the bell at the beginning of Sunday service," Greening said, adding that he thinks the historic Wall Street Post Office (threatened with sale and relocation) gives Ivanhoe its personality.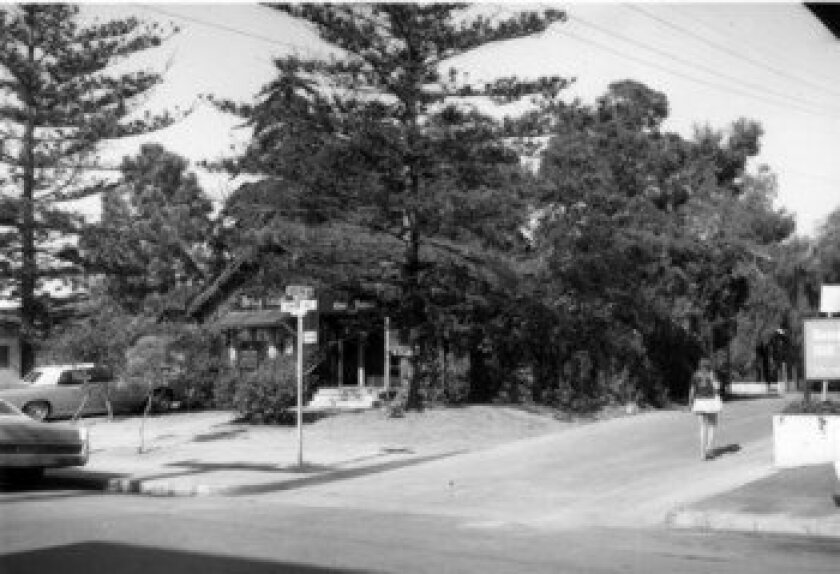 "The continuing presence of the post office is important to us," Greening said. "Without it, I think the character of the block would change horrendously."
Next to the church, at 7917 Ivanhoe, is a two-story building designed by architect Russell Forester (1920-2002), whose famed mid-century designs included some of the first Jack-in-the-Box restaurants. Opening in April 1965, it was home to the Jefferson Gallery, which relocated from Girard Avenue.
The gallery's opening drew nearly 400 people for a Champagne reception, according to the La Jolla Historical Society, and included luminaries such as La Jolla painter and illustrator, Phil Kirkland.
Russell Forester's daughter, Lynn Forester, recalls visiting Kirkland's "crazy cottage," just a half block down on Prospect Street with her parents, who collected his pieces. "He was very much sort of a hippie and his cottage was full of interesting, strange things," recalled Forester, a young girl at the time. "He often painted or drew women without shirts. I asked him, 'How come your women don't have any shirts on?' and he said, 'Oh, their shirts are at the cleaners.' … He was a character."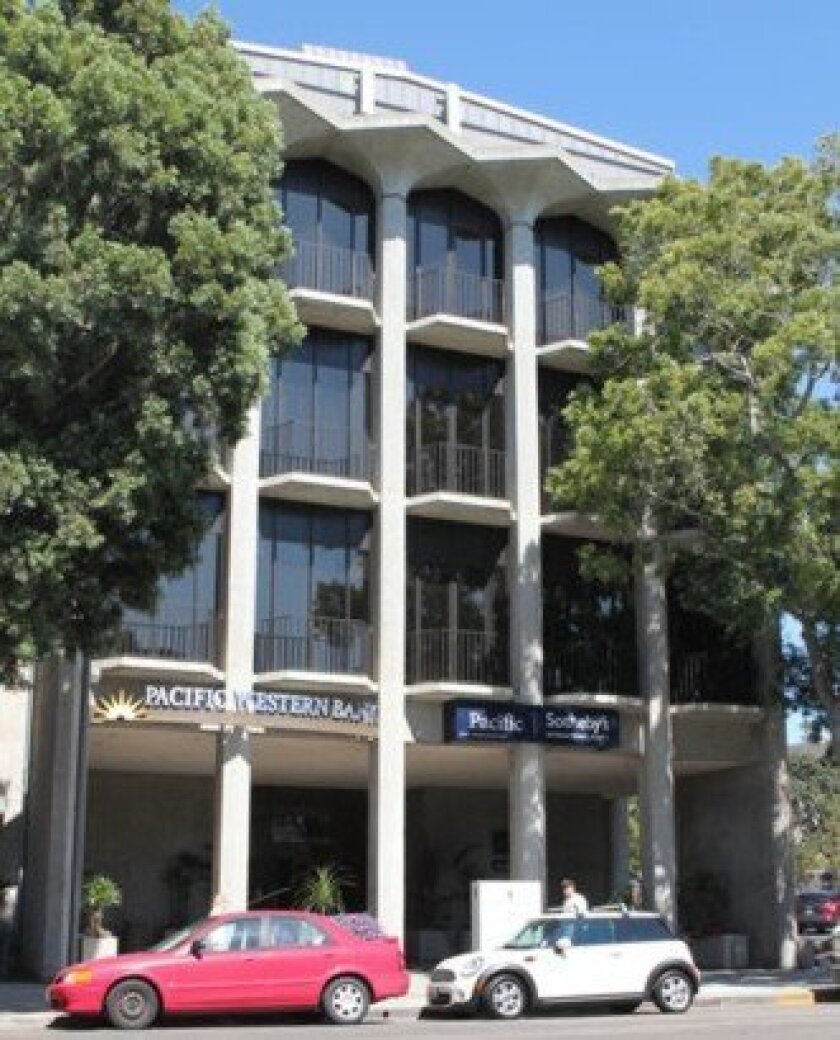 Jefferson Gallery was pivotal to San Diego's modern and contemporary art scene of the mid-1960s, until the owners "abruptly closed the gallery in 1968 for personal reasons," shocking the local art scene, Olten writes.
At the foot of Wall Street, at 7855 Ivanhoe, architect Robert Mosher (San Diego-Coronado Bridge, UC San Diego's John Muir College) designed what was in 1964 Ivanhoe's tallest structure, the five-story La Jolla Bank Building (today home to Pacific Sotheby's Realty and other tenants).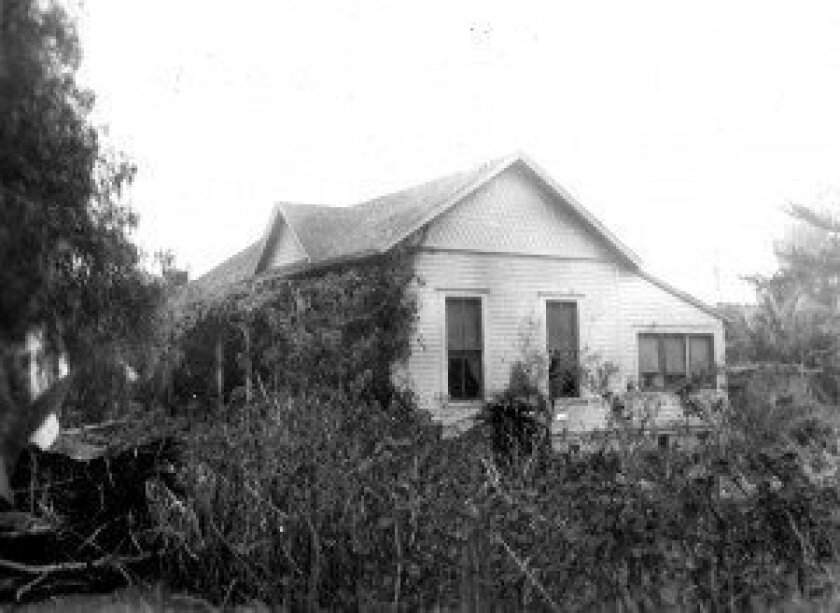 Mosher said he is still proud of the building, with its New Orleans-inspired balconies (a detail rarely used on office buildings), though notes that he was not responsible for the "terrible" rooftop shack (part of a later fix to cover a contractor's air conditioning debacle).
Mosher recalled telling the bank's board of directors, "People are not going to be real happy with a five-story building in La Jolla," going on to suggest the French Quarter-style balconies to soften the building's fenestration. "Our building ... dominated everything," Mosher recalled. "It was a choice that the bank made because they intended to (have) income property there."
Further down on Ivanhoe, the building once housing the former Copley Press headquarters in the 7700 block of Ivanhoe (at Silverado) has been remodeled as office and commercial space. Next door, between Silverado and Kline streets, elements of several of La Jolla's original beach cottages have been incorporated into the Heritage on Ivanhoe residential development, completed last year.
Coming this week, the latest work in the
Murals of La Jolla
public art project (the first under the auspices of the Athenaeum Music & Arts Library) will be installed at 7835 Ivanhoe Ave. The work, "One Pointed Attention," by San Diego artist Kelsey Brookes, will be installed by Friday, Aug. 15. Born and raised in Denver, Colorado, Brookes attended Colorado State University for biochemistry and spent much of early years as a scientist. In 2005, he left the sciences to become a full time artist, and has since created album cover art for artists such as the Red Hot Chili Peppers and The Flaming Lips.
---