La Jolla's Irwin Jacobs reflects on life at 80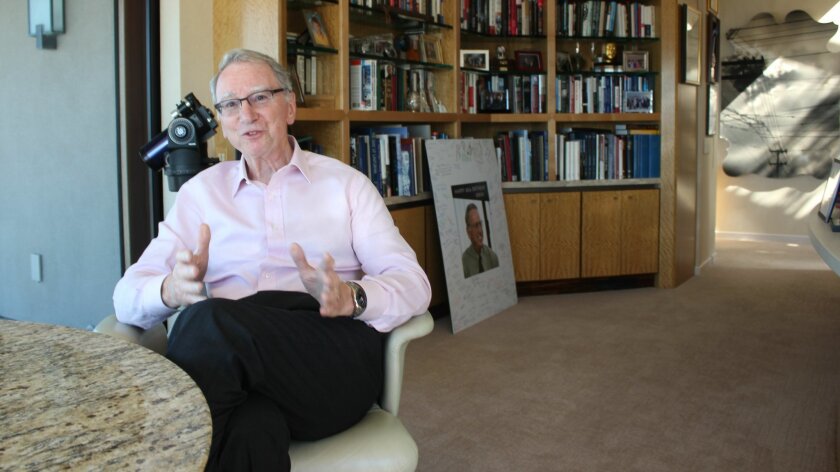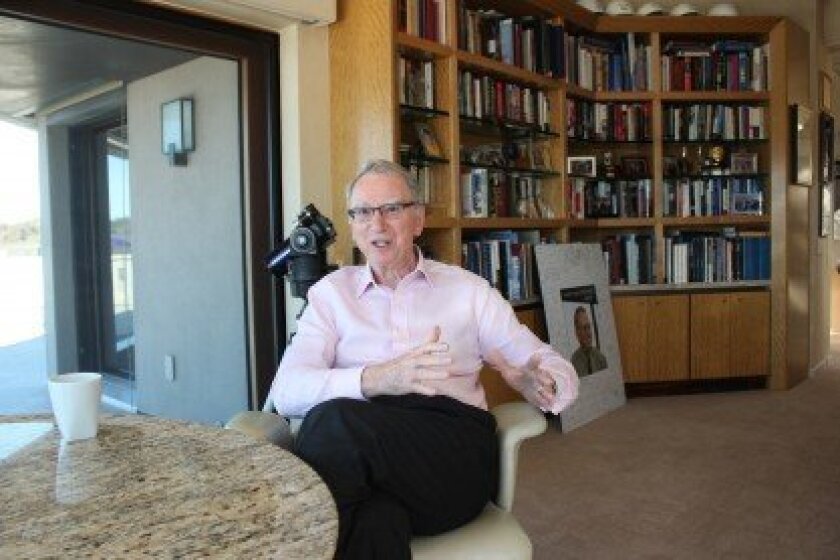 The life and times of Irwin Jacobs
Still on his to-do list:
Find more time to read and to spend with family. "(Time) was always a little tight (while) teaching at the university and then forming two companies, although we always tried to eat dinner together as a family."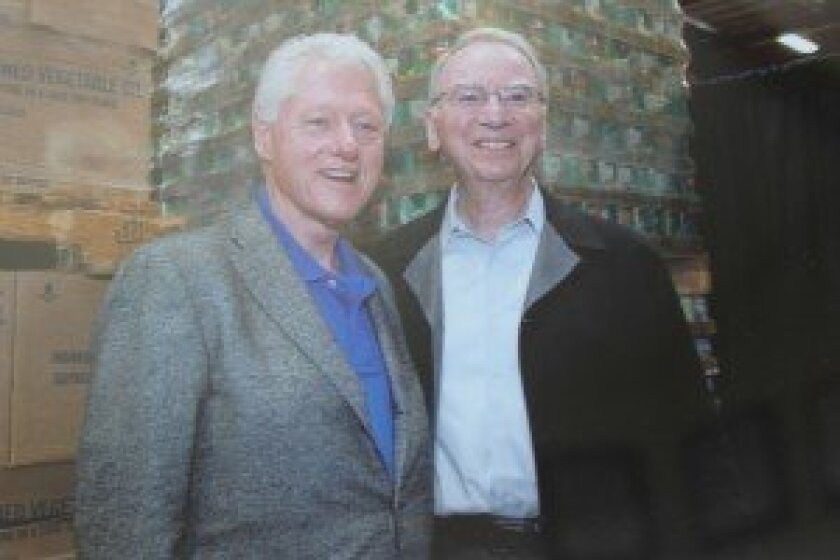 Last book that resonated:
'Jewish Pirates of the Caribbean: How a Generation of Swashbuckling Jews Carved Out an Empire in the New World' (by Edward Kritzler). "It traced when Jews were expelled from Spain and Portugal … how they were involved with many of the explorations … and some, because they had knowledge of ships, became pirates under sponsorship by different countries."
Last play that resonated:
La Jolla Playhouse's 'The Tallest Tree in the Forest' (on stage to Nov. 3).
Character traits most admired:
Integrity and empathy. "I think it's important that you value the way others feel, that you try to find areas of mutual interest — but even where you have disagreement, you can understand that disagreement and still find ways to work together."
Most prized possession:
The La Jolla Shores home (now estate) Jacobs put a down payment on in 1968, which has been "upgraded every decade or so."
By Pat Sherman
One of La Jolla's most prominent and affluent residents, Qualcomm co-founder Irwin Jacobs, celebrated his 80th birthday in style last week (Oct. 18). This involved celebrations beginning the week prior and continuing this week, including: a party and daylong symposium at Salk Institute (for which he serves as board chair); dinner with family and friends in La Jolla; a trip to New York to celebrate the birthday of his son, Paul (who took over as chair of Qualcomm from Jacobs several years ago); another soiree in his honor at the Guggenheim Museum; and a performance by the San Diego Symphony at Carnegie Hall.
After this week's symphony performance in New York, Jacobs said, "We have a little celebration with everyone coming from San Diego."
Having made his fortune in the semiconductor industry,
Forbes
magazine places Jacobs' current net worth at $1.6 billion.
Not a bad life.
But the man who lives well is also famous for giving well — and often. Copley Symphony Hall was recently renamed the Joan and Irwin Jacobs Music Center, in honor of the couple's patronage (well over $120 million).
The couple's contributions to education and the arts in San Diego include gifts of millions to UC San Diego, La Jolla Playhouse, the San Diego Natural History Museum and the new Central Library in downtown San Diego.
This year Joan and Irwin Jacobs pledged $133 million to help fund a new science and technology campus at Cornell University, from which they both graduated.
"There's so many areas that do need help, and we've focused on a few of them," Irwin Jacobs told
La Jolla Light
during an interview at his La Jolla Shores estate, suggesting budding philanthropists decide where their interests lie.
"Everybody can be philanthropic at some level," he said, "but what are the things that drive you?"
When giving, Jacobs said he looks for organizations with good leadership "so that when you provide support, you know that it's going to be well-used.
"We often think about philanthropy as being a donation of money, but it's also a donation of time and interest," he said. "I think it's important to not only write a check, as it were, but also to take part in the different organizations, to provide some support."
Though Jacobs no longer serves on the board of Qualcomm, he still attends board meetings and stays abreast of industry trends and the progress of various companies.
"The whole field is still very exciting (and) … I give a lot of talks still, so I have to keep up on what is going on," he said, noting that after New York he's headed overseas to speak at the National Tsing Hua University in Taiwan.
"The world continues to change very rapidly, and it's going to continue to change," he added. "If you get a proper education, then I think you can make these changes be opportunities. …
"I'm a great believer in innovation. In just about everything we do, we can find a better way of doing it … a more interesting approach."
Jacobs said he believes having a broad range of interests is key to living a fulfilling life.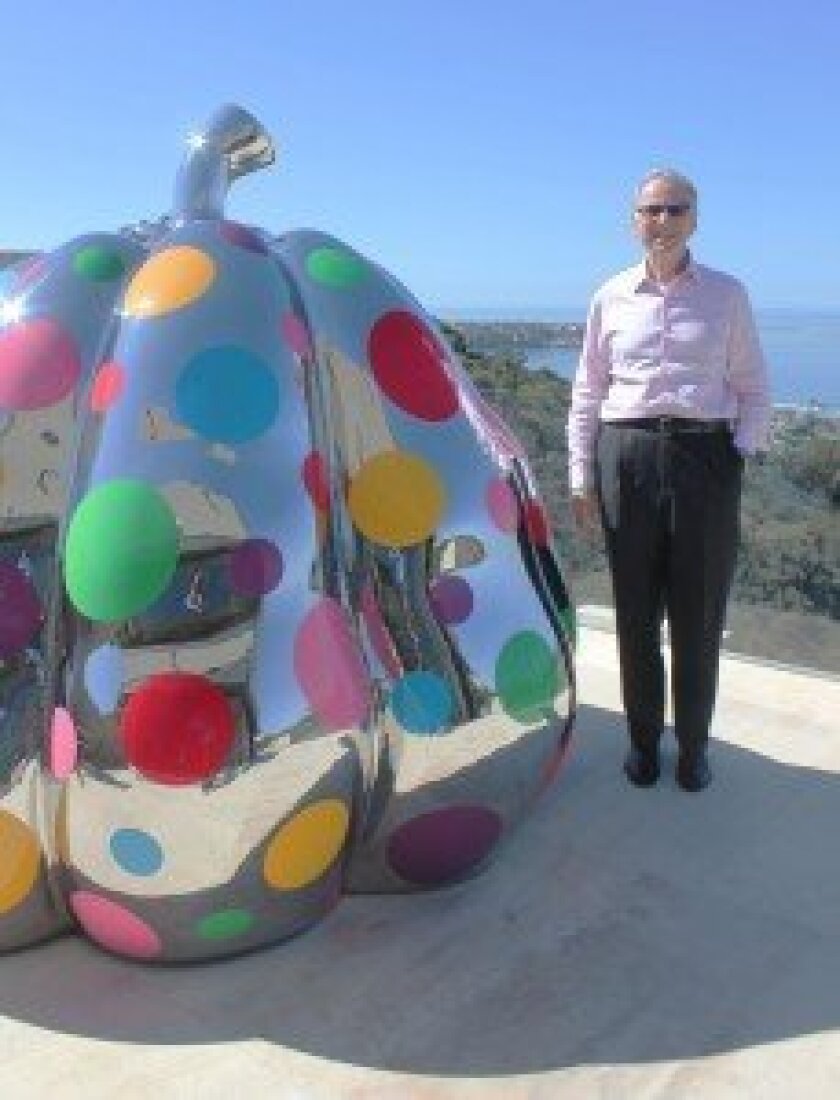 Asked what he thinks are the qualities San Diego's next mayor should possess, Jacobs — who's backing Democrat and Qualcomm employee Nathan Fletcher in the Nov. 19 mayoral special election — said it should be "somebody that listens to all of the various constituents (and) doesn't say, 'OK, this is the only way to proceed ahead' … You have to understand different points of view, look for ways of being able to bring those together … but occasionally something needs to be done and you have to the go out and sell that to the people and make it happen."
Does he see any chance for selling a revivification of the Plaza de Panama project that he pledged millions to fund (which a judge ruled against in February)? Jacobs said he thinks aspects of it are still feasible, but couldn't be done in time for next year's Balboa Park centennial observance.
"It will probably happen more piecemeal over time," he said, noting that the shortage of public parking remains an issue for the park. "The zoo is now proposing a parking garage — unfortunately in a canyon — but if that does help meet some of the needs, that's useful."
Jacobs said he is a strong advocate for "areas where people can congregate without cars" (such as the now vehicle-free but underutilized Plaza de Panama), including La Jolla's Belvedere Promenade project, which would convert a section of Prospect Street into an ocean-view pedestrian plaza.
"I think that would be wonderful," Jacobs enthused, going on to tout other walkable, community-building aspects of La Jolla, such as its weekly
Open Aire Market
on upper Girard Avenue (which celebrates its 15th anniversary Oct. 27).
"I think La Jolla has developed very, very well over the years," he said.
"I hope that it remains part of San Diego, politically, by the way," he added. "Given that it's a somewhat wealthier community compared to the average San Diego community, we are providing support for others that is also very important."
---