La Jolla's iconic 'Whaling Bar' at La Valencia Hotel to close, re-open as expanded Café La Rue
By Pat Sherman
Time is catching up to the dimly lit cocktail lounge where everyone from actor Gregory Peck to novelist Raymond Chandler, former Mayor Maureen O'Connor and author Theodor Geisel (Dr. Seuss) once held court.
The Whaling Bar will close for extensive renovations that include removal of a wall dividing the bar and adjacent Café La Rue.
The space, located inside the La Valencia Hotel at 1132 Prospect St., will re-open as an expanded Café La Rue, to include a central, u-shaped bar and a lighter, more open design.
La Valencia Managing Director Mark Dibella said the hotel is mulling over bids from five contractors, and is likely to begin work at the end of January or early February.
"We have all of our permits, designs and everything for this project," said Dibella, who promised some "big parties prior to closing and before re-opening" to commemorate the transition.
Writer Mary Duncan, who purchased a condominium across the street from the La Valencia in 1982, said the Whaling Bar felt like an "extension of my living room."
Whenever literary colleagues or other guests would visit, she'd take them to the Whaling Bar to sit and sip in one of the red leatherback banquettes.
"It's been there since the 1950s," Duncan said. "It's kind of sad because it's sort of like the center of La Jolla. It's like everything started there and kind of radiated out.
"I am just shocked," she added. "I've been talking to people and nobody even seems to be aware."
Duncan said she is primarily concerned with the fate of the establishment's four paintings by artist Wing Howard, who lived at the hotel as a young bohemian artist and reportedly painted to cover part of his room and board.
However, Dibella assured that the paintings would be preserved.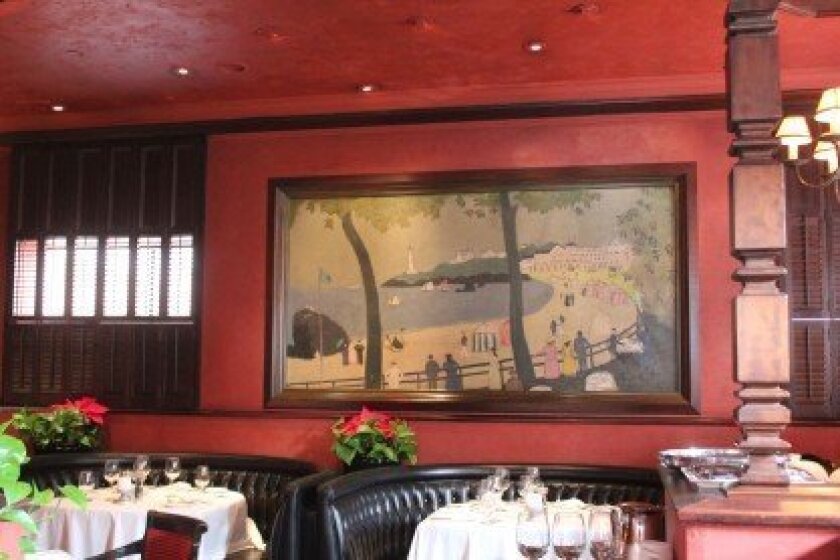 During the 1950s, Howard was asked to paint duplicates of the works for fear that the originals in the bar and café might eventually fade or be destroyed. His duplications, which Dibella said currently hang on the eighth and ninth floors of the hotel, are much brighter and will be placed in the café upon completion of the renovations.
"The paintings are a significant part of the art décor of that room," Dibella said, noting that the originals will likely be restored.
"We will want to re-incorporate them in other areas of the hotel," he said, adding that the staff is remaining "a little bit fluid on where some of those items will go" during ongoing renovations. "By no means will they ever leave the property. They're a big part of our history."
Café La Rue will reopen with a French Art Deco motif, including polished travertine flooring, fawn and ivory-colored leather chairs and banquette seats, and opaque glass above the bar for a skylight-like brightness.
Central columns supporting the ceiling will be accented in light cherry wood, and the hotel's wine cellar will be brought to the main floor and housed in a glass vault near the entrance to Café La Rue.
In addition, side doors will be added along the front entryway.
"It should have been that way a long time ago," Dibella said. "This will (allow) more use of the front courtyard for outdoor seating. This patio is a focal point of La Valencia and part of the heart of the Village, and is currently underutilized."
La Valencia's Sky Room will also undergo renovations after Jan. 1, Dibella said.
---