La Jolla's Evans School hosts veterans at a Thanksgiving lunch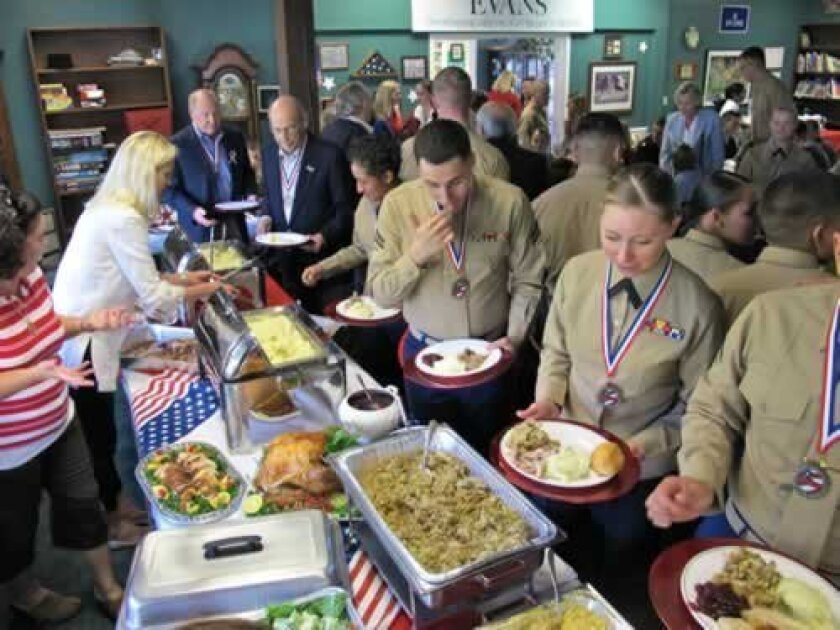 By Ashley Mackin
In accordance with a new tradition, students at the Evans School treated active and veteran marines to a Thanksgiving luncheon Nov. 19 that took place at the school, 6510 La Jolla Scenic Drive.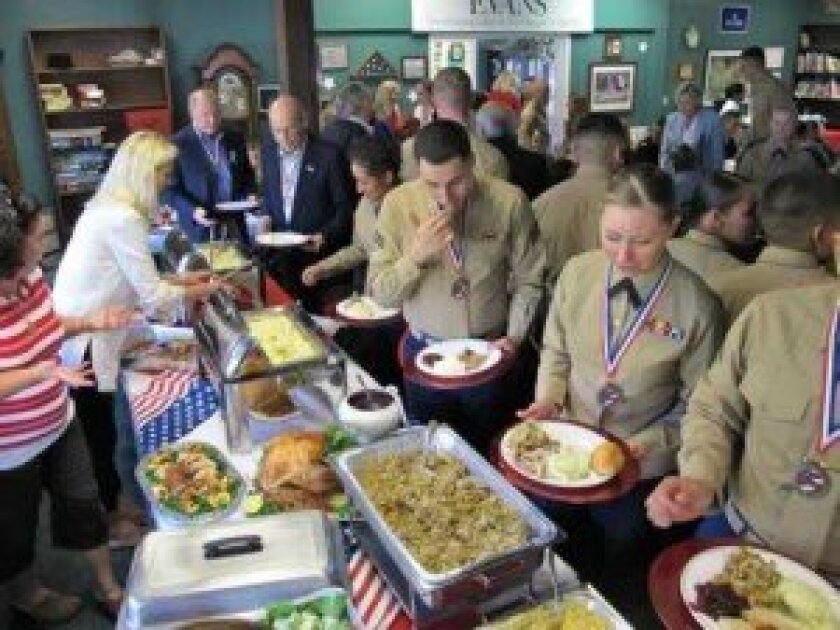 Last year, Evans School parent Brigid Hannon spearheaded efforts for students to "adopt" marine service members. The students each adopted three marines, to whom they wrote letters and sent boxes while overseas.
In December, the students sent them gifts and cards. On Valentine's Day, the students hand-wrote messages to the service members. In May, when many of marines were able to return home, they were given "welcome home" boxes.
"We had a Welcome Home Party for them in June and (the service members) came and spent the afternoon at Evans and it was so great. The kids sang patriotic songs and we all got to meet the guys that we were corresponding with," Hannon said. "So we thought, wouldn't it be fabulous if we had a Thanksgiving event and you guys can come and bring some of your buddies and we'll have a big turkey dinner."
However, several months into planning, the adopted marines were sent to another location and could not attend. So Hannon contacted local military groups, such as the Wounded Warriors, Marine Corps Recruiting Depot, the Miramar base, and the USO.
The students ended up with approximately 130 service members at their Thanksgiving event, which included turkey, cranberry sauce, corn, salad and rolls.
During the luncheon, the service members introduced themselves by name, rank and time in service.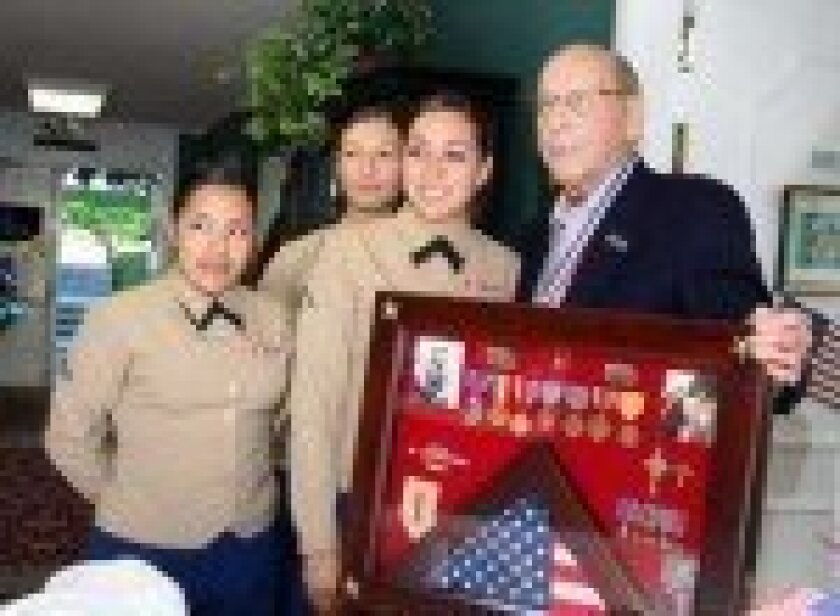 "We had everybody from recruits who had literally only been in the Marine Corps for five months to a gentleman who stormed the beach of Normandy on D-Day. We had admirals and the oldest active-duty SEAL, so we had a great mix of old and young, and they fed off each other and had a wonderful time," Hannon said.
Principal Margaret Baer said there were 890 years of millitary service represented at the luncheon.
In addition to the food, the students presented the service members with medals with the inscription: "You are a true hero, thank you for your courage and loyalty" on the front, and "The Evans Families Appreciate You" on the back.
Hannon said the Evans School is very patriotic, and instills respect and admiration in its children for the military and what it means to serve, and they include first responders — firefighters and police officers."
"It was extremely meaningful for our parents, students, and staff to be able to express gratitude to those heroes who have shown amazing courage and unselfishness," Baer said. "(It was) a memorable, successful event for all (and) it will become an annual tradition for The Evans School."
---