La Jollans remember their friend, Cliff Robertson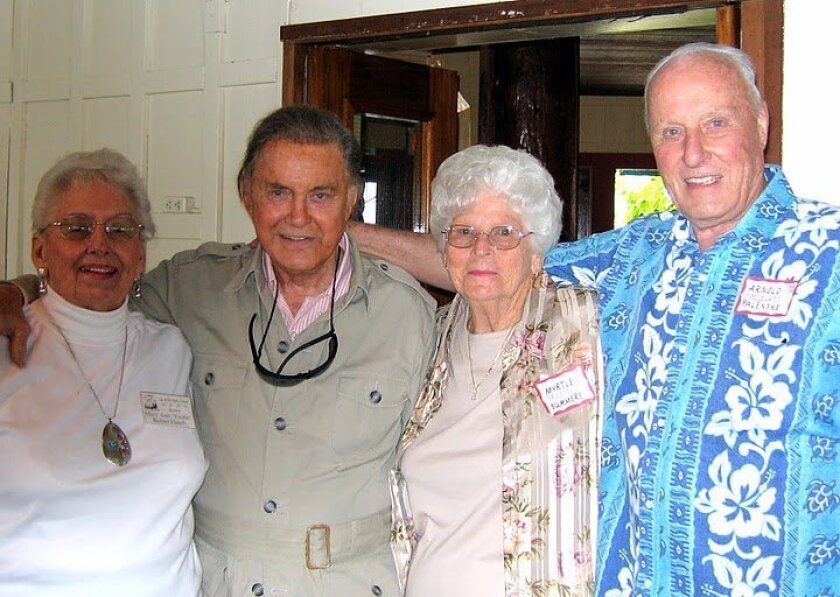 By Dave Schwab
daves@lajollalight.com
Most are familiar with Academy award-winning actor Cliff Robertson's career, but what isn't well known was his disdain for Hollywood or his love of aviation and his native La Jolla, which he always considered home.
"If you ever asked Cliff what was the dominant thing in his life, he would never have said it was acting: "It would have been aviation," said Arnold "Polecat" Palenske, his La Jolla classmate, with whom he planned annual La Jolla High School reunions for the classes of 1939-44.
Robertson died Saturday, Sept. 9, a day after his 88th birthday. Ironically, Gardner Frank Rutherford Marston who was a year behind him and one of those who attended the annual reunions, died at Scripps Memorial Hospital the day before Robertson succumbed of natural causes in New York.
One of America's foremost dramatic actors, Robertson had a career that spanned six decades as an actor, writer and director from the dawn of television in the '50s to Broadway to playing Spiderman's beloved Uncle Ben in three films in the 2000s.
He was personally chosen by John F. Kennedy in 1963 to portray the president in the motion picture "P.T. 109" — the story of Kennedy's heroic World War II exploits as a P.T. Boat skipper. In 1968, he won the Academy Award for his role in "Charly," the story of a mentally retarded man whose abilities are briefly restored.
Despite his extensive credits, the New York Times wrote in its obituary that "he was consistently praised by critics, but never quite reached the top echelon of movie stardom."
Palenske, a Naval aviator, noted Robertson was modest about his flying skills despite having received international acclaim for his advocacy and promotion of aviation and aviation safety.
"He was a superb pilot and had flown everything in the world," he said. "He was still flying right up to a couple of months ago."
Robertson, whose primary residence was on Long Island, bought the 1922 Spanish colonial Casa de la Paz at 333 Dunemere Drive in 1963. He sold it to real estate developer Ronald Baldwin in 2005 for $14.5 million.
In previous interviews with the Light, Robertson said he delivered newspapers as a boy to the oceanside mansion and had dreamed of one day owning it. He leased out the main home and stayed in a separate apartment whenever he was in town.
People who knew Robertson, like La Jolla historical Realtor and neighbor Linda Marrone, said he was a La Jollan through and through.
"Cliff Robertson had told me that it puzzled him that author Thomas Wolfe once said, 'You can't go home again,' " said Marrone. "Coming home to La Jolla has always been a special time to me, a time to catch up with old friends and look forward to the future," he said.
"Cliff loved La Jolla, and referred to it as Shangri-La," noted Brendan Ruff, former publisher of the Light. "He missed the old days of La Jolla when there were relatively few people."
And he didn't shy away from local involvement. He was grand marshal of the La Jolla Christmas Parade in 1992 and grand marshal of the LJHS Homecoming Parade on Oct. 23, 1998 and would also do things with the school's Drama Department, said Sandy Coggan Erickson, president of the LJHS Foundation and founder of the alumni association.
He also was a life member of the La Jolla Historical Society and did a promotional video for the group to aid their ongoing capital fundraising campaign to restore Wisteria Cottage, noted Carol Olten, the society's historian.
And a plaque saluting his service in the U.S. Merchant Marines occupies a spot at the Mount Soledad Veterans Association Memorial.
Robertson was childhood friends with Mary Ann "Tootie" Barber Hatch, daughter of Philip Barber who developed the Beach-Barber Tract and built the home on Dunemere Drive.
"He did a lot of good things for lots of people that nobody ever knew (of)," she said,
She painted an idyllic picture of growing up in La Jolla with Robertson in the '30s and '40s.
"It was an ocean feel and beach time and just a wonderful little old town where everyone ran around in bare feet and swam every day at the Cove or WindanSea," she said.
Mera Kelley, a former tenant of Robertson's at the Dunmere home, who said President John F. Kennedy was so impressed by the actor's rendition of him in the World War II film "PT 109," that "he sent him a rocking chair that had been portrayed in the film as a gift."
Lifelong friend Palenske said there was a lot to like — and admire — about Robertson and how he carried himself.
"You'd never know he'd ever been to Hollywood," he said. "He was just a tremendous, straight-upright man, a very deep intelligent thinker. He rose to the pinnacle of his profession, which was make-believe, and he did it so convincingly that he won an Oscar. His acting was so natural — he made it look easy."
Off-screen Palenske added Robertson was "a true gentleman who never lost the touch for his old childhood friends."
Robertson's feel for La Jolla was best summed up, said Olten, in a 1984 profile in San Diego Magazine where he is quoted as saying, "Listen, we're here on this little blue marble Earth and if we're lucky, we have a hometown that means something to us. I always talk about this (La Jolla) as my Walden Pond."
Survived by his daughter, Stephanie Saunders and ex-wife Dina Merrill , Robertson was predeceased by another daughter, Heather Merriweather Robertson, and by ex-wife Cynthia Stone.
Robertson's funeral is scheduled for Friday in East Hampton, N.Y. As of Wednesday no local services were planned.
Editor's note: Story amended to indicate Dina Merrill is still alive.
---