La Jollans reflect on the Sept. 8 that was blacked out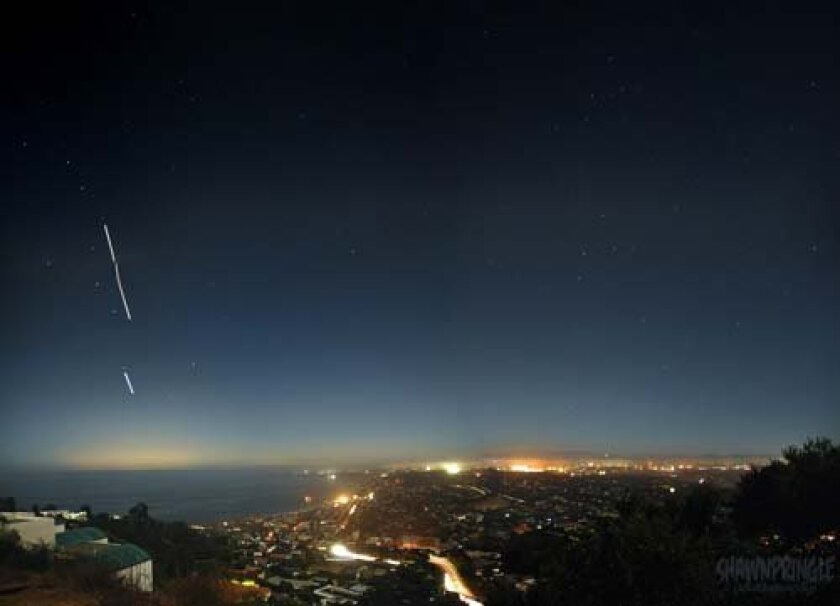 Stories about what people did during the Sept. 8 power outage continue to come in from around La Jolla. Here are some of them:
Egon Kafka
La Jolla Village Lodge
A very quiet Town Council meeting adjourned shortly before 7 p.m. on Sept. 8. Long lines of cars with frustrated motorists attempting to leave darkened parking structures had eventually oozed under the dead gate arms and exited. The afternoon's monumental grid down-gridlocked up traffic jam had finally dissipated.
The streets were deserted and almost empty. A few listless and confused pedestrians still milled about like zombies, apparently helpless without the unnatural stimulation and electronic guidance of their omnipresent smartphone masters.
As the last glow of sunset retreated I spotted a familiar face, a lone checker standing in front of the dark supermarket waiting for her ride home. Looking around in the gathering gloom, the woman seemed worried and uneasy. I kept her company and chatted with her for a few moments. She asked me, slightly nervously "...are these the end times, the Last Days?"
"No, this just a power failure; don't worry. They'll fix it and everything will back to normal again, Esperanza."
I headed home. The Lodge was almost full. The office looked quite romantic, the many flowers illuminated by candlelight. Maureen and I made the rounds, placing long-burning candles in each room. We invited all the guests up to the rooftop for dinner. I yanked open the fridge and grabbed all the food we would need very quickly, slamming the door to keep the cold in.
We brought up a boom box with a CD of the Mamas and The Papas. As "Dedicated To The One I Love" played softly, we set out soft drinks and opened bottles of wine. I toasted bread and barbecued chicken sausages and potatoes, with all the fixings. We put everything away, and everyone went to bed by about 10:30.
I stood outside keeping guard. The city was black, but the moon and stars were out in the glorious way that one normally sees only in the countryside. The night was quiet. The only sounds were echoes of the surf, the rhythm of a couple of crickets, and occasional cries of seagulls careening overhead. So peaceful.
The electric grid suddenly fired up and all around me the power came back on with a thud. A few seconds later the streetlights flickered to life. Humming transformers and clacking solenoids. Climate control compressors concurrently climaxing.
I wearily blew out the candles in the stairways and went to bed. I found myself slightly disappointed that the power was back on.
Blackout proves to be positive for many
By Giovanni Moujaes
Student, La Jolla High School
Despite all of San Diego County loosing electricity last Thursday, families, friends and neighbors everywhere found a way to make the best out of the nuisance. As phone lines sporadically went on and off throughout the afternoon, many residents resorted to using Facebook and Twitter on their smartphones in order to keep in contact with others. SDG&E kept Tweeting about the progress of restoring the power into the night and Friday, helping keep their customers more at ease.
Instead of connecting to cell phones, several connected with the people around them. Resorting to the old fashion way of living — candles, fire pits and board games — neighbors joined each other with stories and food, while families had a night of bonding and conversing. What may have been a catastrophe turned into a moment that many will not forget.
Reflecting on a dark — and lovely night
Laurence McGilvery
La Jolla resident
This already is old news. Though it was nothing like the disaster that closed down the Northeast in 2002, the massive power outage that hit last Thursday, September 8, inconvenienced four million people mightily, even placed some in mortal danger.
And yet. . . .
I was on the phone with a friend and didn't realize anything was wrong for at least 15 minutes. By then several neighbors in my building just south of Pearl were on the sidewalk in front comparing notes. Some of us never had met before. Was it just La Jolla? San Diego? Someone said Lemon Grove and Spring Valley were dark, 25 miles east, and Rancho Bernardo to the northeast.
Many cell phones were not working, but a call to a colleague in Northern California on my regular line elicited more alarming news. His computer reported that our part of the state was dark all the way to Yuma. I found a couple of neighbors listening to a battery-operated radio. A representative from San Diego Gas & Electric explained that there are two major transmission lines into this part of California. One comes from the north and the other from Arizona. A problem on that one triggered a cascade of failures. The reactors at San Onofre, fifty miles north (and just south of San Clemente) shut down to protect their cores. That broke the connection from the north. It might be morning before power was restored; it might be longer.
Out on the street, traffic was hardly moving. All the signals were off, but people seemed to be handling it well, at least at Girard and Pearl. Nearly every business had closed. The sun would be up for hours. I returned to my office, finished a few chores that didn't require electricity, then read in my open doorway until the light failed.
The phone rang, another friend, worried. A minute later, and I would have missed the call. We talked for an hour. Then it was dark. What should I do? Go home and watch the ice cream melt? No. I roamed.
A three-quarter moon was high in the sky as I set out for the center of the Village. It was almost balmy. The 4 o'clock traffic was long gone. The few cars that passed with their overly bright headlights glaring in the darkness were too many.
How beautiful it was, how quiet, so familiar but so different, a study in muted blues, a transfigured night like millions in centuries and eons past, but few during our lifetimes. The sky was alive with stars reminding us that they always are there. My closest experience to this was years ago. It had snowed in Washington. I took the last train to Penn Station, then the E train downtown. When I finally emerged near midnight at the West Fourth Street Station in Greenwich Village, it was to an utterly deserted, pristine, white city. New Yorkers will know what I mean.
A few people passed on the half mile of Girard. The jeweler, talking at his door with a friend, looked ready to spend the night in his shop. Prospect was livelier. At least three bars or restaurants appeared to be open. People clustered here and there.
I was leaning on a railing looking down into one of these gatherings in a restaurant and wondering if it was private, when a woman next to me said, "Look, our neighbor," and I was. The artist and his wife across our shared alley were out, too, wandering with their dachshund. Him I knew fairly well; her, only in passing. Here was the missing human element.
We walked the mile home very slowly, as she told me a small part of their fascinating story. We looked in at the La Valencia Hotel to see how they were handling the crisis-elegantly, of course, with candles everywhere and guests in the sunken lobby chattering away happily and eating whatever was in the kitchen that didn't need cooking.
Then we were home and parting. It might have been 10:00, still early for me. I scrounged something to eat from the dead refrigerator, then was off again, this time through the lovely, narrow streets of the Barber Tract toward the ocean. Every so often there were voices, a window lit by candlelight, a few decorative lights with their own power. The houses of a couple of elderly friends seemed to be OK. Across the street from Windansea Beach a half-dozen cheerful people talked and laughed around a fire in a front patio.
I sat on a bench overlooking an ocean as quiet as the night. A few couples passed silently or murmuring softly. The light off to the south must have been a boat or ship. Barely perceptible twinkles far down the shore surely were traffic. The temperature dropped, so I made my way home through the streets touched with a rare magic, read by flashlight for a half hour, and slept.
When I woke up for a moment at 2:00, the night light in the hallway was on. Selfishly, I was disappointed for a moment. I doubt that I will ever see La Jolla like this again. Yes, another power outage is quite possible, but will it be on another warm night with another bright moon? True darkness would mask the beauty, and bad weather might keep even me at home.
Back to earth. The milk in the refrigerator was still fresh today, Saturday. It should last until the Trader Joe's run on Monday.
---