La Jollans know that for quality, freshness and super fun cookies, it's Girard Gourmet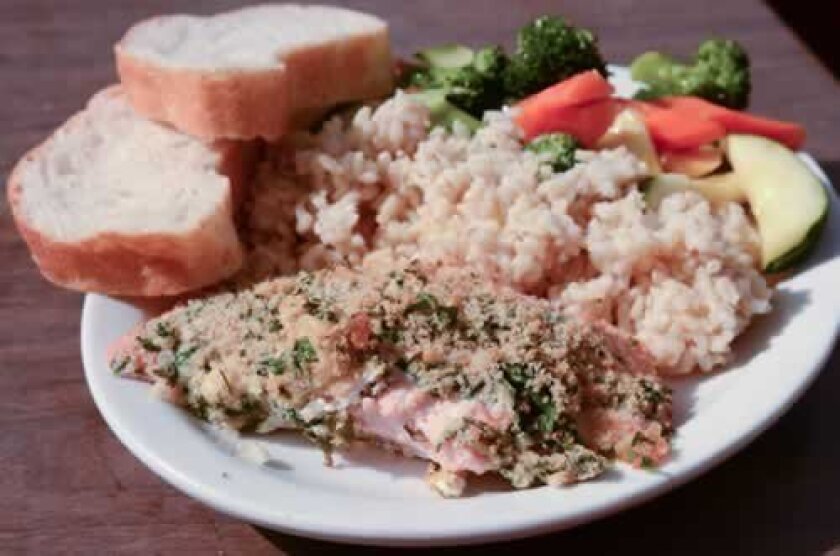 By Kelley Carlson
Girard Gourmet may be based in La Jolla, but there's a taste of Julian in its fresh fare, which appeals to people near and far. Twice a week, proprietor Francois Goedhuys travels to his farm, "Corgi's Castle," in the Pine Hills area of the mountain town and gathers ingredients from his organic gardens and orchards. This time of year is abundant with apples, pumpkins and pomegranates -- broccoli and kale will be more plentiful in a couple of months. Summer will be prime time for heirloom tomatoes, peaches and plums.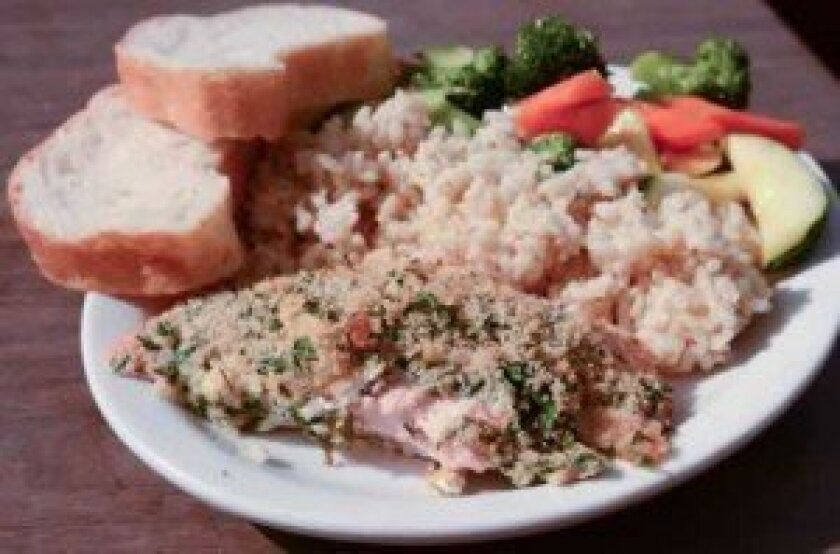 Naturally, specialties on Girard Gourmet's menu are driven by the items in season. For example, the Summer Salad is a colorful combination of heirloom tomatoes, cucumbers, salad greens and homemade goat cheese with a tarragon vinaigrette.
Yet there are plenty of mainstays, as well, many of which are on display in glass cases as patrons walk in the door. There are salads, pastries, sides such as coleslaw and fresh fruit salad, and an array of meats and entrees. Customers often come in during breakfast and lunch for the individually portioned Cowboy Quiche, which includes eggs, bacon, potato, ham, cheese, red peppers and greens. Others request the Vegetable or Meat Lasagna, or the Salmon Penne Pasta. Some people crave the sandwiches, such as the Bacon, Lettuce and Tomato. One of the most popular combinations is the Cup of Soup (made fresh daily) and Half Sandwich. And then there are the pies, from Apple (with Julian apples) to the Pumpkin Pie with Pears and Cranberries.
Children tend to favor the Macaroni & Cheese and other various pastas, along with the customizable sandwiches. They also love the soups, said Diana Goedhuys, who co-owns Girard Gourmet with her husband. "We have quality food (the parents) like, and the kids are still happy," she said.
While some patrons take their food to go -- either paying at the counter or picking it up at the kiosk in the alley behind Girard Gourmet -- others will settle at the back of the restaurant for a casual meal in a country-style setting. The decor shifts with the seasons: Currently, there are leaves in reds, golds and browns, along with gourds, but they will soon give way to the greens and reds of the winter holidays. Spring will bring bearded iris, peonies, tulips and lilacs in their pastel shades.
Adding to the establishment's ever-changing appearance is the rotation of paintings by Athenaeum instructors every two to three months. Still, the background music is consistent, usually light jazz. If children are there, Francois said he will often ask them to help him make cookies.
Along with the small dining room, a handful of tables can be found outside on the dog-friendly patio. Diners soak up the sun's rays while observing tourists and high-end shoppers strolling along bustling Girard Avenue.
Not only does Girard Gourmet serve as deli, bakery and restaurant, it also offers full-service catering around the county. Some high-profile events it has catered include the La Jolla Post Office's anniversary celebration last year and a Barack Obama fundraiser. Girard Gourmet also delivers lunches daily for students at San Diego French American School in La Jolla and La Petit Ecole in Clairemont Mesa.
Diana notes that the restaurant has been very involved in the community over the years. Subsequently, "we get to know the customers, and we watch the families grow up," she said.
In fact, a number of college students from the area who are familiar with Girard Gourmet will stop by on their way home during a break, yearning for the Roast Turkey, Cheese and Avocado Sandwich, Diana said.
But despite its local appeal, the establishment still draws customers from around the country and even abroad, with a number of them telling the Goedhuys that they heard about the place through their neighbors."The quality and freshness is always there," Diana said. "People know that hasn't changed."
Girard Gourmet
Address: 7837 Girard Ave., La Jolla
Phone: (858) 454-3325
Web:
girardgourmet.com
The Vibe: Relaxed, casual
Signature Dishes: Lamb Stew with German Potatoes, Chicken Pot Pie, Cobb Salad, Summer Salad, designer cookies
Open Since: 1987
Reservations: No
Patio Seating: Yes
Take Out: Yes
Happy Hour: No
Hours: 7 a.m. to 8 p.m. Monday-Saturday, 7 a.m. to 7 p.m. Sunday

---