La Jollan's Challenge: Make 2014 a year to 'accomplish difficult stuff'
■ In memory of Lorraine Furze Halleman
By Tony Richardson
"I love not man the less, but Nature more." — Lord Byron
Recently, I was asked by a client, why I do the things that I do. He was referring to my athletic lifestyle, including the frequent, almost obsessive pursuit of extreme physical challenges. Most people don't realize their true motivations in life, but my response came rather quickly: "Some aspire to money, power or fame, but for me, exploration and life experiences are an in-built drive I've had my whole life."
I like checking things off my "challenge list" and I'm not going to stop. I inherited this trait from my grandmother, an incredible woman with a pioneering spirit and total wanderlust mentality. She particularly relished nature-based adventure travel. By the time I reached age 21, she and I had trekked through the lush jungles of Colombia, navigated through the Panama Canal, and explored exotic islands in the Polynesian Triangle. An outdoorswoman way ahead of her time, she taught me to love accomplishing difficult stuff.
It was she who introduced me to the majestic ruggedness of the High Sierras as a youngster skiing with her at Mammoth. I've appreciated the look and the feel of those mountains ever since — particularly how blue the sky was, so crystal blue it hurt the eyes with the reflection off the snow, how rough and intimidating the grey-white jagged rock formations rose to meet that blue sky.
As a tribute to her, I decided to climb to the top of Mt. Whitney — the tallest mountain peak in the Sierras — and back in one day. (Not a small task with more than 22 miles of trail and over 7,000 feet of climbing to an altitude of 14,500 feet.)
Since permits are more easily attainable after Nov. 1, a time of year notable for unpredictable weather conditions, this was turning into the most ambitious endurance effort of my life.
With my partner in crime, who I consider the Sundance Kid to my Butch Cassidy, I got off to what is typically a late start from the Whitney Portal around 5:15 a.m. Most day hikers won't attempt to summit from the Portal in one day, so we had the trail to ourselves in the cold dark of the morning. Eventually, the golden autumn sun rose on the high-chiseled spires and jagged slopes above. As it caste its long, warm shadows on the peaceful Trailside Meadow ahead, I knew then that the day would be unforgettable.
The pace was quick but steady until the infamous 97 switchbacks. This section doesn't get much sun, so the ice patches made the ascent even more treacherous in certain steep sections. We stopped to re-fuel and slip on micro-spikes since the footing was unstable, particularly at "The Cables" — a long, narrow ledge covered in snow with only a cable separating us from a 1,000 foot drop. One wrong move or foot plant and our tea party would be over. (Did I mention I also love the element of risk?)
We safely passed through a narrow notch and climbed over the sharp edge of the summit ridge at Trail Crest, elevation 13,600 feet. It was as high as I'd ever been in my life. I paused to take in the view and wait for Sundance, who was too busy heaving her guts out at the top of the switchbacks, bless her heart. She was suffering from altitude sickness. The lungs and legs begin to burn at this point and all a person can do is suffer one step at a time.
For what seemed like hundreds of miles, we trudged through stark, sharp, grayish- brown granite rock piles. It struck me that the landscape was as eerie as the moon. It's too high up to support any form of plant or wildlife — heck the crows wouldn't even fly up here to pick on our carcasses. From Trail Crest there is only another 900 feet of elevation gain to the summit, spread out over two-and-a-half steep uphill miles.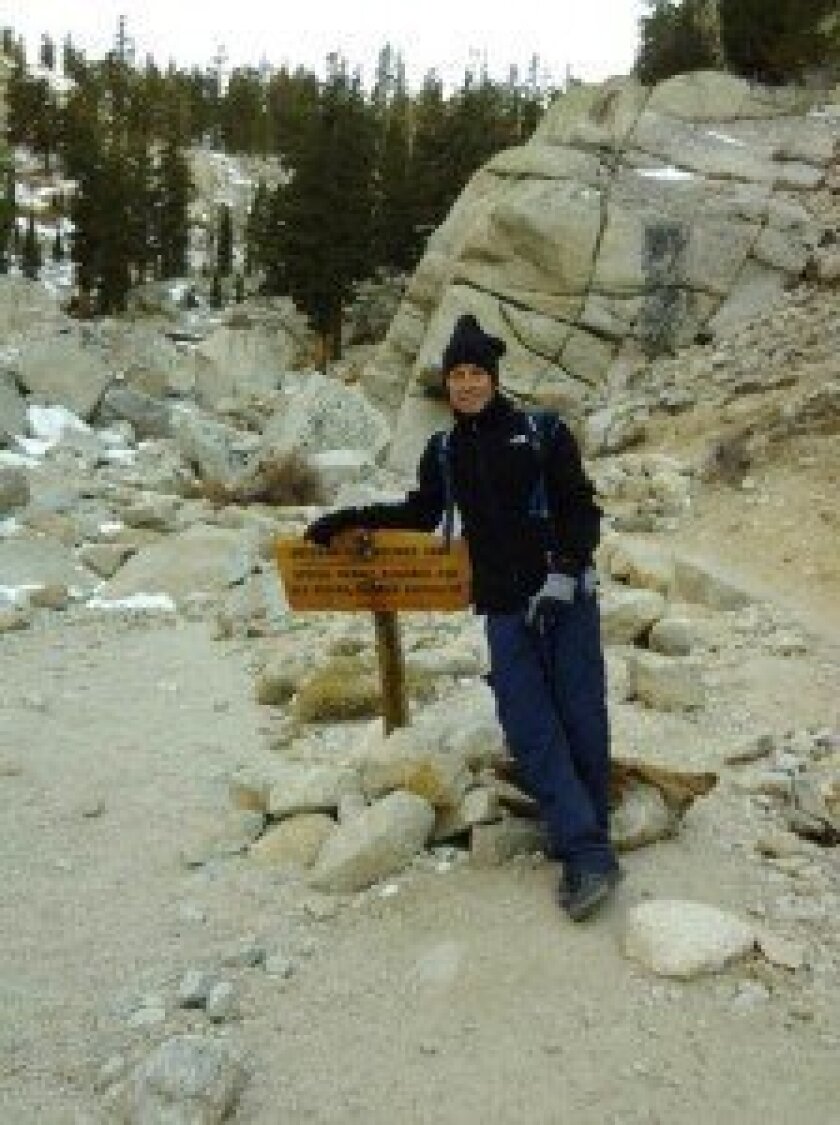 I reached the summit at exactly 2 p.m. and it occurred to me that I was standing at the top of the country. I could see the majestic backdrop of the Sierras to the west side of Sequoia National Park to the very bottom of the country – Death Valley to the east. I felt really strong at the summit despite the altitude, which made it all the more rewarding.
After taking the required pictures and chatting with some friendly folks with serious mountaineering gear at the summit hut, we knew we had to hustle and make our way back down to the 97 switchbacks before dark.
Fighting fatigue from some 13 hours of strenuous hiking, more than halfway into the descent, disaster struck. Sundance's headlamp died. Major inconvenience, but we made do with my headlamp lighting the way for us both. We still had eight miles and more than 5,000 feet to descend in the cold and the dark when my headlamp went dead. The situation suddenly turned a bit more serious.
We looked at each other in disbelief when we realized we didn't bring extra batteries. Our options were to find shelter and wait for daylight or keep moving in the pitch black with the danger of getting completely lost. Spending the night hunkered down in the wilderness exposed us to the possibility of frostbite or becoming bear food, so we opted to keep moving with the dim light of a cell phone to light the way.
The pace dropped to 51-minute-miles, and then 60. I began to feel like I often do at the end of a long endurance ride or run, with aching in my lower back and a dehydration headache. I stopped every so often to chew on snow, and let me tell you, snow never tasted so good. The trail was dark, steep, strewn with rocks, and the footing was so bad that my back muscles started to spasm in a way that made me walk crooked, which made for an even slower descent.
It took us 18 long hours roundtrip to the summit and back to the Portal. We were exhausted but relieved that we made it safe and sound. The feeling of satisfaction was better than standing on any podium at any awards ceremony, and that includes Ironman Kona in 1985.
I tell this "Mt. Whitney crooked back with cell phone light" story to 1) help inspire people to reach their fitness challenges, whatever they may be and 2) illustrate how amazingly resourceful you can be in critical situations. Despite everything I've witnessed as an athlete and trainer over the past 30 years with technical innovations increasing feats of human endurance, there are times when the basics still apply.
How did the Native Americans navigate these mountains without Garmins, Power Bars or flashlights? They relied on their spiritual connection with the Earth. How did we get down that mountain with minimal visibility and improper lighting? We relied on basic survival instincts and the sheer determination to complete the mission.
Why do you do the things that you do? To accomplish long-held goals? To conquer demons? Or to brag about them? Whatever your motivation, start by compiling a lifetime experience to-do list and doing the challenging things on your list. Pick anything and go do it. Run a 5k, jump out of a plane, learn to juggle or face a lifelong fear. Find a passion that will fuel you to start your training. The activity doesn't matter as long as it's personal and meaningful. Struggle through, and know that there is something inside you that is greater than any obstacle. Do it for you and transform yourself.
In my case, climbing Mount Whitney was an homage to a loved one, a rich experience made even more memorable given the perils of the circumstances. Being that close to nature humbled and enlightened me — something my grandmother would have embraced. It reinvigorated my love for the wilderness, made me appreciate life even more for its thrilling moments, and most importantly, taught me to always bring extra batteries.
— Tony Richardson is the first grandson of Fred and Lorraine Halleman, La Jolla residents since 1949 and founders of the Bollweevil restaurants. He graduated from La Jolla High School in 1978, and as a professional tri-athlete during the beginning of the sport, ranked top 10 nationally and completed some 3,500 races. He is a nine-time Kona, Ironman World Champions finisher, a masters swim coach at La Jolla High School, trainer at La Jolla Sports Club, and a triathlon coach.
---