La Jollan partners with Riford Library to help students navigate the college admission process
On the Web
admissionpossible.com
Counseling statistics
(High school counselors are often the only resource students have to help them consider colleges and fill out applications.)
Recommended student-to-counselor ratio:
100 to 1
National student-to-counselor ratio:
488 to 1
California student-to-counselor ratio:
Almost 1,000 to 1
Percent of California schools with no counselors:
29
(Sources: California Department of Education, American School Counselor Association, National Center for Education Statistics)
Unemployment rates among 18- to 24-year-olds
Less than a high school diploma:
30 percent
High school diploma:
22 percent
Some college:
13 percent
Associates degree:
10 percent
Bachelor's degree:
4-9 percent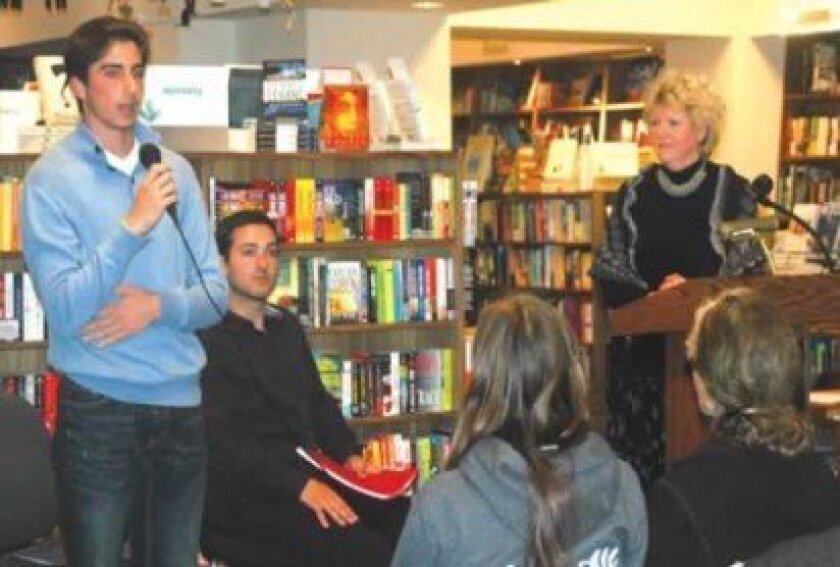 By Pat Sherman
During her two decades as a college admission counselor, Marjorie Hansen Shaevitz has heard many parents ask the same question: 'How can I get my son or daughter into the best college there is?'
"(But) that's the wrong question," Hansen Shaevitz said. "The more appropriate, correct question is, 'How can I help my son or daughter get into the best college for him or her?'
"When students define who they are, what they want and act on what they're interested in, they have a much better chance of becoming successful college applicants."
When her own children were in high school, Hansen Shaevitz saw how perplexing the college application process could be for students and parents, and decided to do some investigating of her own.
"I was told, 'We can smell whether a student knows what we're all about at the college. How students fill out their applications, especially what they say in their essays, gives us that information."
Hansen Shaevitz said college admission staff "can also tell if their college is simply one in a long line of colleges that the student's applied to — and frankly, there's not much motivation for them to accept a student who isn't really knowledgeable about or interested in them."
Hansen Shaevitz compiled her knowledge of the admission process in a newly published book, "Admission Possible: 'The Dare to Be Yourself' Guide for Getting into the Best Colleges for You." She also is working with the La Jolla Riford Library and the San Diego Public Library system to make information and resources about the college admission process more readily available — particularly for students in economically challenged communities.
For many students, the only guidance they receive applying for college comes from their high school counselor.
While attending a conference of the National Association for College Admission Counseling last fall, Hansen Shaevitz learned that a good student-counselor ratio is about 100 to 1. However, in California, that ratio is nearly 1,000 to 1.
"That really disturbed me," she said. "California is last in the nation — and 29 percent of California schools have no counseling programs at all. This is particularly true for under-served students in urban and rural areas."
Students who receive no or minimal admissions counseling are less likely to go to college, less likely to make good choices about the college they attend or to have information about financial aid, she said.
"There's an amazing correlation between educational levels and unemployment, at all ages," she said. "Every year a student spends in college after high school or in getting some educational training, his or her employment chances go up dramatically."
Hansen Shaevitz hopes to counter these negative statistics by partnering with local libraries to create resource rooms for college-bound students.
The Riford Library's head librarian, Catherine Greene, has been the beneficiary of Hansen Shaevitz's expertise — and is excited to help her establish her first space at Riford Library. Seven years ago, Hansen Shaevitz helped Greene's son, Clint, get accepted to Wesleyan University, a liberal arts and sciences college in Connecticut.
Beginning in August, Riford Library will offer a dedicated room with desks, computers, resource books and detailed literature on financial aid, SAT/ACT testing and other subjects, to be designed by La Jolla architect Jennifer Luce.
Hansen Shaevitz is also in discussions with the San Diego Public Library system to establish a similar space at the main library in downtown San Diego and college admission programs at three libraries in San Diego's under-served communities.
"When she contacted me about the sinful absence of counseling resources for young people, I said, it's time for the library to step in and do something," Greene said. "We're really eager to help this population and Marjorie is the person to guide us."
After working with Hansen Shaevitz, Amanda Forssman's son, Matthew, was accepted to a number of colleges, including Wharton Business School at the University of Pennsylvania, Notre Dame and Boston College.
"He had amazing choices, and I think realistic choices, as well as these dream schools," said Forssman, in a phone call from Boston, where her son was touring Harvard University, where he hopes to study economics.
"Marjorie gives you the nuts and bolts on how to conduct yourself in an interview, how to behave during a campus visit, and questions you should ask," she said. "My son (says) Marjorie helped him to find himself."
Hansen Shaevitz helped Rebecca Orlowski's homeschooled son, Jesse, get accepted to all 10 of the schools he applied to, including Princeton, Caltech and MIT.
"He's a really strong writer but became a better (essay) writer through the process," Orlowski said. "Her mantra is, 'Answer the question that they're asking you.' "
---