La Jollan inspires with postumous book about living as quadriplegic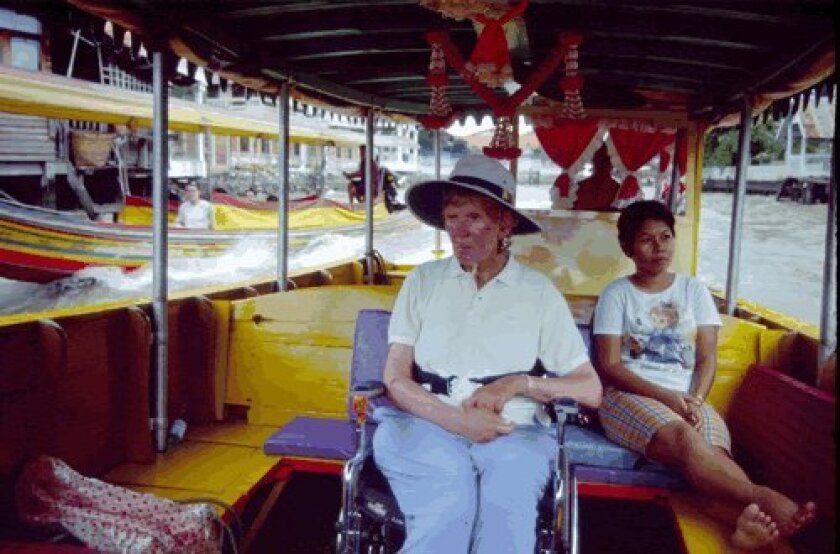 By Ashley Mackin
La Jollan June van Lint's story is one of living a full life despite any limitations — and survival. Having lived a life full of travel and family, van Lint spent 46 years as a quadriplegic before passing away on March 30.
Along her journey, she wrote her story with her one usable finger on an electrical typewriter, calling it "My New Life." You can read it online at
van-lint.org
Living 46 years in the condition van Lint found herself is almost unheard of, according to her husband Victor. (The Guinness World Record is 54 years). However, June survived several serious health complications and traveled the world.
In 1966, the van Lints were on vacation in Oregon with their four adopted children when the family was in a car accident. "June got a whiplash injury in her neck with no significant nerve damage, but doctors had to perform a cervical fusion operation to stabilize the vertebrae," Victor said.
After the surgery, she was in a coma for six weeks. When June woke up, she could only move her head and had minor use of her left hand and could not speak.
Over the years, she overcame several illnesses that typically end the life of a quadriplegic. People with conditions similar to June's often die when they get their first lung infection; "pools of liquid form in the lungs and you get pneumonia and you can't breathe well ... 75 percent of causes of death are pneumonia ... June had several cases of lung infections and a number of cases of pneumonia, and she recovered from them all."
In 2001, she discovered she had breast cancer, which she overcame. In 2012, she discovered she had colon cancer, and survived that, too, Victor said with a proud laugh.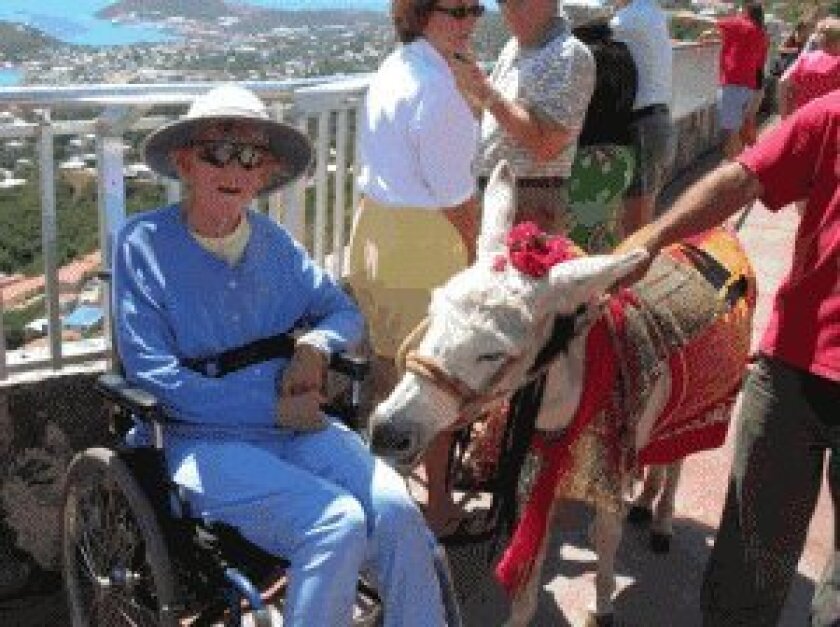 Spending her time as actively as she could, June traveled around the world to every continent except Antarctica, often by cruise. Writing about her travels and the adventures therein, June's story further explores the first four years of her life as a quadriplegic.
As to how her story ended, Victor said, "You couldn't have scripted it better." In November 2012 June developed a case of pneumonia and had to go to the hospital. While there, doctors discovered she had colon cancer, so she had surgery to remove it. After the surgery, she no longer had what was left of her mobility. Thankfully, Victor said right around the time June would have become frustrated, they had planned to take a cruise. The two spent 28 days traveling Hawaii and the South Pacific Ocean. Two weeks after they returned, June suffered a stroke from which she did not recover.
"Her life was over. It was time for it to end," he said. "Maybe I'm supposed to be sad, but I couldn't have asked for anything better."
Victor said the message of her book is "no matter how physically disabled you are, if your mind is still active, you can live a good and rewarding life." In making the decision to put the book online for free, van Lint said it was about those for whom the book is dedicated — their friends and nine grandchildren. Victor also compiled a sequel, which is based on letters written between June and her sisters.
Both books can be found at
www.van-lint.org
---