La Jolla Youth Lacrosse Club recruiting boys and girls for spring season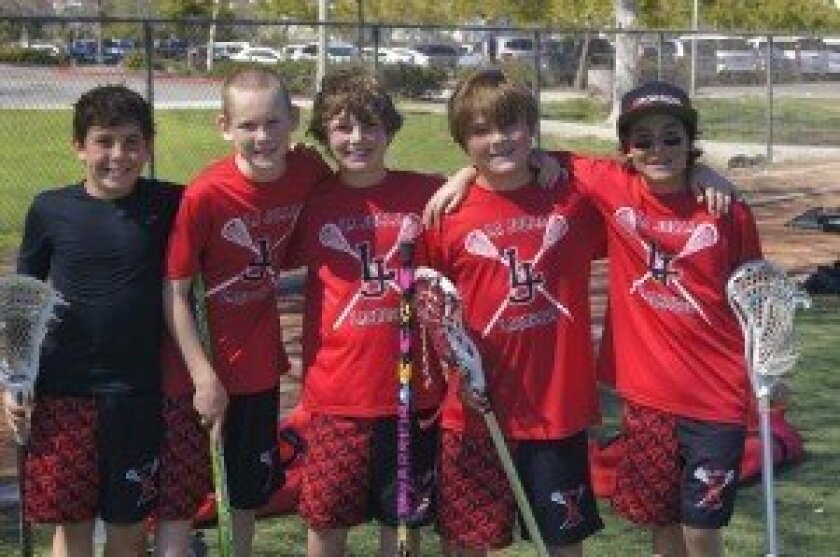 • Player assessments, coaches clinic set for Feb. 1
By Lisa Bonebrake
Parent Volunteer
The La Jolla Lacrosse Club is expanding quickly, and it's not just for boys or experienced players. The club has options for boys and girls in grades K-8, as well clinics and teams for both new and competitive players.
On local fields this spring you'll see elementary school girls with their protective eyewear carrying their lacrosse sticks, and middle school boys sporting their "shooter shirts" to school and wearing their protective pads and helmets on the field.
New players are welcome and will be assigned to teams according to their skill and grade level this spring. Following the Feb. 1
assessments at Torrey Pines Elementary School (see schedule below) the coaches will provide two free clinics for first-time players. The clinics will help new players learn the basics of the game in smaller group settings. Based on assessments, more experienced players will be assigned to appropriate competitive teams.
Assessments for spring lacrosse are required for boys only, but registration for participation is required for both boys and girls.
Registration at
www.lajollalacrosse.com
Questions? Contact
ljlacrosseclub@gmail.com
Registration + Player Assessments for La Jolla LacrosseClub
Elementary and middle school boys, grades Kindergarten to 8. *No assessments required for girls lacrosse teams, on-line registration is required for both boys and girls.
Saturday, Feb. 1, 2014
Pee Wee Boys (Grades K-4): 9:00 – 11:00 AM
Middle School Boys (Grades 5-6): 11:00 AM – 1:00 PM
Middle School Boys (Grades 7-8): 1:00 – 3:00 PM
Girls Teams available for grades 1-8, no assessments required
WHERE:
Torrey Pines Elementary School Field (8350 Cliffridge Avenue)
COST:
Assessments are free
of charge and required for team placement.
REGISTRATION:
www.ljlacrosseclub.com
---