La Jolla Youth Baseball crowns its division championships
By Tom Murphy
La Jolla Youth Baseball
Championship Saturday (May 18, 2013) at La Jolla Youth Baseball went around the horn with exciting come-from-behind walk-off victories in Pinto and Mustang games that went down to the final inning, and a Bronco showdown that had to play an extra game on Monday, May 20, before their champion was decided.
It was a glorious day for baseball and there wasn't a break in the action between 10 a.m. and 7 p.m. Several kids provided play-by-play action from the announcer's booth, complete with classic baseball tunes played between innings. LJYB celebrated its season finale in the most festive possible way and the barbecues were busy until dusk. Ten Pony players were also recognized for their 10 consecutive years of baseball in LJYB at a closing ceremony.
Pinto Division
The players led off with Retirement Benefits Group getting out to a commanding 12-4 lead over Voices for Children. VFC manager Mike Brown kept the boys' focus on staying in the game and not giving up. They clawed back to a 12-12 tie after five innings.
Holding RBG scoreless with excellent defense in the top of the sixth, the window was open for a VFC victory. Beau Brown reached second base on a double and the table was set for Ames Kinkead to knock in the game-winning run in the bottom of the sixth — walk-off style! The cheers could be heard down at the Shores parking lot. Congratulations to both teams for an excellent season.
Mustang Division
Sector 9 completed its undefeated playoff run, but was pushed to the limit in the semi-final and final games by PacVentures. On May 16, they went into extra innings before securing the win, and at one point held the potential winning run at third base in the bottom of the sixth with only one out. On May 18, they went back and forth for five innings, tied at five apiece. Sector 9 pushed a run across in the top of the sixth and their solid defense, which has been a strong suit all season, held PacVentures scoreless to close out the game for the Mustang championship. Congratulations to Coach Dave Klimkiewicz and his crew for an outstanding season.
Bronco Division
Alexandria entered their showdown with Mitch's Surf Shop undefeated in the playoffs, while Mitch's had one loss. In a win-or-go-home situation, Mitch's scrappy boys in blue jumped out to a quick 4-0 lead thanks to solid pitching and hitting by Austin Schroeder and Carsten Fehlan. Michael Campagna hit a two-run bomb over the left field fence to make things interesting, and Mitch's held them off for a 6-2 win. With one loss each, the two teams met again on Monday, May 20 for their championship game.
Pony Division
La Jolla's two Pony teams were playing their final home game for bragging rights because they already clinched the No. 1 and No. 2 seeds in the SD Interleague Pony Playoffs starting on May 20 and continuing through Memorial Day at Tecolote Youth Baseball Complex in San Diego.
With a perfect 15-0 record coming into the game, Coach McColl's On the Inside Design team was looking to upset Aladdin Bail Bonds. Although OTID jumped out to a 2-1 lead, Aladdin scored three runs in the top of the third to take a 4-2 lead.
Despite Reed Farley's line shot over the left-center fence, Aladdin's stellar pitching held them to a 7-4 final score. Prior to the game, 10 Pony players were recognized at their last home game after playing a "Decade on the Diamond" at LJYB. Congratulations to Cole Dimich, Reed Farley, Carson Greene, Dane Hansen, Sterling Hayes, Noah McBride, Daniel McColl, Dmitri Menas, John Murphy and Nick Palmer.
LJYB will send 11 tournament teams to the annual Memorial Day Tournament hosted by Tecolote Youth Baseball. Following the weekend, a couple of teams will merge due to player availability for the PONY Sectional Tournament in late June.
For more information about La Jolla Youth Baseball, visit
lajollayouthbaseball.org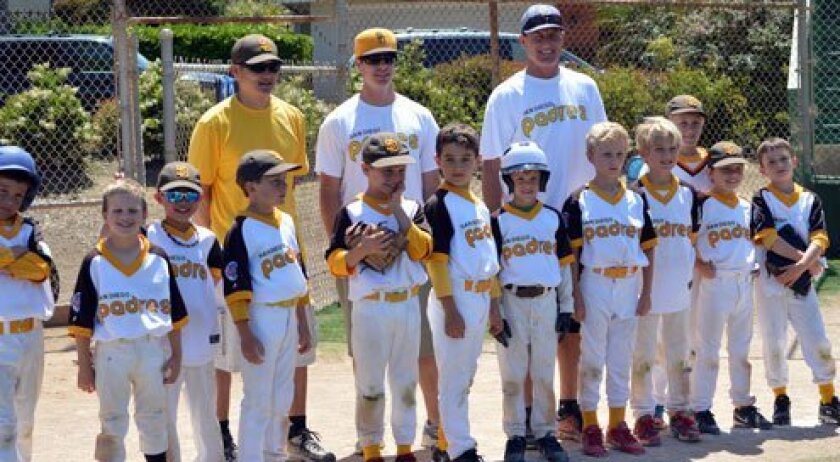 ---