La Jolla Youth Baseball celebrates "Cinco de Mayo" Mustang style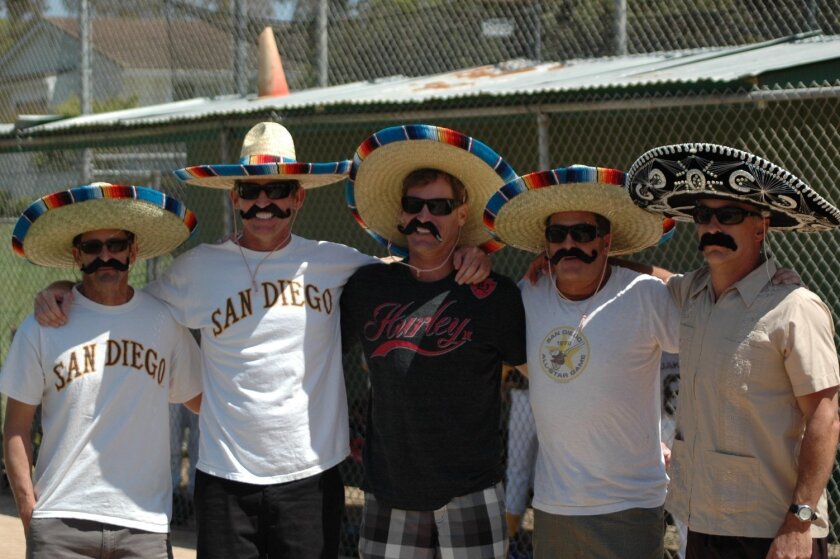 By Tom Murphy
La Jolla Youth Baseball
La Jolla Youth Baseball celebrates holidays with gusto and Cinco de Mayo was no exception.
On Saturday in the Mustang division, the managers of the Baxter Foundation and Pharmatek teams decided to let their hair down and the kids went crazy with eye black — drawing mustaches, beards, glasses and more. The game was determined a tie before starting in order to let every kid pitch who hasn't tried that position before. The umpire joined in on the fun and drew the largest strike zone in modern times. Most kids batted from the opposite side and there was a ban on base stealing to keep things light.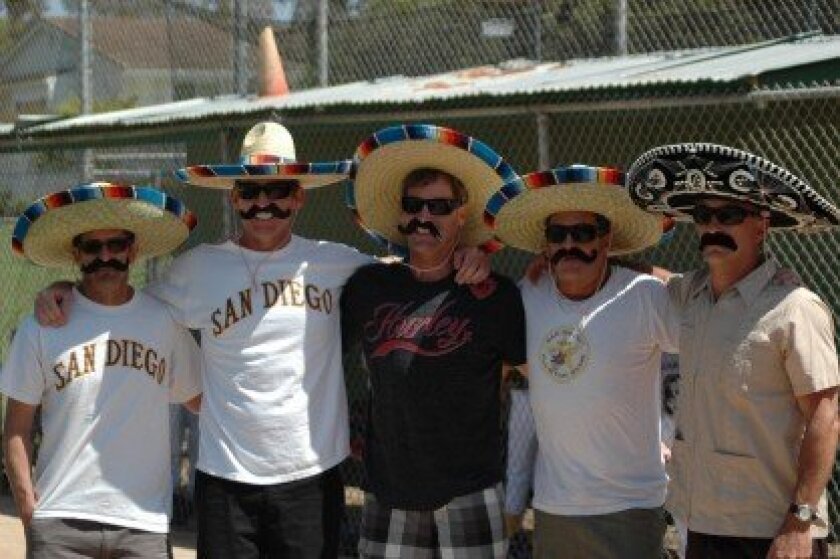 Baxter coach Billy Egan made a run to Party City and outfitted his coaches with festive sombreros and mustaches, which really set the tone. Excellent pitching performances were turned in by a few rookies on the hill and game balls were handed out accordingly. Manny Coleman had a "web gem" play at third base that prompted coach Egan to run on the field and celebrate the play. Neither team will catch Mitch's Surf Shop or Morgan Stanley for top seeds in the playoffs, but they will be fun teams to watch. Following the game, both teams had a BBQ in the Cinco de Mayo tradition. Mustang starts their double-elimination playoffs this Saturday.
In Bronco, Aladdin Bail Bonds and Harry's Coffee Shop are only a game apart for the top seed in their division. Aladdin's Garrett Brown leads LJYB with eight moon shots, but Jack MacDorman of Las Patronas made sure he didn't hit a grand slam on Sunday when he leaned over the fence to grab a drive that ended the inning and left the bases loaded. According to the fans in the bleachers, it was LJYB's Play of the Year. One parent quipped "Call the cops because you've been robbed!" Las Patronas went on to win the game and moved from the cellar into third place in the past week. Bronco plays their double-elimination playoffs next week and a lot of teams like their chances.
Pinto games continue to keep the cardiologists on call with high scoring games and late inning theatrics. Although Patterson Bike holds a narrow lead over PacVentures and Retirement Benefits Group, there are seven teams with records over .500 that are within a game or two of each other. With 12 teams, their playoffs will be a bit more complicated but their Championship game will be played on Saturday, May 19th — as will all of the LJYB division championship games.
The Pony division turned into a slugfest last week with six homers being recorded in two games by RBC and SDG. RBC is the top LJYB team in Interleague play with a 10-4 record, followed by Rotary at 4-6-3 and SDG at 5-9-1. Michael Marshall and Johnny Agbulos have three homers to date followed by Carter Chopskie, Trenton Fudge and Michael Nance with two taters apiece. Pony playoffs will be played during the Memorial Day Tournament at Tecolote.
In the community, "LJYB Night at Islands" is on Wednesday, May 16 from 5 to 9 p.m. with 20 percent of the proceeds being donated to the league. Teams and their families are encouraged to attend together at a time of their choosing and team jerseys are encouraged. On Sunday, May 20 LJYB will again host portions of the "Home Run for Chelsea" Tournament, which is a fundraiser for Chelsea's Light Foundation. More than 100 teams throughout Southern California will participate and the teams that play on the LJYB fields will be great to watch. This is a 100 percent volunteer-driven event that generated more than $30,000 in donations last year to Chelsea's Light Foundation.
---