La Jolla YMCA gets new name after $5 million donation
By Ashley Mackin
The La Jolla YMCA will get a new look and a new name next year thanks to a $5 million donation from the McKinney family of La Jolla. Y board members and four generations of McKinneys celebrated the donation July 12 at the Y, 8355 Cliffridge Ave., and revealed that the 50-year-old center would be named the Dan McKinney Family YMCA.
"We are going to name the facility after him and with continued success in our fundraising — we have about $5 million more to raise — we will be breaking ground early next year," said Sue Ball, regional vice president for the YMCA of San Diego County.
Kevin Mahony, board chair of the La Jolla YMCA, added, "It's not just about building a building, it's about the community of people we are going to serve. It's about children staying healthy in mind, body and spirit."
When the renovations are complete, the center will have two new swimming pools, an expanded gymnastics center, new preschool classrooms in the youth development center, a new wellness center and more.
"Something we have never had at the Y (which we will have) is a kitchen for teaching nutrition so we can have classes to show the community the importance of a healthy diet and meal planning," Ball said. "We'll be building an outdoor sports arena, too, which is also something we have never had."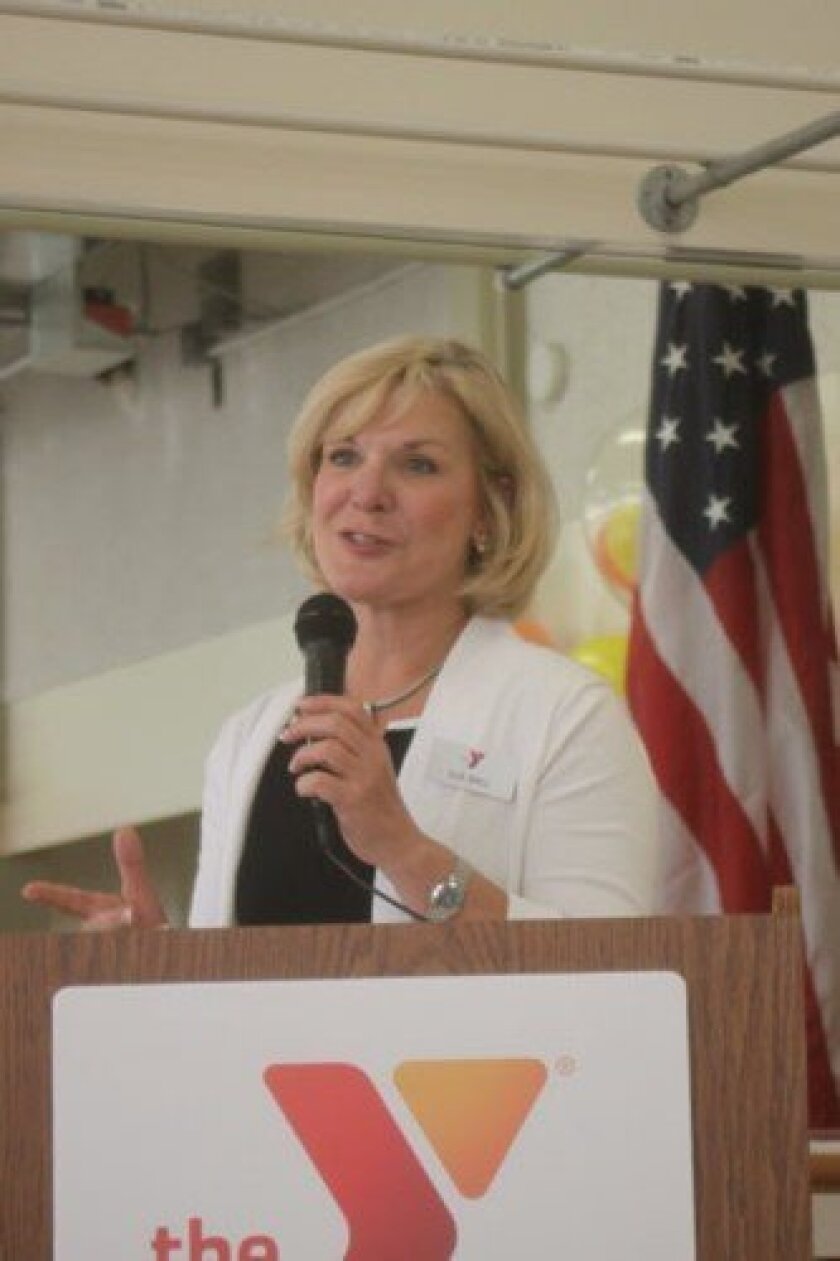 Smiling ear to ear at the news of where the money would go, McKinney sat with his wife Violet, surrounded by their children, grandchildren and great-grandchildren at the celebration.
McKinney is a longtime contributor to the YMCA organization, including the YMCA's Camp Surf in Imperial Beach and the San Pedro YMCA, which McKinney attended as a child.
"(With this donation) I wanted to thank the YMCA for what they have done for me and also my family. I went through the Y as a small child and my mother sent me to camp at a young age, which helped make my life great," McKinney said. "So thank you to all those who are involved with the Y."
Executive director of YMCA camps, Tom Madeyski, said he worked with McKinney to secure the donation.
"About six months ago, I meet with him to update him on what we were up to and he said his grandchildren went to the Ecke YMCA and asked how they got the name on the YMCA," he said. After explaining it followed a large capital contribution, McKinney asked how much he would need to donate to have his name on the La Jolla location. A few weeks later, they met once again and Madeyski said the amount was $5 million. "Once I told him, Dan paused and said, 'that's funny, because before Vi and I came down here, we decided if it was $5 million we would do it. So let's do it,' he said. "This gift commitment came between the waiter coming to take our order and the ice tea being served. He had his mind made that he wanted to make a difference."
For more information about classes and programs at the YMCA, visit lajolla.ymca.org
---